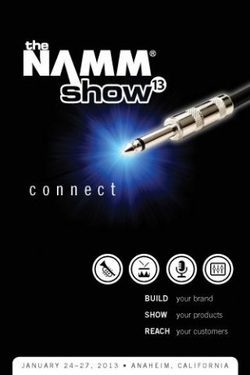 NAMM Show 2013 - Anaheim Convention Center Anaheim, CA 1/13
By John Knowles and Jeffrey Easton
Truly one of the highpoints of my year is the Winter NAMM Show that takes place in Anaheim, California. I feel as if each year the show gets more and more crowded, but certainly this is a testament to the very active and living force that music is. Musicians, music retailers, promoters, trades people, press, and those folks lucky enough to have received an invite, we're all there to experience the excitement and energy of new products, innovative ideas, and timeless brands. The Anaheim Convention Center was packed, wall-to-wall with anybody who's anybody in the musical retail field. What you have at the NAMM show is always a very eclectic mix of companies who make products for folks who write and perform many different genres of music. If electric guitars are your thing, you'll find the brand for you at the NAMM show. If you're in to electronic music, there are a growing number of exhibits every year for you. Here at Metal Exiles, as usual we had our eyes and ears set on exploring all things related to Hard Rock and Heavy Metal. Highlights for us included Schecter Guitars, Blackstar Amplification, ESP Guitars, EMG pickups, and Ernie Ball strings to name a few. The Heavy Metal community was well represented this year by more than just the gear used by such musicians. Artist appearances from the biggest names in Metal were taking place at all times of day, not to mention the artists who were simply there to experience the show. As is our duty to our readers, we'd like to share in detail some of what we experienced at The Winter NAMM Show 2013.
The focal point of any rock band is the guitar, and we experienced many great and innovative ideas this year. One of my first stops was the Caparison Guitars booth. This small company based out of Japan has really been taking the Metal world by storm over the last few years. These guitars have been the weapon of choice for such artists as Christopher Amott (Ex-Arch Enemy), Joel Stroetzel (Killswitch Engage), Michael Romeo (Symphony X), Tom Englund (Evergrey), Peter Wichers (Ex-Soilwork), Phil Campbell (Motörhead), and many more. Caparison offers unmatched craftsmanship and playability thanks to renowned guitar maker and luthier, Itaru Kanno. This year at the NAMM show Caparison introduced their newest line of mid-range priced guitars, known as the C2 series. I was informed that this new line of guitars would be marketed towards players who would love to own a Caparison, but who cannot afford the $2000+ price tag. The C2 Series will retail for roughly half the cost of their current offerings while maintaining unmatched and uncompromised quality.
Next stop was the Schecter exhibit hall, where there were a few things unveiled for this year's show. As we walked in to the exhibit the Jager girls were present handing out the infamous NAMM Jagermeister lanyards. We were then introduced to the lavish display of the Hellwin guitar amplifier, which I will elaborate on later. One of the guitars introduced at this year's show was the Schecter SIXX, none other than Nikki Sixx's signature model bass. This is a great looking instrument featuring neck-thru construction with Ultra Access for reaching all 24 frets. Nikki Sixx must be proud of this fine signature model. Schecter was also readily featuring last year's Jeff Loomis models, especially his V models, the JLV-7 and JLV-6, which can come with either a Floyd Rose tremolo or fixed bridge. Hearing Loomis showcase his guitars at the exhibit was unreal. These guitars have a killer feel and tone, and Jeff played the heck out of them again on a larger stage at the exclusive Schecter after party at the Grove of Anaheim following Saturday's NAMM show.
Dean Guitars was present as usual and is always a fun place to stop. This year they unveiled many, many new guitar designs. Some of the most notable were the new Dave Mustaine signature models including the VMNT Double Neck "Diadem." Only 75 of these were produced worldwide, and the artwork on this guitar is absolutely stunning. The VMNT also comes in "Bloodlust" and "Classic Black." There were also many styles of the Dave Mustaine Zero, a Gibson Explorer-shaped guitar that buyers can also get with some killer Megadeth artwork. Following our stop at the Dean booth we headed up to the upper floor where Peavey was having a small performance from none other than Buck Dharma of Blue Oyster Cult. Buck was joined on stage by two of his touring musicians, and they ran through acoustic versions of some of BOCs classic hits including the hypnotizing Dancing In The Ruins. Buck was performing with the Peavey Composer, a 16-fret parlor-size acoustic guitar. According to their press statement, "[this guitar is] made for guitarists who want the tone and craftsmanship of a full-size instrument with the comfort and playability of a parlor guitar...With a spruce laminate top and offset sound hole, the Composer produces a surprising amount of volume for its size, as well as clear, full-bodied acoustic tone and the natural playing comfort of a satin finish. A wide body cutaway scoop to the fifteenth fret provides access to the upper registers of the instrument."
California-based guitar company Artist Series Guitar welcomed Demon Hunter axemen Patrick Judge and Jeremiah Scott to showcase some of their new guitar body designs. The two men jammed on some Demon Hunter tracks and demonstrated the amazing sound quality of these finely crafted and affordable guitars and amplifiers. You'll have to head over to the companies website to get a full taste of what they offer, but basically, Artist Series Guitar offers a finely made Les Paul-style bodied guitar that the customer can customize with their choice of pickups, and body design. The best part about the latter is that you can submit your own design to the makers. Are you in a band and looking to promote some of your group's great graphic art? ARS would allow you to design your guitar with your new album cover on the body, and all for a price that an unsigned act can afford.
Staying on the subject of guitars, we noticed a huge trend towards 8-string guitars at this year's show. Ibanez probably featured the most prominent display of these instruments, but we also saw them from Jackson, ESP, and Schecter. Metal musicians can probably thank Meshuggah for popularizing the idea of such an instrument, but with a recent influx of prog-infused virtuosic heavy metallers like Animals as Leaders, the 8-string is now performed to its full capabilities. To accommodate the influx of this guitar style DiMarzio and EMG pickups showcased their 8-string guitar pickup models, as did string manufactures like DR and Ernie Ball who had their 8-string sets on hand for retailers to explore. Another trend in guitar accessories could be found with guitar strings. Brands like Cleartone, Ernie Ball, and DR were all featuring strings in standard gauges that were built to be detuned. Some packages even specified to what tuning. Heavy music is alive and well, folks, and musical instrument manufactures are capitalizing on this market. Getting back to DR for a moment, their highlight this year was their line of Neon strings. Advertised as "The Luminescent String," DR has created a string that when performed on a dimly lit stage will shine a neon glow to entertain fans. On the other hand, Ernie Ball have chosen to stay away from the eccentric, and they featured two new sets of strings that offer unmatched durability and sonic capability. The
Cobalt
series feature a louder tone than their nickel or steel counterparts, while the
M-Steel
series were advertised as the break resistant string.
While a guitars design, craftsmanship, and strings contribute significantly to the tone of the instrument, when plugged in to a nice amp, in my opinion the pickups are truly what contribute the most to a heavy band's sound signature. EMG pickups are played by the likes of Alexi Laiho (Children of Bodom), Phil Demmel (Machine Head), Kerry King (Slayer), and even James Hetfield (Metallica), just to name a few. This year, EMG featured their new line of pickups called
Metal Works
. These pickups feature 6 different stainless steel cap options; Chrome, Brushed Chrome, Black Chrome, Brushed Black Chrome, Gold, and Brushed Gold for 6-stringed guitars, and cap options for 7 and 8-stringed guitars as well. These pickups will truly give the musician or guitar builder the look they desire, while featuring the coveted and unmatched tone of EMG.
This year, Schecter Guitars introduced a new amplifier to their arsenal with the Hellwin USA 100 Synyster Gates Signature Model Amplifier. Despite what you may think of Avenged Sevenfold, I believe the brilliance and tone of their guitarists is undeniable. This impressive amp was the highlight of the Schecter exhibit, and Jagermeister models were there to share in the celebration. Another amplifier highlight this year was from Blackstar Amplification. Blackstar showcased their full line of the new ID Series amplifiers, adding to an already impressive line-up of amplifiers for the modern musician. ID Series Amplifiers claim to allow the user to dial in "the sound in your head." According to their NAMM press release for 2013, the ID Series caters to any guitarist with six different amps and two cabinets to choose from, ranging from 15 to 100 Watts. So you might be asking, what makes these amplifiers any different than Blackstar's already renowned Series One, HT-Venue, and Artisan series? The answer is the ID Series' unmatched customization, versatility, and affordability, in a fully
digital
format, allowing for up to 128 user storable sounds! Along with the Blackstar, Vox had a new digital amp and something to offer the musician on the go who needs a small and easily mobile rig. Introducing the Mini5 Rhythm, combining renowned VOX modeling technology, flexible battery or AC power, with effects and rhythm patterns. The 5-Watt Mini5 Rhythm is ideal for any performer in need of a portable, full-featured amplifier. Both of these digital modeling amps sound fantastic whether you're a full-fledged Metal musician who would likely go for the ID Series, or a rock musician in need of a more boutique sounding amp who would find use for the Mini5.
Samson and their subsidiaries had a lot to showcase at this year's NAMM show. Samson featured the largest panel and variety of artist signings than any other company by far. Between the 4 days, Samson offered signings from Mike Portnoy (Dream Theater), Jordan Rudess (Dream Theater), Eddie Jackson (Queensryche), Billy Sheehan, Willie Adler (Lamb of God), Herman Li (Dragonforce), Doug Aldrich, members of Slayer, Anthrax, and Exodus, Eddie Trunk of That Metal Show, and the legendary Geezer Butler. Notable performances included Victor Wootem showcasing the Hartke HyDrive cabinets. The HyDrive are also available as combo amps, and feature truly innovative bass amp technology. According to the press release, "HyDrive's patented Hybrid Cone Technology produces a speaker that uses an outside paper cone to push a warm, deep low frequency and an inner aluminum cone that produces mids and highs that cut, yet still remain sweet." Former Poison and highly underrated guitar great Richie Kotzen was there to demo the Zoom MS 100-BT MultiStompbox pedal. Richie really demonstrated what this pedal can do. This pedal combines the power and flexibility of a multi-effects pedal and amp modeler with Bluetooth technology in a single stompbox design, allowing the user the flexibility of many effects, and the option to download more via Bluetooth.
What would Metal be without drums? At this year's NAMM show some cool and innovative drum products were showcased. One of my favorite things to do at the NAMM show every year is visit the Yamaha exhibit. It's always gigantic, and features many different instruments. My favorite thing to do at this exhibit is jam on some of the electronic drum kits. I had never been one to even humor the idea of utilizing an electronic kit in a live or studio setting until playing the new Yamaha DTX450. I always thought of these kits as a great practice tool, but the DTXs have changed that. They sound amazing, and offer the sound and feel of a real acoustic kit. The response on these drum heads is truly authentic. Yamaha had this kit set up with Zildjian's Gen16 cymbals, which took this kit to a whole other spectrum. These cymbals are acoustic electronic with a direct source pickup that offers very crisp and clear sounds. The problem with playing on an electronic kit and expecting the same feel as an acoustic one is often due to the cymbals. A rubber pad is just no match for the feel of metal. The Gen16s feel as if you're hitting a standard bronze cymbal. Combined with the DTX450, this was quite a package to showcase, and the Yamaha folks had me sold. Yamaha also featured an amazing performance from Tommy Aldridge. This guy is a brilliant drummer, and allowed for those present to hear the full range of possibilities with a fine Yamaha kit.
I'm sure many drummers playing the club circuit have been frustrated from time to time with the setup and tear down process for their drum set. Having to deal with all that equipment and getting it to sit in just the right place seems like a tiring endeavor. Plus, depending on the set up of the drum riser, throughout your playing your kit may go sliding around a bit. Well, introducing the Black Widow Drum Web, stabilization mat. This was one of the coolest products we saw all weekend. This patented innovation comes equipped with 3 strips of Velcro that the user places on the mat. The opposite end of the Velcro attaches to your kick pedal, holding it in place, and thanks to simple physics your entire kit stays in place, and you have a guide when setting up for where to place the majority of your set. These guys had a video playing of a drummer performing on the ice of a hockey rink. Somehow the drum kit does not slide around at all! Conveniently, the entire mat rolls up into a small pouch for you to take from gig to gig. This is what the NAMM show is all about: True innovation at its finest.
If you're a progressive metal fan like me, then you've certainly heard of the amazingly talented Jordan Rudess (Dream Theater). The Synthogy/Ilio booth was showcasing the latest in their line of
Ivory II
virtual pianos, and Mr. Rudess was there to demonstrate what this technology can do. Jordan used the new
Ivory II – American Concert D
to play through some of his most memorable Dream Theater melodies, from the very fast and dynamic, to the soft and more emotional. Jordan played through some of his fastest runs, and complex two-handed parts to show onlookers that this virtual instrument would show no sings of lagging or lack of clarity. This really was the best sounding virtual piano I have ever heard, and to have the seal of approval of one of the greatest piano players in the business is certainly hard to beat. Dream Theater's former keyboardist, Derek Sherinian, was present at the NAMM show as well and showcased the KRONOS line of synthesizers from Korg. At what level Rudess may have ascended to by way of exceptional chops, Sherinian has reached in the way of his unique sound signature development. The KRONOS has allowed Derek to excel even further, and during a very cool and intimate demonstration Derek ripped through some of his signature keyboard licks, and showed off the versatility of these fine synths.
For all you power/symphonic/black or even progressive metal fans who listen to artists who make regular use of orchestral arrangements, I can say with much certainty that the keyboardists and producers in these bands likely utilize the Vienna Symphonic Library to achieve those realistic sounds (unless of course they employ a real orchestra). The VSL team made their 11th Winter NAMM appearance this year and brought with them a few new products. Of particular interest to us was the
Vienna Dimension Strings.
With a total of more than 300,000 violin samples alone, and an estimated one million for the full library,
Vienna Dimension Strings
is by far the most ambitious and intensive production in the history of the Austrian company. The all-new library includes recordings of a 24-piece string ensemble captured in four groups (8 violins, 6 violas, 6 cellos, and 4 double basses) by using individual microphones for each instrument. This package is not cheap, but if string embellishments are your thing, look to none other than Vienna Symphonic Library.
Now that the instruments have been covered, I'd like to share some of the performance aids that we found especially interesting. After all, having the best gear money can buy will do you no good if you cannot perform them at your best. VocalizeU was a company I had not ever heard of. They had one of the most unique booth set-ups at the show, featuring a very welcoming, almost living room look. All the female staff were dressed in what appeared to be very modest pajamas. It was as if the company was driving home the idea of...well, home. Their product is a practice tool for singers to develop their vocal abilities without having to leave home and shell out thousands in lessons and schooling. Available for desktops and mobile devices, users enter VocalizeU through the Vocal Studio, which is a virtual learning and performance space where users are helped to determine areas of their voice that need growth and then directs them to tailored vocal exercises and workouts. It can even help the recording musician figure our harmonies for a melody. Free trials were offered to those interested.
For those who play instruments, Jammit just might become your new best friend. This software combines isolated original tracks with scrolling sheet music. Have you ever wanted to really learn that guitar solo from your favorite band? Or bass players, have you ever wanted to be able to really hear your favorite bass lines and learn from your idols? This product is for you. Thanks to Jammit's partnerships, the record labels periodically allow access to isolated tracks of some of your favorite songs from the original multi-track recordings allowing you to hear every nuance and play along.
With all of this practicing you may be doing, and even concert going, one thing that's vital is your hearing safety. Earplugs are not normally a musician's favorite thing to wear, but it can save your hearing. EarPeace was present at the show and showcased their patented earplug technology. The design of this product lowers the volume without distorting the sound or creating that boxed-in feeling. They were designed for the musician or heavy concertgoer and gives multiple attenuation options depending on your needs. They even come in different skin tone options, so no one has to know your wearing them. One of the best parts about them is also their ability to be a marketing tool for your concert venue or band. The plugs come with an aluminum case that is fully customizable for promotional uses. These plugs deliver around 20 decibels of protection, which is just enough to bring your environment down into a safer range.
Now, the NAMM show is not just about the exhibits and new products, it's also about the artists that use and endorse those products. There was no shortage of legendary musicians present at this year's show, and as I mentioned earlier, Metal musicians were well represented. Samson's artist signings have already been stated, but I think it's very reassuring to see that all of their signings were from hard rock/heavy metal musicians and personalities. John Petrucci (Dream Theater) and Steve Morse (Deep Purple/Dixie Dregs/Flying Colors) conducted a signing together at the Ernie Ball booth, and Dean guitars featured Rusty Cooley, Carmine Appice (Blue Murder), and Dave Mustaine signings. Randy Black of Germany's Primal Fear was at the Los Cabos Drum Sticks booth, and was a real pleasure to speak to. Classic hard rock musicians could be found at many times too, including Steve Lukather (Toto), Neal Schon (Journey), Michael Anthony (Van Halen), bass legend Tony Levin, and as mentioned, Tommy Aldridge. Finally, the highlight of all artist appearances had to be the Schecter invite-only after party on Saturday night. Jeff Loomis co-headlined the event with thrash legends Exodus. Opening the night was Chris Poland (Megadeth) and his band Ohm. This after party was really quite a show, and we were blown away by how great everyone sounded.
Metal was alive and well at the 2013 Winter NAMM show. But more than just Heavy Metal, music in general was celebrated and embraced. The music industry and those who create music will remain a relevant and active thing as long as there are always new and innovative ideas, and creative souls to implement those ideas in creating their art. And each and every year, the NAMM show is the place to be to see these things in action.
Official NAMM Site
Additional Full Product Reviews:
http://metalexiles.com/magnetapicks.html
http://metalexiles.com/blackstar.html
http://metalexiles.com/caparison.html
http://metalexiles.com/capo.html
http://metalexiles.com/orbital.html
---