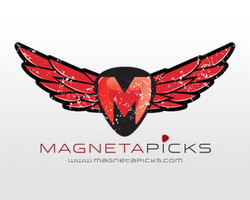 Magnetapicks
By John Knowles
Magnetapicks is a new and highly innovative guitar pick technology that utilizes an incredibly powerful magnet within the pick design. If you're a guitar player like me, your immediate thought might be, "Why?," or "In what way is this useful?" I know that was my thought when I walked by Magnetapick's exhibit at this year's Winter NAMM show in Anaheim, CA. The magnet offers the player a number of advantages. According to their website it increases blood flow and circulation to your hand during use. But the big draw is of course the practicality of a magnet. This pick will stick to any metal string, and many additional surfaces on your guitar depending on its design. This could include your tuners, bridge, or even the post on most acoustic guitars. They will even stick to microphone stands. With a size and thickness no greater than your average 1.0 - 1.5mm heavy pick, the magnet inside the Magnetapick is in no way obtrusive or distracting. To get an idea of the design or thickness of these picks, imagine your standard heavy Dunlop Tortex or any standard plastic pick, and built within the center of the pick is a neodymium magnet no bigger or thicker than a dime.
I did some research and found that a neodymium magnet is the strongest permanent magnet known. They are cheaper, stronger, and lighter than most other magnets and can be found in microphones, headphones, guitar pick-ups, and computer hard drives. These picks really stick well to guitar strings and in no way affect your tone or output while playing - they seem to be just strong enough to stick where you place them, and that's it. Another selling point is the fact that they are made from recycled materials, and in the United States.
As I mentioned they play and feel just like a standard heavy pick, and the raised ridge where the magnet is held in does seem to offer a small amount of greater grip and control. It does lack the flexibility of a thinner pick, but if you're a player who prefers a heavy or extra pick, than you would not be expecting or desiring that flexibility anyway. So what you have in a nutshell, is a really good heavy pick that you don't have to worry about losing or digging around for in your pocket before a big gig. Just place it on a metal surface, such as your strings or headstock when you are not using it, and it will be there when you need it.
Now personally speaking, I am not fond of your standard size heavy or super heavy pick. I will generally use a Dunlop Jazz III for more precise riff-oriented music, and a very thin .50-.75mm pick for strumming my acoustic. Having said that, what really sold me on Magnetapick was the custom branding feature. If you're in a band, or have a small business, your logo can be printed on a set of Magnetapicks and used on a merch table, or an associate's refrigerator. The possibilities are really up to you. There are certain limitations to what they can print, but most basic logos can be printed no problem. For $75 you can make a custom order of 50 Magnetapicks with your band or company logo. I know if I was at an Iced Earth or In Flames show and they had Magnetapicks on their merch table with their logo, I'd purchase one for my refrigerator in a heartbeat.
If you're a player who is simply interested in just owning some Magnetapicks for performance purposes, they retail at $9.99 for a pack of 3. Ask for Magnetapicks at your local musical instrument store or stop by their web store.
http://www.magnetapicks.com/
http://www.facebook.com/MagnetaPicks
---