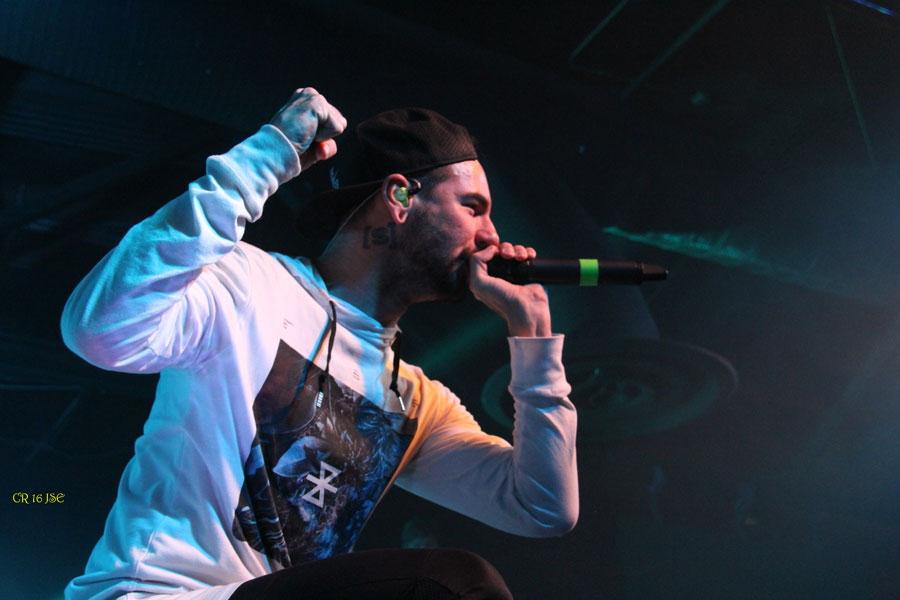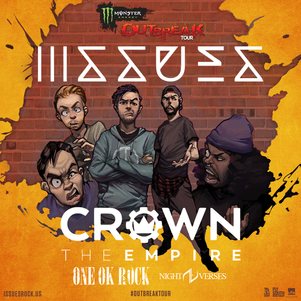 Issues/Crown The Empire/One OK Rock – Ace Of Spades, Sacramento, CA 3/16
By Jeffrey Easton
Issues has been out in support of their S/T record for over two years now but you would have never guessed that considering the conviction they are still attacking the stage and that album with on a nightly basis even two years later. Always tour your last album like it dropped yesterday and your fans will treat it like it was the best thing you have ever done, notes should be taken by up and coming bands on how to do it. Coming on their party trek with them this time was label mates and one of the most brilliant rock bands today in Crown The Empire as well as Japanese superstars One OK Rock. All of this set up a blistering night of heavy music and a supremely diverse tour.
Already massive Super Stars in their home country of Japan, One OK Rock have been making serious inroads to America by way of Warped, the major festivals as well as grinding it out in the club scene, hitching onto high profile tours and here we find them on the capacity selling tour with Issues and they are getting mobbed. Ace of Spades greeted them heavily as if they had already took over America as they hit the stage with the lead track to their last album, 35xxxv. By now the screams from their legion was at deafening level as they plowed through their guitar heavy attack that included deeper swipes into 35xxxv including Take Me To The Top, Cry Out, Mighty Long Fall as well as Stuck In The Middle. Takahiro is a suave frontman and had the crowd eating out of his hands as he led his band heavily through their set. This band deserves to be headlining America and if tonight was any indication they are not too far from that moment.
Crown The Empire as it stands are one of the best bands on Rise Records today. They bring so much aggression to the live stage that you cannot help but pay attention to them and the music they conjure up gives you hope that the scene is thriving. Their last album, The Resistance: Rise Of The Runaways, dropped almost 2 years ago and has stood up as one of the best records the scene has ever produced. Not bearing a bad moment, the album comes alive in the live setting as David and Andrew bring the proceedings front and center and the band blows it all up behind them. Unfurling the madness of The Resistance in the form of Initiation, Prisoners Of War, Cross Our Bones and Machines they had Ace Of Spades at attention for the entire ride while they did take a moment to look back at The Fallout as well as Limitless. The Fallout, Johnny's Revenge as well as Memories Of A Broken Heart and Makeshift Chemistry helped round out an amazing set from one of the better bands out there. Rise Records has some of the best talent and CTE is proof of that as well as the next band up.
Issues closed out the night but they certainly were not simply the closer, they were the highlight. They have been the true road warriors, slogging it out for the last two years almost nonstop since the drop of their S/T Issues album and here they are headlining the Monster Energy Outbreak Tour. Tyler and Michael pounced the stage and immediately took control of the proceedings by unleashing Love Sex Riot from the Black Diamonds EP and it was on. Issues is not your typical band, they bring a different kind of feel to the music scene, adding different beats and elements to make them stand out. And as they plowed through their S/T album all of that was evident. The power and difference of Sad Ghost, Mad At Myself and Stingray Affliction was apparent in the live setting and why they are a must see band. AJ's riffs swirled heavily around the heavy drums laid down that propelled Life Of A Nine and Disappear further than live than it did in the studio and we also were privy to some new material. They have been working on a new album entitled Headspace and tonight they gave us a dose of it with The Realest and by the reaction from the fans it is going to be huge and the track itself was monstrous. Some critics have given Issues shit but after seeing them live a few times I do not get the negativity, they are a great rock band with a difference and sometimes different scares the unmotivated.
Official Issues Site
Official Crown The Empire Site
Official One OK Rock Site
---