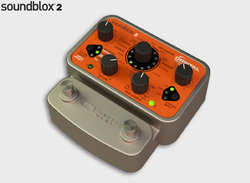 Source Audio – Soundblox 2 Orbital Modulator
By John Knowles
Introducing one of Source Audio's latest offerings, the Soundblox 2 Orbital Modulator. This is a multi-effects modulation pedal and it absolutely kills! I had been looking for a good combination modulation pedal to replace a number of individual effects on my cluttered pedalboard and to my surprise I discovered this gem following the 2013 Winter NAMM Show where it was originally unveiled. The Orbital Modulator is a very versatile pedal featuring phaser, chorus, flanger, and tremolo modulation all housed in durable, yet lightweight cast-aluminum, with a footprint measuring in at just 4.5" X 4.5" – making it perfect for use in a crowded pedal chain. Additionally, with Source Audio's universal bypass feature, users can choose from True or buffered bypass.
At first glance I realized one very important fact: I needed to read through the instructions! This is not to say that this pedal is not user-friendly, but the fact is that this pedal has so many customizable parameters that it demands a basic knowledge of how modulation effects actually work. These parameters include the standard Speed and depth, delay, frequency, feedback, volume, tremolo, mix, and Source Audio's unique LoRetain which is a low frequency control. 6 of these parameters are combined into one button labeled "Option Control," which helps contribute to the pedals compact and sleek design. There are also controls for selecting the effect type, and the modulation source. Knowing their customers would include novice pedal users such as myself, the Source Audio engineering team painstakingly programmed default settings for each effect type. By pressing and holding the "Option Control" button for 3 seconds the Orbital Modulator will be set to the default settings for the selected effect type. This is also very helpful for creating your own sounds as you can use the preset as a good starting point before adjusting any of the parameters.
I mentioned the four basic effect types, but each effect has multiple variations. The Orbital Modulator offers three chorus effects ranging from a classic single-voiced chorus to dual and quad-voiced choruses. There are five flangers featured, included two very deep-whooshing resonator flangers. Five phaser effects types are featured as well ranging from a simple Uni-Vibe emulation to a 12 stage phaser. Tremolo can be added to enhance each effect type, or programmed as a stand-alone effect.
One of the most amazing things about the Orbital Modulator is the way the different effect types can be controlled. I have never seen another pedal (from any other company) that allows the user to select the sound wave that controls your effect or modulation! With the Mod Source knob, users can select from Sine or Square Wave LFO, or Envelope Followers; the latter functions similarly to an auto-wah. The knob allows for a gradual blend between the controls, allowing for an unmatched experience. To control the rate of the LFO your using on any given effect a tap tempo feature is also available. A blinking LED light will reflect the programmed tempo. This is a wonderful feature especially for on-the-fly playing.
Additionally, because this product is from Source Audio users can enjoy further control options through the Multi-Function input. This input accepts both digital and analog control signals including the renowned Hot Hand accessory, the Source Audio Expression Pedal, and still to come a future Source Audio MIDI interface. You really must visit Source Audio's website for videos and information on the amazing Hot Hand products. You simply cannot get this functionality anywhere else.
Now, I would be remiss if I only spoke about the product features and not how any of these effects actually sound. While keeping this review in mind I acquired an arsenal of various pedals from Line 6, MXR, Danelectro, BOSS, and Digitech's Hardwire. All pale in comparison due to the limitless possibilities outlined above. I simply could not dial in such unique tones using these other pedals. I also enjoyed the added bonus of saving two of my tones as presets to each of the pedals two footswitches. I used my trusty Fender Fat Strat through a simple solid-state combo. I dialed in chorus tones with real depth and clarity, without getting too mushy or overly processed. Since I was using a Stratocaster I utilized the LoRetain option to increase some low-end and ensure the brightness of the guitar and effect was not overwhelming. Having the Feedback control was especially useful when I switched over to my amplifiers distortion channel. This was true for the flanger effect as well, as lowering the feedback allowed for the notes to ring out clearer when more gain was used. After dialing in the right flanger tone, and setting the LFO rate using tap tempo I was able to achieve the right "whoosh" in just the right timing. Switching over to the Resonator flangers provided an even deeper and dramatic sound. Phaser settings were much more difficult to dial in, but I mean this in a good way. I say difficult because there are so many phaser stage settings to choose from. I found that the vibe and low stage phasers worked for me, and I was able to dial in a very "Atomic Punk"-esque sound.
Overall one word comes to mind when describing this pedal: versatile! This pedal sounds amazing, and looks amazing. I find it difficult to offer any constructive criticism except for a few minor issues. When dialing in tones there were times when I wished some of the Option Control parameters had separate knobs, and that there was a way to save more presets. But with its sleek design, light weight, and accessibility, I'll take this pedal just as it is. For all the analog snobs I would like to mention that this pedal boasts 56-bit Digital Signal Processing. For the street price of $169.00, versatility, and compact design you simply wont miss the fact that it's not analog. If you're a player looking for great sounding effects at a great price, look no further than Source Audio, and for modulation effects, the Orbital Modulator is the way to go.
BUY the Orbital Modulator on Amazon!
Product Demo Video
http://www.sourceaudio.net/
---