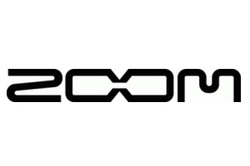 Zoom – MS-100BT MultiStomp Guitar Pedal with Bluetooth®
By John Knowles
Winter NAMM show 2013 certainly had its share of fantastic and innovative new products to offer the music world this past January (
see NAMM 2013 Show review here
). As we anxiously await the 2014 show, which is just around the corner, let's look back at one of the coolest new products for the guitar players out there. Guitar World Magazine cited 19 products that impressed them the most from January's NAMM show, and dubbed them the "Best in Show." Among the honored, and coming in at 18 is the MS-100BT MultiStomp Guitar Pedal from Samson/Zoom. This impressive and affordable multi-effects pedal is everything you could hope for in a single stomp box. At a street price of only $149.99, this pedal must be played to truly believe. This pedal is diverse enough to handle just about any genre of modern music, but for the Metal player it offers some real treats.
First, a few specs to highlight: The pedal features 100 preloaded effects, (92 stomp box effect, 8 amp models), and the user can create presets with any combination of up to six effects. Users can create 50 original patches, but the MS-100BT comes equipped with 30 great preprogrammed presets. These 30 presets have been created by the manufacturing techs, and even some of your favorite players. Six very popular and diverse recording artists helped create 12 of the pre-loaded presets including Richie Kotzen, Willie Adler, Michael Wilton, and Kiko Loureiro. Adler helped create a killer preset which comes very close to the guitar tone used by James Hetfield on Metallica's
...And Justice for All
, called "Justis4yal." Wilton designed "Whipflange" to help give you that signature Queensryche clean tone with just the right amount of effects heard on
Rage for Order
and
Mindcrime
. As with most multi-effects users will also enjoy the easily accessible chromatic tuner. A tap-tempo function can be utilized when using time-based effects, and stereo in/out make this pedal extremely versatile for any live set-up, whether you are adding this to your already established pedal-chain, or plugging straight into a mixing board in a pinch.
The Bluetooth
®
capabilities with this pedal are pretty amazing. Users need to use an iOS device running 4.3 or later and download the free app StompShare. From there, users will have a wide selection of new amps and effects for purchase. At $0.99 for effects, and $1.99 for amps, the versatility of the MS-100BT is truly capitalized on, and on a side note, the brilliance of the Samson marketing machine is showcased in all of its money-making glory. StompShare features audio demos of items available for purchase, but it also allows the user to sample the amp or effect for 15 minutes to decide if it's something truly desirable. And apparently, users are not limited to only 1 trial period with these samples. To better enjoy your 15 minute trial, users can insert the effect in question into a pre-established or brand new signal chain – again, of up to six effects. Using Bluetooth
®
technology, the StompShare app allows users to purchase or sample the effect or amp they choose, and instantly upload it to the MS-100BT!
If for whatever reason you are reading this and are not a part of the smart phone revolution, no worries. Sure, the full spectrum of this amazing pedal will be lost without the StompShare app, but the 100 standard effects are still really amazing. They range from your standard reverbs, overdrives, and delays, to the more obscure synth-style effects, and even a ring modulator. The standard amp settings are very diverse as well, and emulate many of today's most widely used amplifiers. They range from a Fender Twin Reverb, Vox-style boutique combos, to the full heavy metal capabilities of a Diezel or Engl stack. There is something for everyone!
The interface for this product is relatively simple. With just a few buttons and knobs most players should have no issue. The center footswitch is surrounded by four buttons (think of an iPod classic), and lining the bottom of the screen are 3 push-pots. Navigating through pages and options is simple, and thanks to screen size and visibility, scrolling through presets or tweaking effects should be a breeze. It would be great if the StompShare app allowed users to create and modify changes on a phone, but basically it is just used as an effect store, which sends said effects to the pedal. In a live setting the pedal can be set up to recall the order of the user's selected patches. This is very useful in most metal bands where a good clean tone, rhythm tone, and lead tone will get you through. Again, speaking directly to a live setting, if you are a player who utilizes many different patches and effects combinations throughout single songs, you may need to limit your usage of this pedal on stage. Unfortunately an external MIDI control is not compatible to be able to better navigate one's presets. But, if you are a live musician adding this pedal to an already diverse pedalboard arsenal, you should have no trouble finding a comfy home for the MS-100BT.
For studio use, home use, or even rehearsals where the emphasis is more on composing and writing rather than a live performance this is the perfect pedal for the guitarist who desires a dramatically diverse array of sounds, for an affordable price in an easy to use format. For the metal musician especially, this thing is amazing and should offer all that you need to deliver crushing tones. Adding to an already impressive line-up of innovative products, the MS-100BT is a welcomed addition to the Zoom family, and serves as another example of great workmanship and quality that these guys are known for.
Buy the Zoom MS-100BT today!
Visit the Samson/Hartke/Zoom website
---