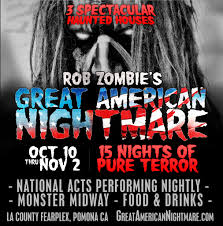 Rob Zombie's Great American Nightmare Opening Night October 10th, 2013 – Pomona Fairplex, Pomona, CA 10/13
By Heather Vandemark
Do you like to get scared or are you one that laughs in haunted houses? You won't be laughing when you walk through Rob Zombie's Great American Horror.
The Lords of Salem Total Black Out you wear a hood for full claustrophobia and ultimate feat effect. The second house is 3-D in your sheer fear. The third house 1000 Corpses has some notorious murder scenes that will blow your mind. This is definitely not for the easily offended, but it is definitely for people that like to be scared. Don't forget to bring a change of underwear, because you will need it.
Lots of VIPS arrived on the Red Carpet for Rob Zombie's Opening Night.
Sprung Monkey, Vampires Everywhere, Wallpaper, Angels Fall, 9 Electric, Courtney Gaines, NCIS, CSI, Body of Proof, and many more stars.
Outside the houses is an experience in itself. Once darkness hits, evil lurks around every corner. Beware! Grab some drinks and munchies; check out the vendors, booths for causes, like Peta2, I love Boobies, and Fuck Cancer. Always be looking over your shoulder, because evil will pop up out of nowhere and chase your ass down with a chainsaw.
Wallpaper got everyone fired up with their high energy party time music. 3OH!3 came out in dark evil cloaks killing it. By the end of the song only one cloak remained. They asked if everyone had gone through the haunted houses and did anyone 'poop their pants', because they did.
Rob Zombie's Great American Nightmare runs through November 2nd at Pomona Fairplex. If you like to be scared to death, go check it out. Medics and ambulances are on sight to revive you.
Official Rob Zombie Site
---