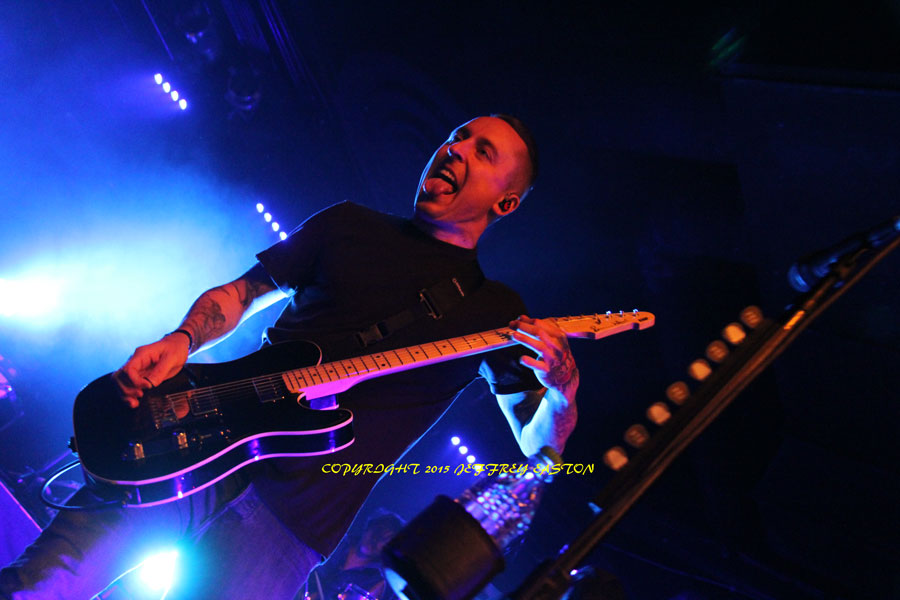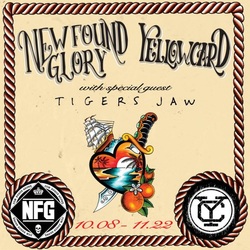 Yellowcard/New Found Glory/Tigers Jaw - Ace Of Spades - Sacramento, CA 11/10
By Jeffrey Easton
Tonight was beyond compare and for many reasons. Seemingly the days of the Warped Tour era pop punk bands have come and gone with many bands sucked down the tube but with any era there are survivors and that is exactly what Yellowcard and New Found Glory have done. Not only have they survived but they have perservered, selling out tours and unloading merch as if it was being stolen.
Opening act Tigers Jaw really set the tone for the night and had Ace primed for a long night of loud bands. Tigers Jaw is a still up and coming indie band from Scranton, PA and they need your attention. Even though they have been together here and there since 2005 band issues here and there have derailed their career but they are back and going harder than ever. Having just released Charmer they went full throttle with the Yellowcard/NFG tour to put their foot back in the cement of the music business and I forsee it lasting this time. Charmer is a guitar driven hypnotic piece of work and it went over so well with the Sacto crowd as their merch flew off the table. I implore you to check these guys out.
New Found Glory are legends and the fact that they are still going is a testament to what they have released. Almost 20 years and 8 albums later their fanbase is still as strong as ever and they are still finding new paths while writing and recording new material. Resurrection is a massive achievement and live it is even better as the guys can still rampage through a set. Resurrection, Selfless and Vicious Love were all reeled from the new album and judging by the reaction the new stuff is wanted just as much as the classic NFG. As they powered through their set packed with the massive Ready & Willing, Dressed To Kill, Truth Of My Youth as well as Hit Or Miss, I reveled in the fact that they played Hold My hand, one of the stand outs from the less thought of Coming Home, to me one of their better albums. One of the cooler moments of the night was their cover of Go West's King Of Wishful Thinking, which of course had all of Ace singing along at the top of their lungs. Closing out their set Jordan reminded the fans about the Paris attack and how the people that were killed were just like us, people who went to a concert to have fun and listen to music before their lives were taken. He had everybody scream for all of the silenced voices as they launched into My Friends Over You and with that an amazing came to a close and once again NFG delivered.
Yellowcard were up and ready to close out the night in blissful fashion as they were still trumping the massive Lift A Sail and they had a sold out Ace Of Spades to triumph over. Does this band ever slow down? The pop punk scene they were responsible for supposedly died out ages ago but here they are, a strong record, a sold out tour and the adoration of fans, life must be good. When they broke out hard with Ocean Avenue over 12 years ago they set the world on fire with their sound and there was no looking back which leads us to tonight. Opening the night were two of the heaviest cuts from Ocean Avenue; Breathing and Way Away and that lit Ace on fire as the fans were deafening and the floor was just motion. The strength of the show grew with the massively played Lights And Sounds and For you And Your Denial and with that the fans were just drawn in further. Ryan Key took a moment to thank the fans for a sold out tour years after they first hit the scene and how great that they had been friends with NFG and being able to tour with them years later was an achievement and a testament to their friendship. That being said they brought it to the present with the title track of Lift A Sail as well as the euphoric Make Me So. Make Me So shows the band that they can still write stuff that draws you in like a magnet to steel. Going further back they dealt out Lights And Sounds, Always Summer, Awakening as well as Crash The Gates, a set worthy of their massive history. Closing out the set they picked up where they began, at Ocean Avenue and blasting out Only One as well as the title track Yellowcard's set summed up the whole evening. A deep catalog of albums with amazing tracks and a fan base that is as resilient as ever that still believe in the live show.
Official Yellowcard Site
Official New Found Glory Site
Official Tigers Jaw Site
---