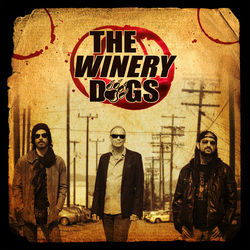 The Winery Dogs – S/T – Loud & Proud
By John Knowles
As a long time Dream Theater fan I have to admit that with every new project Mike Portnoy has involved himself in since his departure, my interest has been peaked. This was especially true when John Sykes announced on an episode of That Metal Show that he was forming a project with Mr. Portnoy. Well, I think it's safe to say that some people were just not meant to work together, and in January of 2012 TMS host Eddie Trunk commented on his website that the two men would not be releasing an album together. Trunk admittedly announced on a recent TMS episode that he had suggested to Portnoy and bassist Billy Sheehan a new partner in the form of the arguably under appreciated and immensely talented Richie Kotzen. Well folks, after many months in the works this July will finally see the release of the latest project from Mike Portnoy, Billy Sheehan, and Richie Kotzen known as The Winery Dogs.
As far as power trios go, can you think of a more talented and unstoppable force? This is a superb release, showcasing the individual talents of each musician. But do not think of this project as a three-way shred fest of empty virtuosity and pretentious soloing. One of the best parts of this release is how while each member is able to showcase their chops and unmatched skilled playing, the songwriting shines through with great melodies, memorable choruses, and amazing progressive undertones. The Winery Dogs works so well as a cohesive unit, and sounds in every way like a true "band." The official press release has quoted Portnoy as saying, "I am so excited about THE WINERY DOGS and am proud and honored to be working with two of the greatest musicians on the planet! Richie Kotzen is such an unbelievable talent, as a vocalist, guitarist and songwriter. I think The Winery Dogs will finally get him the attention and recognition that he so richly deserves. And what can be said of Billy Sheehan that hasn't been said already? He is one the true pioneers of the instrument and a legend."
Track 1, "Elevate" kicks things in to high gear from the start. This is one of three tracks already accompanied by an intimate rehearsal space styled video, which allows the viewer to see the amazing talents of each player up close. Portnoy mentioned in a recent interview that the band was going for a classic rock sound inspired by the likes of Zeppelin, Cream, Grand Funk and Hendrix, along with more modern acts like Soundgarden, Alice in Chains and Lenny Kravitz. I hear a lot of early Whitesnake influence as well. These classic acts shaped my first impression of this project; but while their influences shined through, what also stuck out was the incredible groove of the track, and Kotzen's amazing vocal talents, which really reminded me of Chris Cornell and David Coverdale. By the time the chorus hit I was hooked, and the solo section further solidified this project as an absolute winner for me. At about 3 minutes in, the track evolves into an all out prog jam-fest, where all three members show off their best, and gel very nicely together.
The following track, "Desire," presents a bit slower tempo but rocks just as hard as the previous track. This song demonstrates the more straight ahead classic rock influence, and showcases a slightly different side of Kotzen's voice. A video for this one is also available. Where "Desire" lags a bit in the chorus department, the following track, "We Are One" more than compensates. This song opens with a bit darker tone, but evolves into a triumphal chorus proclaiming, "There's no way they can stop us now..." It will be difficult to not raise your fist to this one live.
Things slow down a bit with "I'm No Angel," the third song to be accompanied by a video. The words to this one may tug on your heartstrings a bit, and is a welcomed musical destination by this point on the record. Though the tempo slows and the mood shifts, the virtuostic prowess of the band does not waver a bit. This track leads very well into the bluesy "The Other Side." By track 5 listeners will hear Kotzen shift through many vocal influences and styles. This guy is an incredibly underrated talent, and I really hope he receives his due with this release as Portnoy suggested. This song showcases one of the things I love so much about this record, and that is how it at times takes listeners from a somewhat predictable classic or blues rock format and transports them to a very powerful and memorable chorus. "You Saved Me" follows and is one of the most melodic pieces of the record. The lyrics and mood of this track should bring about positive thoughts of important and inspirational people in our lives.
"Not Hopeless" and "One More Time" pick up the pace a bit, with the latter bringing listeners back to the vibe and stylings of the album's first track. There's great energy on both of these tracks, but "One More Time" stands out for me, and features the best instrumental section of the album in my opinion. And once again, Kotzen's vocal versatility is highlighted. Things slow down again for "Damaged" and "Six Feet Deeper" as the bluesy influence is revisited. "Six Feet Deeper" features one of my favorite solos from Kotzen on the album. It is all the right elements of melodic and intricate. To close the album the band presents listeners with all the reasons this project is note worthy and worth many listens. "Time Machine," "The Dying," and "Regret" all feature some of the most impressive performances from each member. I really like how the band chose to end the record with such high energy. By the time "Regret" ends your going to want to let your CD player reset to the beginning for another listen.
This album is self-produced by the band and features all that you would hope for from such renowned and talented musicians. Sonically, all the pieces shine through thanks to the fabulous mixing of Jay Ruston. And as I mentioned, the influences on this project are as clear as day, but don't expect just another classic rock styled band with great musicians. Portnoy, Sheehan, and Kotzen have added their own unique spin to each song, proving their incredible talents in songwriting, musicianship, and composition. This is a must own for fans of any of these three guys, and for fans of great hard rock in general. I really hope to see this project carry on into future releases and gain some well-deserved attention.
The self-titled first album from The Winery Dogs will be released by Loud & Proud Records on July 23rd. And be sure to catch these guys on tour in the fall!
The Winery Dogs official Website
Pre-Order The Winery Dogs on Amazon
---