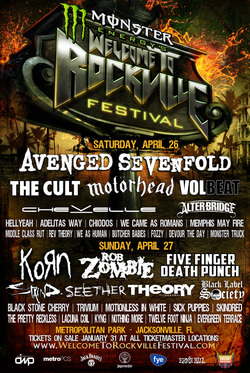 Welcome To Rockville 2014 – Metropolitan Park, Jacksonville, FLA 4/14
By Leslie Elder Rogers
Day 1
Day 1 of the sold out weekend of Welcome to Rockville 2014 started with security and staff members still getting organized but I made it in just in time to see Digital Summer singing "Breaking Point". The sun was already blistering but this didn't faze the crowd as their bodies poured in covering the grounds much like ants engulfing demolished ant hills. The crowd roared as they put their hands up so the band could take a picture of their fans; something they do at every concert to be posted on their website after their shows. Is this their version of fan appreciation? Gemini Syndrome was next on my list. I personally love this band but, I must say, I wasn't impressed with their live performance on this day. It seemed that Aaron Nordstrom was struggling to keep up as he paced back and forth across the stage. His winded vocals were less than exciting, at times, almost not bearable. Still, the fans stood strong, enjoying the band's attempt at a heavy hitting performance. We made our way through the thickening crowds to Rev Theory who challenged the fans to see who could be the loudest. Crowd surfers were plentiful already but quickly found the end to their journey as they were escorted to the exit by Security. The overall sound of the band was entertaining. There were times that I thought Rich Luzzi might pass out from straining to reach certain notes. He works out regularly, I get it; stays in shape, but God help those protruding veins in his face and neck as he sings. They closed it out with Hell Yeah, a crowd pleaser, no doubt. Everyone, including myself, sang along. Missed the set of Evergreen Terrace but arrived just in time to witness Drew Carey commit to a round of crowd surfing himself. The lead singer from Adelitas Way was full of personality and smiles (ladies obviously smitten by him). After apologizing to security for what he was about to do, and explaining that they would hate him for it, he invited fans up to the stage for an up close and personal visit. Several female festival goers did just that. Security was on their toes, quickly leading them away. They wowed the crowd with songs that included "The Collapse" and "Invincible". All in all, I cannot "Criticize" their performance. No pun intended. Chiodos, wow! This was my first time hearing and watching them. They had true chemistry onstage. They made it clear as they came on that they expected the crowd to "make some effing noise". Their performance was quite appealing to me. After listening to the voice of Craig Owens as he sang, I vow to learn their music. Fans took them up on their "I will if you will" offer regarding shirt removal. Just before closing their set, Craig Owens chose a personal venture into the crowd as he was hoisted atop the shoulders of several willing and excited fans. I missed Hell Yeah, but was informed that they packed a punch, not only with their musical talent, but their expressions as they entertained the increasing crowd. Smile Empty Soul, did a pretty fair job. I have just recently started following them and realize how much I enjoy most of what they have put out. Their new album "Chemicals" which was released on their own label, Two Disciples, is proving to be very popular so far with the up and coming hit single "False Alarm" that was also performed today. Now to Alter Bridge, and though this band seems to get a lot of negative feedback (from many people I know), I liked them and felt their set was very commendable. They played with passion and appreciation. Maybe they have the notion that their fan base is slipping. I enjoyed the guitar solos and the camaraderie that the band portrayed as they played. In addition to many other songs, they performed my favorite, "Cry of Achilles" and I was glad to witness it. Somewhere in here, I had to eat, though some of the vendors smelled heavenly, I chose poorly it seemed. I had my choice of sustenance in my hand before I was ever quoted a price, which, wait for it, was $15 for a sausage and cold, greasy fries. It was, at least, something in my stomach to help me finish off the day. CHEVELLE, oh how I love CHEVELLE, but, I did not love what I witnessed today. They played their newer release "Take Out the Gunman" and even went back in time with songs like "The Red" which is by far, the best song I know of theirs. For some reason, they just did not seem happy to be there. There was very little emotion shown. It was a very solemn performance. I couldn't wait to get to Volbeat. This was the band I was most excited to see, and for good reason…they rocked. They killed it with their performance of "Lola Montez" as well as "Sad Man's Tongue", "Dead but Rising", "Fallen", "The Hangman's Body Count", and "Warrior's Call". Michael Poulsen's voice is unmistakable and absolutely flawless. The crowd appealing Rob Caggiano and Anders Kjolholm had so much intensity and adrenaline as they stroked their guitars for the avid listeners. At this point, they could do no wrong. Day 1, so far, this was the best part. We Came As Romans, they were present and ok but seemed more aware and proud of themselves than the crowd was, enough said. I was anxiously awaiting the closing act of the night, and I was not disappointed. Avenged Sevenfold blew the crowd away from beginning to end; the moment I saw the stage props that included the Skeleton King and many winged skeleton heads, I knew I was in for a show; the most elaborate of the day and well worth the wait. Could they impress me? Sure they could! They started off with "Shepherd of Fire" and even brought in some good ole' "Bat Country". With the powerhouse voice of M. Shadows, expecting less would be unthinkable. He tore down the park with the hits "Buried Alive", "Hail to the King", "Nightmare", "Afterlife", and "This Means War". They sang their song "Fiction" and dedicated it to The Rev. I had wished it had been "So Far Away", my own personal favorite of theirs. Their final song of the night, "Unholy Confessions" is off of their album "Waking the Fallen"! What a perfect day, despite the small issues that were encountered this morning. I cannot wait for Day 2.
Day 2
By Leslie Elder Rogers
Welcome to Rockville 2014-entry into the park was a breeze, no lines to wait in, beautiful, sunny skies, and the heat was already more suffocating than yesterday. I wasted no time getting a quick bottle of water and headed to see The Pretty Reckless. I half expected a semi-naked Taylor Momsen, but she surprised me coming out in a black mini dress with the "Going to Hell" symbol on both sides (complete with black spandex shorts underneath). I still find it hard to believe I am watching Cindy Lou Who-all grown up. Her style and apparent self-confidence make her performances believable. Hearing the songs on the radio just aren't the same as in-person. Obviously some of the songs today included "Heaven Knows" and "Make Me Wanna Die". Their set closed with the title track from their "Going to Hell" album. Sick Puppies had big shoes to fill following her, but my doubt was undeserved. They performed a steady and eager set. Emma Anzai obviously has mad skills on the bass as I watched her in awe of her sheer beauty and ability. They love the crowd and they play up to them, making faces and gestures. "Riptide" and "Gunfight" were among the songs played. Black Stone Cherry had to be the most energetic band I watched up to this point. At least the guitarists were. I could not keep up with their movement and antics onstage. The riffs they played as they moved in such manners, kicking and jumping, I have no idea how they performed like they did in the heat we were dealing with. A very impressive set, one I wasn't at all expecting; the shock of the day so far. I eagerly went to see Black Label Society. I know this band has much to offer and was ready to be blown away. No doubt, they know their stuff. Zakk Wylde can do no wrong. He is a guitar God, and his talent is undeniable, but I did not find myself blown away or appreciating the music like I probably should have. The set was awesome, and even though they performed some awesome songs that included "My Dying Time", "Heart of Darkness" and "Suicide Messiah", I still found myself thinking back to yesterday's performances and comparing them. If you want to be smacked in the face with some crazy, sexy, odd vocal talent (not your typical female vocal), The Butcher Babies are it. They have energy onstage, they have personality, they have…bodies that they enjoy visually sharing with the world. If the fans aren't having fun, they find a way to make sure that changes. Seether came on strong and stayed strong. They have a heavy simplicity when they play, steady but clean. I do not like the Seether rip off of the KISS Rock and Roll Over album cover, but as a performance, they kept my attention without fail. "Gasoline" and "Remedy" pleased the crowd. I'd seen Staind several years back when Aaron Lewis was on the country kick (which was ok), but he is at his best in this genre. He doesn't displace himself on stage, and is a subdued vocalist who hovers the mic stand throughout most of the show, but his performances make me want to see him again and again. They played many of their hits; "Right Here ", "Falling", "Eyes Wide Open", "it's Been a While", just to mention a few. Motionless in White, I am angry with myself over. I missed everything but the last song of their set "America", thankfully I did get to witness that. It is a song I sing loudly, regularly. Their electrifying and continued desire to shock and wow the crowd with their costumes speaks volumes to the fans who appreciate their style. I miss the costume band days. MIW gives me hope. They put on a hell of a show from what I was told. Five Finger Death Punch was next. I can honestly say, I enjoyed every minute of their show. Ivan Moody is probably one of the most animated front men I've seen. He has a different facial expression for every moment on his songs. The set list for today's show included "Under and Over It", "Life me Up", "Bad Company", "Never Enough", "The Bleeding", and several others like "I Remember Everything". It was a loud and hard hitting show, lots of bass and guitar riffs; lots of on-stage movement between band members. They seemed to enjoy themselves and therefore, the crowd followed suit. Rob Zombie, one band I know very little about. I am familiar with some of his music and thoroughly enjoyed the set as he sang "More Human Than Human" and many others, but I admit I am more familiar with his movies and his wife. The band's performance was absolutely outstanding. Rob himself never stops; he has constant motion in his show. All of the band members run back and forth so much that it's exhausting trying to keep up with where they are. The makeup and costumes were perfect. I couldn't tell where Rob's hair ended and the fringe on his jacket began. The crowd went wild during the entire set. They were there to impress and did just that. Now for KORN, the band, the one and only Johnathan Davis, it was time. After standing in line to meet him personally to obtain his autograph, this show had to meet expectations. After all, my husband does consider him a "Rock God". He came out in the blue hue light of the stage and immediately the crowd went wild. The way people react to this band is crazy, but I agree, they are deserving of the mega-attention. I watched the band members, Zoltan Bathory and Jason Hook, as they crossed the stage back and forth and showed us how real entertainers/guitarists play, but I kept finding myself mesmerized by Johnathan Davis in his own splendor. I've heard all of the music before and I am not sure if it was the light show that made him appear angelic, but as he sang "Falling Away From Me', 'Got The Life", "Spike In My Veins", "Coming Undone" and 'Freak On A Leash", I could feel myself starting to believe that maybe my husband is right, he is a God of Rock after all. Day 2 – done and over and all I could do was yearn for more. My ears weren't hurting yet. I wasn't finished sweating yet. I hadn't even eaten all day, how could it be over so soon? Welcome to Rockville 2015, um, absolutely. Need I say more?
Official Welcome To Rockville Site
---