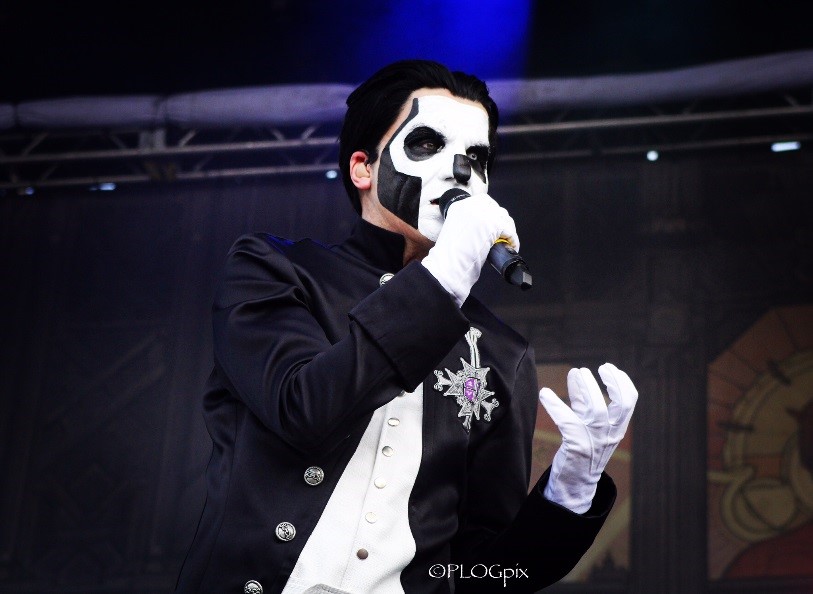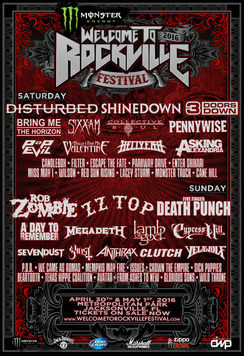 Welcome to Rockville 2016 – Metropolitan Park, Jacksonville, FL 5/1
Day 2
By: Leslie Elder Rogers
I arrived at Met Park to kick off day 2 of this awesome festival weekend that brought 46 unequivocally kick-ass, amazing bands to Jacksonville as ear candy for the avid music fans that packed the venue. Ear candy, indeed, no matter how you look at it. This event brings so much talent and variety that there is literally something, someone, for everyone in attendance. If you don't prefer a specific band, you get your pick of awesome merchandise and gift vendors that are glad to occupy your time while you wait for your perfect band to hit their stage. This year the festival featured the interactive Music Experience tent that offered and tested your knowledge of music, its' elements and its' instruments along with the ever so popular Monster Energy tent that is always packed full of people enjoying an ice-cold Monster drink. It also included the Jack Daniel's Experience which offers a museum that gives you an inside look at the distillery, and Tequila World which has proven to be an extreme hit with its' variety of tequilas and cocktails that will suit even the most difficult connoisseur. The Ferris wheel showed up last year and made its way back for 2016. It adds a nice touch of color at night as the wheel illuminates and giving off that beautiful glow as it slowly spins and provides an amazing view of the entire venue and all of its vastness. I know that Keep Golf Metal was advertised, but I never did see it…probably because of my constant trek back and forth from stage to stage. For anyone who actually had the chance to partake in some 9-hole putt-putt throughout the weekend, I am sure it was a blast.
I found my way to Beartooth right away so not to miss them because so far, these guys have been bitch slapping the radio waves. They have gained an enormous following already and today, the field in front of their stage, though not a main stage (yet), was packed. Caleb has power and authority in his vocals as he stimulates the fans and inspires their excited reactions. They performed like they'd been doing this far longer than four years. As Taylor, Cam, and Caleb danced across the stage energetically, the crowd was at their mercy. They gave us songs we all know and love in "The Lines" and "In Between" as we as "Beaten in Lips" which is their take on bullying and child abuse. It is a song that has a catchy chorus and has deep fucking meaning while not falling into that sappy, sad song category. Their new album releases on June 3rd, and from that album they also showcased their current song "Aggressive" and "Always Dead". I walked away very impressed.
I'd already seen We Came as Romans a couple of years back so I traveled across the park to get my fix with Yelawolf. I am fan personally but I cannot say that I know all of his music. I just knew that I couldn't wait to see him in action on stage. Once again, I wondered slightly about how well he would be received by the crowd that follows WTR, but with his personality and charisma, I knew he could bring the disbelievers around. I was not wrong. With a packed field area, the moment he stepped on stage, the crowd screamed and cheered. As I looked around, I could see people continuing to crowd in around the area seeming to realize his awesomeness. His music and lyrics are inspiring, but you have to listen hard and fast to get the marrow of them. He raps about things that people try to avoid and ignore but he puts them to lyrical content in a manner that if you don't pay attention you can miss the whole idea because the music and beat themselves are enough to captivate you. Yelawolf shouted out to his Slumericans (Slum Americans) as he gave props to Shady Records. He also paid tribute to the late and great Prince. He plays with his bandmates on stage in such a manner that you can feel their brotherhood. It's a chemistry that makes what they do appear easy and unrehearsed. Though there were some faces in the crowd that seemed a bit taken aback by his performance, probably because they just didn't know his music, for the most part, people accepted him and applauded him enthusiastically. I did see a few "Slumerican" tattoos floating around, representing today. The mosh pit that grew during his set was epic spilled over to several areas of the crowd. Their set included "I Wish" and then an amazing live version of "Catfish Billy". He followed that with a quick acoustic tidbit of Garth Brooks' song, "Friends in Low Places", which seemed to take some by surprise but overall grabbed attention. After all, it is a country song and Yelawolf doesn't deny his born and bred, Alabama heritage. He fully embraces what he loves and puts his own take on it, like it or leave it, his individuality makes him significant. He led into "Box Chevy V" and "Push Em". The crowd was jumping vigorously during the entire concert. I think his fan base grew today.
I was the victim of P.O.D.s' playfulness next. As I stood there watching the crowd gather, many who just remained after Yelawolf, and many that came over just for their set, I realized that this year, the WTR fans have been thrown some diversity in the musical styles that were booked. Some of the people I spoke with yesterday and today don't appreciate the "skater" type of music that Cypress Hill and Pennywise bring to the table and truthfully, that's ok and understandable. I grew up listening to punk and alternative, thanks to my husband; rock and heavy metal, thanks to my late brother; and country and bluegrass thanks to my mom and dad, so I am extremely versatile as far as music goes. Now, here we all are, gathered around to watch P.O.D. (Payable on Death) who originally formed as a Christian rock group. Diverse and versatile, yes, that's the crowd at Welcome to Rockville 2016. P.O.D has evolved over the years and engulf a multifaceted genre' more so now as they incorporate rap, hard rock, and alternative into their style. Sonny and the guys kicked it off with a bang…with "Boom" and everyone in the crowd went crazy. Funny enough, even the photog pit seemed to want to bounce and move as I saw a few people rocking their heads (lightly) as they took momentary pauses to get the best shot possible. I think there are moments that even the professionals can't resist the music and have to give in to the right of passage that is to rock, even if only for a brief moment before gaining their composure back and getting back to the work at hand. They continued with "Rock the Party (Off the Hook)", "Southtown", their timeless hit "Youth of the Nation", and "Alive".
I briskly walked straight over to the stage that now would house the band, Ghost. It was all the way across the park but I knew they would be worth the trek. I'd heard how great they were to photo live and that they brought a true dramatization to their stage presence. I often wonder how bands that consistently wear costumes or makeup can handle it on stage, relentlessly moving around like they do, using so much energy, in this heat, without passing out right in front of us. This group is one of those with makeup and heavy, dark costumes with masks…but you'd never know it if they were uncomfortable. They were amazing on stage. The Nameless Ghouls play to the crowd, looking fiercely but slyly in the eyes of observers, almost in a hypnotic fashion, leisurely making their way back and forth across the stage as they strum their guitars to musically impress the crowd. Papa Emeritus III is such a debonair presence on stage in his elegant tuxedo styled anti-pope suit. The Nameless Ghouls accompany and complement his look with their stylish adaptation of anti-Catholic semi/half robe/pant suit attire, in all black, and hauntingly peaceful, horned, silver face masks to keep their identities unknown. They are actually a pretty amazing sight in person and though they are still working toward the recognition they deserve, the crowd here today poured in to watch them perform. Our time in the pit is limited to the first three songs. I didn't recognize the intro music, but was told it was "Miserere Mei, Deus" and "Masked Ball", which would prove to be a perfect fit for them. The sinister appeal of the music prelude was persuasive and appeared to hold the attention of the fans. Papa has a strangely unique voice that adds a distinct sound. They executed their much loved "From the Pinnacle to the Pit", and then followed it up with "Stand by Him" and an amazing live performance of "Cirice" which is by far my favorite, as it is with many others. As we made our way to the next stage, in the distance we heard the crowd continue to scream and cheer them on as they sung "Absolution".
Parkway Drive was another must see for me. They've been around for quite some time but I have only recently become acclimated to their music over the past few years. The majority of the members are all original to the band and have exhibited longevity and extreme talent over the years. When they hit the stage, they came ready to destroy with "Destroyer". Winston's' eagerness to get the crowd pumped was apparent right away as he beckoned and gestured for surfers and moshing to find their way to the front. The harshness of his vocals is an attention grabber. I watched as Jeff Ling ran around the stage, moving wildly back and forth yet never faltering on guitar, defying gravity, jumping up and down while he played. The talent packed into this 5 man band was immense. Luke and Jia were creatively amusing and entertaining and Ben was knocking it out on drums. They were well received by the fans and the fans definitely put forth the effort to surf as much and as fast as they could. Surfers made their way to the stage area many times. The looks on their faces as they landed, some in the grips of security and others almost planting their feet on the ground before being caught was priceless as If they'd just completed an Olympic competition and a medal was being awarded. The band brought steadfast energy as they sang "Carrion" and "Vice Grip", the powerful tune about not giving up; making sure you give it all you've got. Though I'd left their area by the end of the set, I heard they ended strong with "Crushed" from their upcoming album
Ire
, set to drop in September.
As I waited for Lamb of God to take their rightful place on stage, I was able to hear the end of the Cypress Hill set as they played on the stage right next to us. Cypress Hill have been around nearly 30 years and have creatively kept relevancy even with several years between active albums. They wowed the crowd with "How I Could Just Kill a Man", "Dr. Greenthumb", Rock Superstar", and "Insane in the Brain"…which is so catchy you just keep singing it even after it's over. As much as I appreciate them as artists, skepticism about them being part of Rockville's talent this year was weighing on me but it was clear that the fans thought they deserved a spot here today. I am proud to say that the fans impressed me with their acceptance of the different styles that were added this year. Cypress Hill may not be "metal" but their talent cannot be denied.
Up next was Lamb of God. What a crowd pleaser this one would prove to be. This band has a huge following and today, I would get a sample of just how huge and loyal that is. As someone who has never followed LOG fully, I only know a few of their songs but I know beyond a doubt that they are extremely gifted individuals that together create a massively engaging band that dominates their genre without question. With Randy Blythe at the helm of LOG, Mark Morton and Will Adler on guitar, John Campbell on bass, and Chris Adler on drums, who can argue that they bring supremacy to the stage. Randy has more vitality onstage than just about anyone I've seen. He springs across the stage weightlessly like a rabbit, screams like a male banshee and gives his whole heart when performing. LOG gave our ears the pleasure of "Desolation", "512", "Walk with me in Hell", and "Ruin", among several others. During "Laid to Rest", the circle pit formed that has been supposedly deemed the largest ever, if there is a true way to measure this type of thing. Based on what I've seen, it seemed quite controlled and restrained but I guess running around in circles has now become the thing. Maybe it seems a little safer than a true mosh pit but moshing is metal concert tradition so a circle pit seems a bit blasphemous to me. Just an opinion of course. Lamb of God put on a hell of a show and that, my fellow Rockville patrons, is a fact.
A Day to Remember had to fight with the Clutch crowd for attention, but they drew a damn impressive crowd. This band has been steadily growing and gaining new fans as they keep putting out great songs that grab your attention and keep your head banging and fists pumping. Jerry, Kevin, Neil, Josh, and Alex are all exceptionally relevant and keep up with what the generations' today desire in sound, quality, and action. Like most of bands, their stamina can't be questioned as they too, move around the stage without missing a note or a chord. If anyone got winded, you couldn't tell. There is no obvious sign of exhaustion during the performance they provide. In fact, as they play and sing, the adrenaline motivates them even more. From the pit, we get that up close and personal view of each band member. We wait for those perfect moments while we capture the essence of each person on that stage in a photograph. These guys truly put on a good show and though I wasn't there for the complete set, as I watched and listened to them play "The Downfall of Us All", "My Life for Hire", and "I'm Made of Wax Larry, What Are You Made Of?", it was clear to me that ADTR is a band that will continue to prosper. Their fans are faithful. ADTR merchandise was visibly being sported by many of the supporters here. As I slowly made my way to my next stage destination, I was able to hear them play "Right Back at it Again" and got a faint dose of their newest release "Paranoia" being played as I wandered off in the distance.
It's a well-known fact that Dave Mustaine is multi-talented and can kick the pants off of some of the newer s-called guitarists if in battle. Megadeth has continued to persevere and grow and have bred millions and millions of fans throughout their career. No matter what age group you fall within, you know who Megadeth is and you appreciate them for their hard work and determination whether you play their music regularly on your iPod or not. Dave uses the stage to his advantage, showing off the perfected guitar skills that he has learned over the years. Kiko has style and exhibits extreme control as his guitar riffs flow flawlessly from his fingertips. I mean, shit, he's been playing since he was 11, so after 30 plus years, he is a master at his craft. David (Junior) on bass just simply has a naturalness as he plays. Then there's Chris, whom, by all intents and purposes just wants to play drums and throw out some hellacious beats. He has his plate full as he plays for both Lamb of God and Megadeth currently. The man has monstrous talent and a unique approach to how he plays. Both bands recognize his significance as do the fans. There were no other bands competing for this time slot, so Megadeth practically had the entire venue population gathered just to see them. They have withstood the test of time while continuing to shock and awe people with their brilliance in musicality. They played a hell of a set that included "Hanger 18", "The Threat is Real", "Sweating Bullets", "Trust", "Fatal Illusion", and "Symphony of Destruction". Fan favorites are usually noticeable, but in their case, all of the songs are obviously fan favorites as the screams and shouts never died down and never ceased. They continued with their newest song "Dystopia". It has already had major air time. They finalized their set with "Holy Wars"…but they weren't done. Just the way they entered the stage, with a recorded version of "Prince of Darkness:, they ended with recorded versions of "Silent Scorn" and the ever so famous and regularly covered "My Way", by Sid Vicious, originally by Frank Sinatra. This was a great way to exit. You could see the gleam in the eyes of the fans after witnessing this iconic band live. I'm sure for many, this was a bucket list accomplishment.
Five Finger Death Punch, well, let me say this: I know Ivan gets a lot of shit; he has issues. Ok we get it. It's a known fact but it doesn't take away from his ability to knock out a great performance on stage. Between his vocals, the string playing wonders, Zoltan, Chris, and Jason, and drum master Jeremy, these guys are brilliant, intense and put on an amazing show. They run around like fools back and forth, crossing each other, leaning on each other, smiling, frowning, making faces, making hand gestures, spitting water…if you can imagine it, they've basically done it on stage. They have a great presence that spits power, authority and ROCK right in your face. Calling them stale and irrelevant is nonsense and blatant bullshit. He calls out patrons that are acting the fool unnecessarily without even thinking about it, puts them in their place and moves on. Even if the band has personality conflicts, they perform with a massive amount of chemistry on stage in MOST instances and their differences are almost invisible. The prelude to their entrance on stage had everyone cheering and screaming for their arrival. Their set showcased many of their hits, some that clearly are favored over others, but all were given to us with complete success. This night Ivan and his crew, these bad boys, performed with precision as they delivered "Lift Me Up", "Hard to See", Never Enough", "Got Your Six" and then into their Bad Company cover of "Bad Company", which for many people was the start of their love and loyalty to FFDP. Our metal loving hearts were also serenaded with the catchy but simple "Jekyll and Hyde", "Burn Motherfucker", a snippet of "Wrong Side of Heaven" (I'm not sure why since it's such a great song), "Battle Born", "Coming Down", "Under and Over It", and finished with "The Bleeding"….when Ivan says FIVE FINGER, we say DEATH PUNCH…it's over now. I've noticed that this song is the closer that is used quite often. As with all of their concerts, the circle pits were pretty crazy, throwing dirt and dust everywhere. Horns were everywhere in the crowd throughout the entire concert. Ivan always welcomes fan participation; in fact, he begs for it. The fans willingly abide by his wishes wholeheartedly as Zoltan smiles wickedly and slyly with unrestrained intention to appeal to everyone watching. Chris and his beard are quite the connected duo, entertaining as he motions to the crowd with his fun and sarcastic gestures. Jason's facial expressions and intense concentration show us his commitment and Jeremy, fun loving and jokster, Jeremy, he is just fun to watch as he bangs the drums and cleverly finds his own way of grabbing the attention he deserves. It is this that makes a band great. It is this that makes a concert engaging. When you can feel the appreciation as a fan, that the band gives you, it makes the whole experience worth every minute. I continue to enjoy FFDP and their concerts continue to impress me.
Rob Zombie followed FFDP. He and his entourage were our finale's concluding the festival and what a closing act it was. Zombie always fascinates the fans with his stage props, the lighting and colors that are used to enhance the stage, and the outfits they wear to enrich the visual quality of their concert. His setlist never disappoints as it is full of entertaining, well-known, and well-loved favorites. The songs are clearly strange and memorable with music that completes idea behind the lyrics. Without the band behind the man, the songs probably wouldn't have the same impact. John 5 is a true master at his craft on guitar and has played for some of the most memorable bands in rock/metal history. His ability to shine on guitar while putting on a dramatic stage performance are what make him one of the top guitarists of today in my book. Piggy D is intriguing on stage; his masks have a deliberately disturbing appearance. He is a pretty fascinating bassist that has proven his value over and over for Zombie. Throw in Ginger Fish, is not just a drummer. He has a variety of musical talent that incorporates being a pianist and singer as well. He throws down energetic drum beats that perfectly dirty up each song with passionate intention. Watching the band perform is like observing a short horror flick on stage. Their show is always on target and gives the fans exactly what they demand. They brought their a-game tonight as they perfectly executed "Superbeast", a cover of "Le Freak" by the 1970's phenomenal band Chic, "Well Everybody's Fucking in a UFO', off of his outstanding new album
The Electric Warlock Acid Witch Satanic Orgy Celebration Dispenser
, his ever so popular "Living Dead Girl", "More Human than Human" which was his song while White Zombie, and played scenes from "House of 1000 Corpses" while performing the title song. The new album is already making its' way heavily into the charts. With "In the Age of the Consecrated Vampire, We All Get High" coming on strong on stage, the crowd was wild and active, fisting the air and crowd surfing like crazy. They brilliantly showed off "The Hideous Exhibitions of a Dedicated Gore Whore", "Thunder Kiss 65", and "We're an American Band". The guitar solos that were thrown in between were solid, immaculate, and dynamically accomplished. We'd already started walking to our car to try to beat the traffic all the while knowing that the night would not be complete without "Dragula". Luckily, it was the encore song and it stopped everyone on the streets as they walked. We watched and sang loudly from outside the venue with excited appreciation, and then, it was over.
The incredible festival weekend and all of its grandeur was now complete. Welcome to Rockville 2016 was an absolute success that was filled with astounding bands who each brought power and exuberance with their thrilling and mind-blowing performances. They provided their avid fans with what could only be defined as epic shows all weekend long. The indescribable interval between now and the lineup announcement of Welcome to Rockville 2017 will be agonizing but each year has proven to be far more magnificent than the last. So we will wait, with baited breath, because we know there is nowhere else we want to be during this time each year. I leave tonight feeling honored to have once again been a part of the media that covers this event each year. I am thankful for the opportunity to promote this event through MetalExiles.com, the website I proudly and happily represent and cannot wait to see what WTR 2017 has in store for us.
Official Welcome To Rockville Site
---