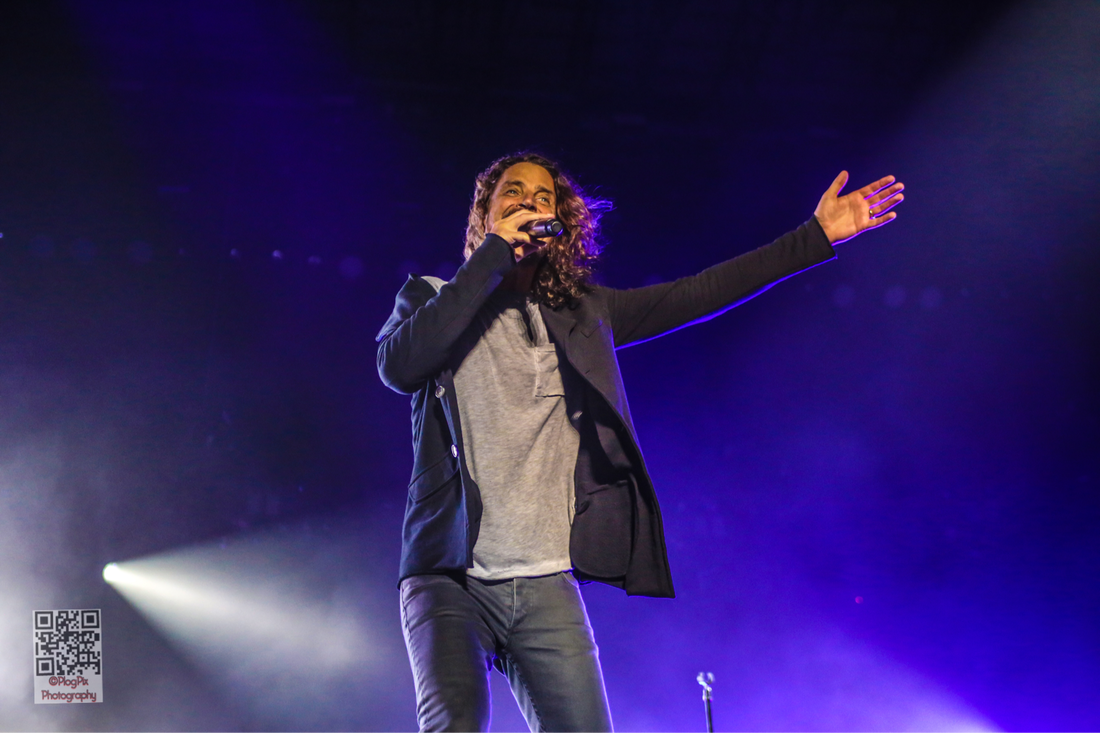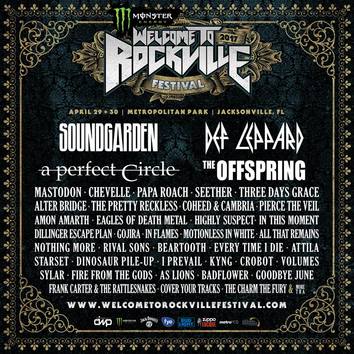 Welcome To Rockville 2017 - Metropolitan Park, Jacksonville, FL 4/17
By: Leslie Elder Rogers
Day One-
Getting to the park was quite a fun ordeal today but I got there and though I missed shooting three bands I'd hoped to accomplish,
As Lions
,
Badflower
and
I Prevail
, I did make it in. After what felt like walking a mile to the venue after parking, I was just in time to hear
I Prevail
finishing up their set. My days at Welcome to Rockville are pretty much consumed with running back and forth from stage to stage with very little time in between to rest but what a weekend it always is and as day one began, I could feel the adrenaline of this action packed weekend already pumping through my veins. The end result is always worth every bit of legwork necessary to reach it. It is an honor every year to get to cover this festival for our site.
I quickly made my way to
All That Remains
, in an attempt to really get the day started. As Phil Labonte' entered the stage, there was already a roar in the crowd that grew stronger as lyrics poured from his lips, fans eagerly sang along. With fists in the air, the crowd intensity was already increasing and there were happy faces everywhere. Oli Herbert, with his fantastic head of hair intrigues as he shows off his skill on guitar while bassist, Aaron Patrick shows off his pearly whites, grinning widely throughout the entire set. Mike Martin on rhythm guitar delivers flawlessly and drummer, Jason Costa beats the hell out of the drums creating that ever so needed pounding rhythm. Their set list today included great songs like
The Last Time, Stand Up, This Probably Won't End Well, What If I Was Nothing
and their current hit
Madness
, among others. Phil has offered his vocal services to other bands on multiple occasions. You don't see that every day. Watching him on stage today, his personality definitely dominates.
Volumes
was just coming on as I headed toward the stage for
Highly Suspect
so I decided to stop and give them a listen. Not bad. Being unfamiliar with their music to date, I was eager to hear what they had to offer. It seems that sporting a blonde wig is a statement the band carries out as they make appearances. Today, vocalist, Myke Terry took his turn as he came on stage, it lasted only a few seconds and it was quickly removed. The band was good, obviously they have a fan base that is loyal. I'm not on the boat yet, but maybe a little more time to let their sound marinate in my mind before I can truly make a comfortable, personal judgment.
Highly Suspect
, well, the show was not as energetic as I'd hoped but I absolutely love this band so there was no way they could disappoint me. On stage, the guys have a casual appearance and their chemistry together is obvious. They're quite subdued compared to some bands I see perform regularly. The heat may have contributed to their calmness, not that there was a lack of entertainment. On the contrary, they were amazing; powerful even though the performance seemed slightly restrained. Their sound intrigues me and is so distinct. They seem to be a no-nonsense kind of group that has no problem performing a rock festival looking like they should be performing with The Beach Boys on stage; simple, comfortable, and not trying to put on a fake persona just for attention. Their music is cause for attention enough. Their set to day included
Lydia, Serotonia, My Name is Human
, and
Bath Salts
, in addition to others.
Before today, I had never really seen a lot of The
Eagles of Death Metal
, but all I can say is wow. The energy they conjure up on stage is jaw dropping, fantastic. Vocalist, Jesse Hughes is quite the peculiar one as he struts around on stage, flailing his arms around and thrusting his hips sexually as he sings each tune. He is amazing to watch from the standpoint of the life he brings to the stage alone. Throw in some pretty awesome musicianship from himself, guitarists, Dave Catching and Joshua Homme, and you have an electrifying show that just makes you want to move your ass. I am surely adding them to my playlist because after a performance like, why the hell would I not? Today, they gave us perfection as they performed
I Only Want You, Don't Speak, So Easy, Whorehopping (Shit, Goddamn)
, and even threw in a cover of David Bowies'
Moonage Day Dream
. The crowd freaking loved them and went wild throughout the entire set. It was mind-blowing and I hated that I had to cut my time watching short, but I had places to go and others to see, as luck might have it. Check these guys out if you haven't. They are pretty badass. It might change your life.
Frank Carter and The Rattlesnakes
snuck up on me as I headed to my next set. I was rushing to catch
The Pretty Reckless
, but seeing the ever growing crowd waiting to see Frank and the band, I thought, hell, why not, so I made the detour to his stage instead? The few things I'd heard by them, I've enjoyed and it appeared the fans felt that way too. Out comes this little, red-headed guy, dressed in his black and cream striped suit (at a rock concert, in the 90 degree heat), obviously ready to thrown down. This guy packs a punch when he performs. His get up and go was damn sure 100% on point today. He wowed the crowd as they belted out his songs in stereo behind me. Focusing the camera on him as he bounced in every direction across the stage was easier said than done. He made his way into the crowd, held steadily and trustingly in their palms as he went into a complete handstand, legs up in the air, without seeming to have an ounce of care about whether he went down headfirst or not. Needless to say, this crowd was not about to drop him. He knew that. We knew that. Just who are these "Rattlesnakes" that the band name refers to? Well, they are Dean Richardson on guitar, Tom 'Tank' Barclay on bass, and Gareth Grover on drums and they are a remarkably talented bunch. So yes, I missed Taylor Momsen, and yes, I hate that I did because she is an extremely talented woman who has a beautiful vocal gift, but watching Frank Carter and his band mates was an impressive substitute.
As I walked back and forth between stages today, there were already early signs that the heat was getting to some of the concert goers as people crowded under the overpass to cool off and take a break while listening to the performances from afar.
Next up, a band I've wanted to see for a while but have missed on tour several times.
Coheed and Cambria
who've been around since 2001, brought their unique sound to the Rockville stages. Their crowd was of massive proportions. Vocalist and guitarist, Claudio Sanchez has an eerily intriguing voice which does not mimic his speaking voice. I watched as he came on stage, no face to be seen through all of the hair. He began immediately with
The Willing Well IV: The Final Cut
and immediately went right into
Welcome Home
which got the crowd pumped. This song noticeably is a favorite. As I looked into the crowd, fists were raised high and heads were banging steadily to the beat, even though the song is not rapid or fast paced. Surfers were already being hoisted in the air and it was just a matter of time before all hell breaks loose as bodies seemed to fly forward. They band delivered
Apollo I: The Writing Writer, Delirium Trigger
, and
The Suffering
without missing a beat.
Pierce the Veil
found their way to the stage and the crowd that awaited them was enormous. People were ecstatic to see these guys. It's understandable as they put on a very energetic show with so much enthusiasm as they jump back and forth across the stage. Vocalist, Vic Fuentes has so much charisma and the ladies just eat that shit up. From behind me, I don't think the screams stopped the entire set. Mike Fuentes takes control of drums like it's nobody's business, while guitarist, Tony Perry plays those strings with precision. The finishing touch is Jamie Preciado, the bassist, as he pines for attention from the fans. Waving his hands in the air, pointing to the crowd, and his never ending grin from ear to ear beckons the crowd to make some noise. His facial expressions entertain all on their own. Today, part of their set list included
Texas is Forever, Bulls in the Bronx
, and
A Match into Water
. I'd never witnessed a live show by PTV and not only were the fans in the crowd excited, but in the photo pit, there were multiple true fans that, as the music played and Vic showed off his vocal ability, even they bounced up and down in almost a frenzied fashion.
This was my second time getting to shoot
The Offspring
and they never cease to amaze me with their talent. Being a band that's been around for some time now, they have fans of all ages that came out in masses to see them perform here at Rockville today. Their songs are all so well-known and are crowd pleasers from start to finish. They have a true brotherhood and interaction between them is apparent throughout their set. I love watching vocalist, Dexter Holland, and guitarist, Noodles, play off of each other with the little smirks and movements that demonstrate their long-time relationship. Noodles sports his signature black spiked hair with blonde highlights while Dexter keeps that platinum look going strong. Flawless. That's how I describe
The Offspring
. They have always been a favorite of mine. It's nice to see the diversity in musical style at festivals. I got to stand a reminisce as they entertained us with an enthusiastic and powerful performance that included around 15-16 of their best songs including
You're Gonna Go Far Kid, Come Out and Play, Hit That, Want You Bad, Gone Away, Bad Habit, Gotta Get Away, Why Don't You Get a Job?, Can't Get My Head Around You
, and
Pretty Fly for a White Guy
. I missed a couple of their songs as I ran to the next set…a band I was not going to miss my chance to see.
I was ecstatic to get to shoot
A Perfect Circle
but was very unimpressed with the lighting and ability to get any good photos during the set. The music, however, was on point and amazing. Maynard James Keenan is truly talented vocally. His career has been very extensive and his fans are die-hard, no matter which project he is working on. The stage lightning pretty much sucked ass during the first two songs, the very songs that the media is allowed in for. I hated this but all in all, we are there to review the show itself and there were no flaws in the band's ability to do what they do best or Maynard's ability to lyrically please his adoring fans. He is brilliant and there is no question in regard to that matter. I believe it's impossible for Maynard to do any wrong and watching A Perfect Circle tonight as they performed was a dream come true. Their set consisted of many songs including
The Package, The Hollow, The Noose, Rose, Magdalena, Hourglass, Thinking of You
, and
The Outsider
. There were other songs as well. I was hoping for my favorite,
Judith,
but I did not get my wish on that one. Still, as said before, Maynard can do no wrong, so I don't hold it against him. Tonight, being part of the crowd, I witnessed greatness on stage.
Soundgarden
has been mesmerizing fans since the 1980's and even though they had a lengthy hiatus that spanned over many years, they seem just as fresh and appealing today as they did the day they first made their way into the musical spotlight. Chris Cornell is a beast and he is cherished by his peers with deep admiration. His fans are loyal and faithful. Women adore him and men want to be him. Chris had a vocal tone that is very pleasing, rich, and easy to listen to. He dominates on guitar, playing like he was born with it in his hand. His band members are clearly masters at their craft. Kim Thayil on guitar, Ben Shepherd on bass, and Matt Cameron on drums are the perfect team and compliment Chris' ability to captivate the fans. Chris intensely connects with the crowd as he leans in toward them then swiftly snaps his head backwards and wafts his hands through his hair. His quick movements motivate the crowd to cheer and yell with every ounce of sound they can produce. The set tonight included
Spoonman, Outshined, Black Hole Sun, The Day I Tried to Live, Been Away Too Long, Fell on Black Days, Rusty Cage
, and
Beyond the Wheel
.
Today was a great day and I was privy to so many incredible and gifted artists today. I cannot even express fully how elated I was.
Day Two-
As I walked in to the venue today, the crowd was already massive. It was going to be "that" day, the day everyone was going to rock their asses off.
Holy, freaking, shit!
Beartooth
slams it on stage. They were my first band today and they came on with a bang and kept that energy going the entire show. Since I first heard them on the radio, I've followed them and luckily got to cover them last year at Rockville too. They are an impressive new band that are surely headed for great things. These guys know how to hold your attention. Caleb has such power and potency is his voice. It commands attention. Their growing popularity is so deserving. Watching and listening to their live performance is proof of just how damn good these guys are. It cannot be denied that their desire is bottomless and their drive is boundless. As they lunge themselves across the stage, their strength does not weaken. They performed
Aggressive
and as the crowd increasingly intensified, the mosh pits were welcomed and the surfers rapidly found their way to the front. I love the passion that rock and roll crowds have. They put it all out there and leave nothing about their love of music to be questioned.
Beaten in Lips
and
Sick of Me
were next. I was unable to stick around for the entire set, but I was told that they performed my favorite,
Hated
'. I HATE that I missed that but I have no doubt that I will see
Beartooth
many more times in the future. They aren't going anywhere but up.
Nothing More
was next. I've caught their set before and was a little less impressed today. I absolutely adore the band and I know that they are true performers and can kill it onstage but today, vocalist, Jonny Hawkins seemed to struggle slightly during certain times, getting seemingly winded. It can be expected in heat like we were exposed to today. Toda, they introduced a new instrument to accompany the Bassinator. I am not certain of what they have named it but it is quite intriguing, as is Jonny's unique vocal choreography. Some of his vocal tricks may have been getting the best of him today, however. Still, they put on a hell of a show.
Christ Copyright, Mr. MTV
, and
Jenny
were the first songs played.
Jenny
always gets the crowd going. It has the ability to twist you into pieces while making you dig deep to find strength to overcome. It's such a powerful song and you can feel the absolute emotion that flows through Jonny as he sings it and begs for crowd interaction throughout the song. As I headed to the next show, I could hear them performing
This is the Time (Ballast)
and the roar of the crowd was overwhelming.
Motionless in White
is always a blast and I absolutely love to see this band live. Chris "Motionless", the vocalist, is so humble and so down to earth. He's openly thankful for the fans that have helped them get where they are today and he is not afraid to show it or express it. Though I've never personally met any of the other members, Chris has spoken to me backstage at Rockville in previous years and he is truly an amazing person. They opened with
A-M-E-R-I-C-A
and with abundant crowd interaction, the song came to life. This glam/horror group sure know how to put on a show with body paint and costumes that define them as a band. Today, we were greeted by a stage dweller portraying an evil clown turned semi-skull/skeleton and as she creepily and eerily danced back and forth across the stage. As she wielded her black umbrella, her noose, and her water gun, she fascinated the fans. Devin "Ghost" Sola is always dressed to impress with his horrific attire and today was no different in his blood bathed, beauty queen dress as he held tightly to his bass. Ricky 'Horror" Olson and Ryan Sitkowski always take charge as they wield their guitars like bosses. Vinny on drums completes the whole scene and as you watch him play, he is visibly expressionless, but he is not one bit emotionless.
Loud (Fuck It)
didn't disappoint, but nothing does with
MIW
. They kick ass from start to finish each and every time the step their feet on stage.
Attila
hit the stage with a bang ready to show their stuff and that they did. Fronzilla enthralled the fans with his lyrical mastery as he effortlessly delivered
Public Apology, Moshpit, Bulletproof, Let's Get Abducted, Middle Fingers Up, All Hail Rock and Roll
, and
About That Life.
As Fronz strutted across the stage, Chris Linck and Kalan Blehm solicited the crowd to form the ever so popular mosh pits. The fans quickly and eagerly obliged. The band plays well off of each other throughout the entire set as they jump, run, and bounce forcefully but without any confusion. Motivating their fans doesn't seem to be an issue for
Attila
.
In This Moment
could never disappoint me and I will gladly take each and every opportunity that I get to see them live. Maria Brink is the most intriguing and amazing performer and I do mean, true performer. She lights up the stage the minute she steps out onto it. Her music is a driving force for so many. She has so much passion for what she does and she pours her heart, both musically and visually, into each and every song. She and her band, Randy Weitzel, Travis Johnson, and Chris Howorth are so damn good together. I can't imagine ITM without any of them. Maria delivers every ounce of her stage show the same way she delivers every lyric she creates. Tonight, as always, she flawlessly and gracefully performed
Blood, Black Widow, River of Fire, Sick Like Me, Oh Lord, Whore
and several other songs. Her character, wardrobe, and stage prop changes make her show a truly unforgettable experience. Her fans are die hard, male and female alike. It's impossible to deny her sex appeal or her ability to shock and awe. Hands down, without any contest, she is my favorite.
Of Mice and Men
was next. I was looking forward to seeing what they were up to now that Austin was no longer a part of the band. To me, he made the band but I have to give everyone a chance. I realize that the new vocalist, Aaron Pauley, just stepped right into position of lead vocals, and I won't take anything from him for taking that on. Today, he was good. It will take some getting used to for me, not hearing the original voice behind the band, but Aaron is damn good in a different kind of way and has chemistry with the band that was already home to him. Today, he, along with Philip, Alan, and Valentino, definitely came to prove a point and that point was made. They performed
Bones Exposed, Would You Still Be There
, and
Unbreakable
, as well as several others. In the midst of the second song, crowd surfers got extreme causing security to find reinforcement in order just to try to ensure everyone's safety. As a result, media was forced to leave early just as the second song was ending. It was insane as bodies kept flying forward without a care as to whether they'd land head or feet first.
I stopped quickly and caught
Gojira
during their set as I headed across the park. I am a fan of their music so seeing them perform the songs is the natural thing to do. This French metal band has been around for quite some time now. Brothers Joe Duplantier, vocalist and guitarist, and Mario Duplantier, on drums, know how to make it work and with the help of fellow band mates, guitarist, Christian Andreu and bassist, Jean-Michel Labadie, they throw down on stage with their intense musicianship and hard hitting chords. Their songs encompass the bass tones extensively which aid in giving their sound that deep metal tone. Their set today included
Only Pain, The Heaviest Matter of the Universe
, and their popular hit,
Stranded
. In addition to others, they also performed
Flying Whales
and The
Cell
.
Three Days Grace
have had an amazing career so far. When the original lead vocalist left in 2013, many people were conflicted but after bringing in the prior My Darkest Days vocalist, Matt Waldst, it was clear that there was no need for question about ability. Matt has come in and just taken control and is an amazing addition to the band. Alongside his brother, bassist, Brad Waldst, drummer, Neil Sanderson, and guitarist, Barry Stock, Matt has been able to construct an even more powerful sound while not taking away from the music that was created prior to his arrival in the band. They have many hit songs and Matt delivers each and every song like it's his own creation. There was a colossal anticipation throughout the crowd as they awaited the arrival of the band on stage. So many of their amazing songs were performed today such as
I Am Machine, Animal I Have Become, Chalk Outline, Break, Pain, The Good Life, Pain Killer, Never Too Late, I Hate Everything About You
, and
Riot
. Their set was absolutely outstanding. Having so many well-known songs stimulates makes the crowd and their interaction is so much more interesting. Watching the fans going crazy as Matt proceeded into each song was incomparable.
I ran to
Seether
and barely made it before they began but
Seether
never dissatisfies me. I can't name a song of theirs that I do not enjoy. As musicians, the entire band seems well constructed and very gifted in what they do. They don't have to jump around and act crazy to impress their fans because their talent alone is enough to accomplish that. Vocalist, Shaun Morgan, stays pretty close to the microphone during the majority of their set as he plays each chord on guitar perfectly while making sure each song is vocally delivered without imperfection. Dale Stewart on bass interacts with the crowd as he moves across the stage, making sure to create those moments of eye contact with the adoring fans. In the back, drummer, John Humphrey keeps the beat going as his drum sticks go wild. Their set list today included
Gasoline, Rise Above This, Ain't Nobody Praying for Me, Words as Weapons, Fake It
, and
Remedy
.
I really wanted to see
Amon Amarth
but with the time conflict I could only choose one. I did stop by as the last two songs were sung and as always,
Amon Amarth
puts on a hell of a show. They always bring their A-game for both visual impression and sound. These Viking Metal powerhouses admitted that the heat was dreadful and that being from Sweden, they are used to colder weather but they are beasts on stage. The crowd that had gathered for them was of massive proportions. With hands in the air, we raise our horns and salute you Johan, Ted, Johan number 2, Olavi, and Jocke, as you kick ass without restraint. As I watched from afar, they performed
Twilight of the Thunder God, Raise Your Horns
, and
Guardians of Asgaard
and then I headed to my next stage.
Repeat after me, Fuck
Papa Roach
, played over and over at the stage as we awaited Jacoby Shaddix and his crew. As the fans did exactly as instructed, they got louder and louder and the giddy anticipation on each face was unmistakable. What a way to get the crowd pumped but it worked like a charm. Finally, the band hit the stage and Jacoby appeared. Just like that Jacoby, Tobin, Jerry and Tony had the fans in the palm of their hands. They immediately invigorated the growing crowd with an amazing set list that included
She Loves Me Not, Crooked Teeth
and
Born For Greatness
, both from their new album, old favorites
Scars, Last Resort
and
Lifeline
. Jacoby even surprised the fans by bringing Maria Brink onstage for an amazing performance of
Gravity
. I was not present during the performance of
Gravity
and can kick myself for having already started walking toward my next stage but I did hear it and I stopped just to listen. This is by far, one of my favorite songs and absolutely an amazing duet between two extremely talented individuals. I was also informed by others in my party that
Papa Roach
also sang
Help, Song 2
, and
Getting Away with Murder
, among a few others. Though I wish I'd been able to stay for the entirety of their show, I am certain that it ended with just as much power and oomph as it began with.
The last time I saw
Chevelle
, I was unable to see their entire show but tonight would be different. I was ecstatic that on this night, there were no overlapping band set times and I would be able to focus 100% on
Chevelle
as they performed and what a performance it was. They are not the most active on stage and what I mean by that is that they don't feel the need to constantly bounce back and forth, thrusting themselves toward the crowd or begging with hands in the air for attention or appreciation. They are respected and esteemed and that was obvious based on the size of the crowd that had gathered to watch them. It seemed that the entire population that filled the venue was jam-packed at the Metropolitan Stage to see this amazing band. Rightfully so! Tonight we witnessed greatness yet again as vocalist and guitarist, Pete Loeffler, and brother, Sam Loeffler combine their talent with bassist and brother-in-law, Dean Bernardini to give us a show that was music to our ears and for our souls. Talk about a family affair. This band has been a family situation since inception. As we let it sink in, they performed
Another Know It All, The Clincher, Take Out the Gunman, Door to Door Cannibals, Forfeit, Send the Pain Below, I Get It
, and an acoustic version of
The Red
, which was absolutely beautiful. Pete said this very song was near and dear to his heart. They also performed
Joyride
and
Face to the Floor
.
Def Leppard
was headlining tonight. As the last show of the evening and the final show for Welcome to Rockville 2017, there were mixed emotions among the fans. Some were excited to see this band who has had a tremendous career and are still going strong with touring, while others were skeptical about how their performance would turn out. Age can sometimes be a factor in how well you do or don't do but I can attest for the fact that even though
Def Leppard
has been around for many years, they still had what it took to close this place down with a freaking bang tonight. Not only do they still out perform many of the new bands that have populated the industry in recent years in instrumentation, but after all these years, to still be able to vocally create such awe in the crowd is mind-blowing and that's exactly what Joe Elliott, Rick Savage, Rick Allen, Phil Collen, and Vivian Campbell did tonight. Many in attendance tonight grew up with this bank rocking our high school years while others would gain a new appreciation for Def Leppard after tonight's grand finale'. Drummers look up to and admire Rick Allen because of his ability to overcome the tragedy of losing an arm and still get back up there to work that drum set in a superior manner as if there were never a cause for alarm. This man is beyond amazing and his passion and drive outweighs that of so many. The stage was set tonight with a big screen backing the band and throughout the entire show, video was consistently played. The screen was brilliant and was a true attention grabber. As the band entertained us musically, the screen behind them took us on many journeys. We got to take a step back in time and watch old videos of shows and see old pictures of the band from the beginning to present time. I could classify this as a very emotional show. Their music defined so many of us at one point in time in our lives. Tonight they rocked the fans with
Let's Go, Animal, Dangerous, Pour Some Sugar on Me, Foolin', Love Bites, Armageddon It, Rocket, Hysteria, Let's Get Rocked, Have You Ever Needed Someone So Bad, Rock of Ages, Man Enough, Bringing on the Heartbreak
, and an encore performance that included
Photograph
. They were simply brilliant tonight. Though I didn't get to shoot photos from the pit because approval was very limited for their set, I couldn't have asked for a better closing show. To date, this may have been one of the best yet.
In addition to the bands I've already named, I was unable to see The Charm and the Fury, Goodbye June, Dinasaur Pile-up, Royal Republic, Starset, Mastadon, Kyng, Cover Your Tracks, Rival Sons, Fire From the Gods, Sylar, The Dillenger Escape Plan, Every Time I Die, and Alter Bridge. Sometimes, there is conflict with set times which makes it hard to catch each and every one you wish to see. I always have that inner fight because everyone is so damn good. All of these wonderful bands put on amazing shows and though I may not have seen them all this weekend, rest assured, they are on my to-do list.
The mosh pits and crowd surfers today were untainted examples of insanity but it's in those completely insane moments that rock and roll, live and die, believers are born. Without a little dirt, pain, and pure adrenaline to pump us up and keep us driven, what would life be like? Every year I look forward to Welcome to Rockville. I look forward to the extreme heat and uncontrollable weather. I accept the sunburned skin and blisters on my feet from walking miles and miles back and forth between stages because I know the bliss of why they happened in the first place. I cherish each sweaty shirt and bandana at the end of each day because they mean hard work was accomplished and a good time was had. Next year, we've already been informed there will be changes to the location but Rockville will go on, so until then….rock on and keep supporting live music.
http://welcometorockvillefestival.com/
---