Warped Tour 2011 - Pomona Fairplex - Pomona, CA 7/11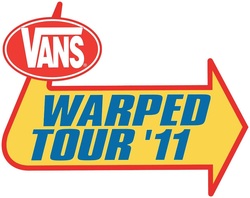 By Jeffrey Easton
Its summer again and that means its festival touring season and there are few better ways to kick it off than with the WARPED Tour. This year was ramped up better than before with the sheer amount of difference from band to band and there was not a boring moment. Upon arriving I was greeted by the thunder of Winds Of Plague. Their early afternoon set was what I needed to get the blood rushing and they did just that. Johnny Plague crushed the stage with his sickening vocals as they cruised through their catalog, most notably their new opus, Against the World. Still needing my fix of heaviness, I made my way to the Tegart Main stage where Asking Alexandria were gearing up for a huge crowd that had gathered just for them and they blew the house down with their sonic attack. These guys are huge and there is no turning back for them. Ben and Cameron are a sickening pair with their guitars as their material demands it. Check out the new record, which was well represented, Reckless And Relentless. One of the surprises of WARPED this year was Black Veil Brides. I would expect them on your typical metal tour, not WARPED which was perfect for them as it let to them standing out like a sickly sore thumb. They hit the stage to their appreciative and screaming crowd and immediately silenced any naysayers. Black make up, teased hair and straight up melodic metal, it did not get any nastier than this. Set The World On Fire is the new record and they literally mean to do it..
Enter Shikari and all of their UK aggression was another stand out burning up the stages this summer. They took to the stage as if they owned it and slayed the crowd with a sheer dose of anger and aggression. Their last record was Common dreads but with their recent signing to Hopeless records, their new record will be dropping soon. This is a must see on this year's outing. Madina Lake once again pounced onto the WARPED outing and again they did not disappoint. They have a stunning new record coming out entitled World War III and if it is anywhere as good as Attics To Eden this will be enormous. They played on a smaller stage this year but that did not slow them down and the crowd they had was ballistic of them. They deserve to be huge and maybe with their major signing recently that will finally happen. Unwritten Law found their way onto this years WARPED adventure and they owned the stage as it was their tour.
Scott Russo is the consummate front man and he could get a dead person to start a pit at his show. Swan is the new record and just like their live show, it is not to be dismissed.
Every warped tour I try to find a band that I have never heard of that will blow me away and this year it was Railroad To Alaska. Their heavier than thou downtuned grungeladen doom was inspiring and made my jaw drop. This was one of those "one of a kind" bands on WARPED this year and I am glad I found them. Once you hit WARPED, you must look them up and do not miss their set. The grounds this year were littered with the usual food areas, band merch tents, teenagers passing out from the heat and great bands vying for your attention. There were some great heavy bands that caught this metal outlets attention and hopefully they will get yours as well.
Official WARPED site
---