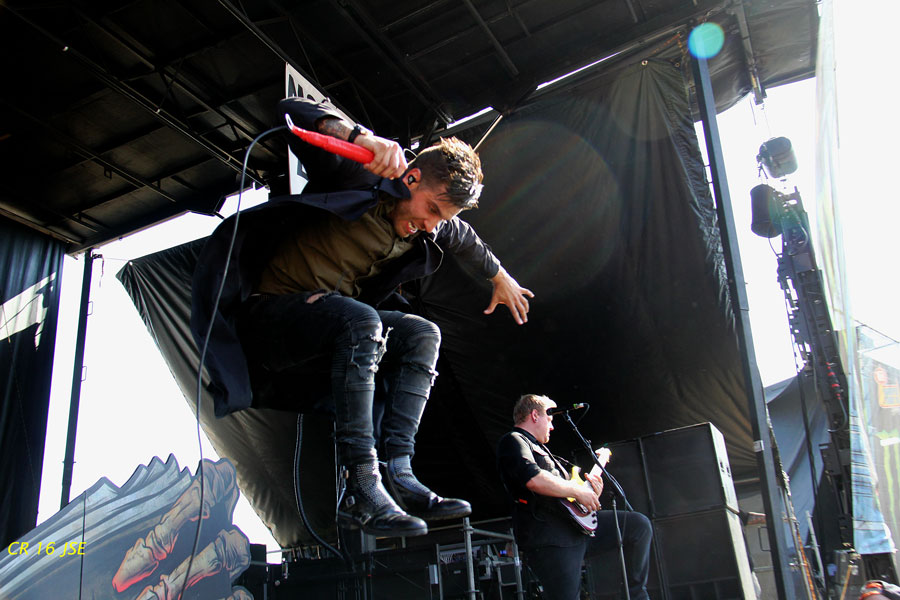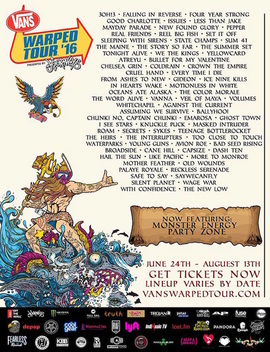 Vans Warped Tour – Pomana Fair Grounds, Pomona CA 8/16
By Jeffrey Easton
Warped 2016 has come one again and it was packed with some of the best bands on the planet and Metal Exiles was not at just one show, we did two this year because it was so big. If you are a music fan, Warped is a rite of passage, that tour where you go and soak up the music, the vibes and whatever is going on around you. If you have avoided Warped, you are are not a music fan in my book and that's just sad. No matter if it was Metal, Punk, Rock, Ska or everything in between and even Pop, Warped is where you HAVE to be.
The day for Metal Exiles was off right when the gates opened with The Word Alive's presence on the Monster Energy North stage. The Word Alive has one of the best albums so far this year with Dark Matter and I feel their time has come. Their set came way to early as the fans were still coming in but they made the most of those in front of them and dropped The Dark Matter heavily on them. With Made This Way, Trapped and Sellout in the set they slammed the fans hard and rounded it out with Entirety and Life Cycles from the Life Cycles album. The Monster Energy Stages were where I spent most of my day as they had most of the heavy bands I was going to cover. Monster Energy South kicked off with Oceans Ate Alaska and their vengeance laced sound. They have been out for over a year in support of their debut album Lost Isles and I am sure Warped is the height of that trek so far. The grounds were deep with their fans and they were very attentive as they belted out Vultures And Sharks, High Horse as well as Clocks and Blood Brothers. I see this band getting seriously big and if this was your introduction then you saw a sickening performance.
One of the big standouts for rock on Warped 16 was the return of Sum 41 on the Journeys Left Foot Stage. I know they aren't a metal band but they are heavy so to speak and they generated the most buzz for this year. They are about to drop a new album on Hopeless and they shelled the new single, Fake My Own Death, on the fans and it moved the crowd to say the least. They also dealt the old shit like Fat Lip, In To Deep and Over My Head and I'm sure once 13 Voices drops more new stuff will infiltrate their set. Back at the Monster Energy North Stage The Color Morale were going full rage as they tore through their set in front of an ever growing crowd. They are getting ready to drop their 5th album, Desolate Divine, so the fans were wanting something new so they got Walls and Clip Paper Wings and seemingly the wait for a new album was well worth it. Garrett Rapp had control of the proceedings as they dealt the new stuff and going back to Hold On The Pain Ends with Prey For Me and Suicide;Stigma.
Mayday Parade have issued one of the best albums of 2015 and with Warped they finally have a huge platform to get it in front of a massive amount of fans and they crowded their time on Journeys Right Foot Stage by the thousands and were louder that Fuck! The set list was all over their vast catalog but the stand outs were the new songs, Lets Be Honest and Keep In Mind, which drew freakish noise from those in earshot. There is no limiting how good they can be and Mayday Parade will only get bigger. Now it was time for one of Warped 16's biggest attractions, Motionless In White. In 2014 they were on Warped prepping for their next album and here they are again, prepping for their Roadrunner Records debut and killing it on stage. Still out representing Reincarnate, they opened with the title track as well as Break The Cycle and the fans roared their approval. I feel Reincarnate is their strongest statement to date and it seems most on the grounds agree with me.
Warped just isn't bands, it's an atmosphere that is full of different people, things to see and different ideas being spread. From the band merch booths where merch was being sold and bands were meeting fans to record label tents pushing new releases and most of all the self help areas like To Write Love On Her Arms.. You had the opportunity to spend your money and also the opportunity to find help and express your feelings. TWLOHA is an amazing community and demands your support and the love you can give it as they help others. Please go support them!
As the day wore on the stages everywhere were heating up with bands of all walks of life just killing it for those willing to watch them preach their gospel. The smaller stages had as much to offer as the bigger ones, boasting the return of Ghost Town, Assuming We Survive, the amazing French band Chunk! No Captain Chunk as well as Emarosa, one of Hopeless' best bands. Emarosa had just dropped 131, their debut for Hopeless and they were chewing at the bit to go out and play it. And with some of the best tracks on the album being played, they seriously did a great job of making people want to buy it. Helpless, Blue and Cloud 9 were dealt from 131 and judging by those who lined up to meet them and buy the new album I assume they succeeded. Bradley Walden stole the show as best vocalist of the day, starting Emarosa's set in the crowd and stayed there most of the set. These bands want to make sure their fans are appreciated and they do exactly that.
Sleeping With Sirens have become a huge band in America and well, everywhere else and one of the reasons is the female infatuation with Kellin Quinn, their very forward vocalist. Through four albums and an EP they have built up a huge following and draw throngs of fans everywhere they touch a stage. They have been out supporting Madness for over a year now and I do not see them stopping anytime soon. Their stage was adorned with We Like It Loud and that's what they opened with. Madness entered the set by way of Kick me and slammed harder with Better Off Dead and their fans roared their approval back at them especially after they launched into If I'm James Dean. Back at Monster Energy North Stage Ice Nine Kills was making a case for becoming huge themselves. They just dropped Every Trick In The Book and it is their most menacing to date and live the material tore the fans a new one. They opened with Communion Of The Cursed and the evil ensued. More unfolded from that menacing album, Hell In The Hallways, The Plot Sickens, Nature Of The Beast as well as Me Myself And Hyde and the fans ate it up. After Warped and with this album, if they aren't one of the biggest bands in America something is wrong. Also Spencer Charnas is one of the best frontmen in the business and he had everyone that was watching wrapped around his finger.
People think Warped is Punk, rock and off the wall bands but sometimes you can find some serious metal in the ranks and this year was no exception. Both Monster stages had the heaviest bands and Whitechapel, Chelsea Grin and Veil Of Maya were kings of brutality today. I'm used to circle pits at Warped but the violence on the ground was nuts for these stages and besides Sum 41 these stages had the deepest crowds all day. So when you say Warped you should consider that it has evolved and it's all-inclusive and that means serious heavy metal. I See Stars skirts the line of metal and insane electronics and then you have the alt scene titans Yellowcard that killed the Left Foot Stage with their 20 years of domination. So all of these bands with the likes of Reel Big Fish and New Found Glory in between and you have what makes Warped so great every year. So the next time you scoff at the notion of Warped, check out the line ups and what the Warped scene is and you will scoff no more.
Official Warped Tour Site
​
Official To Write Love On Her Arms Site
---