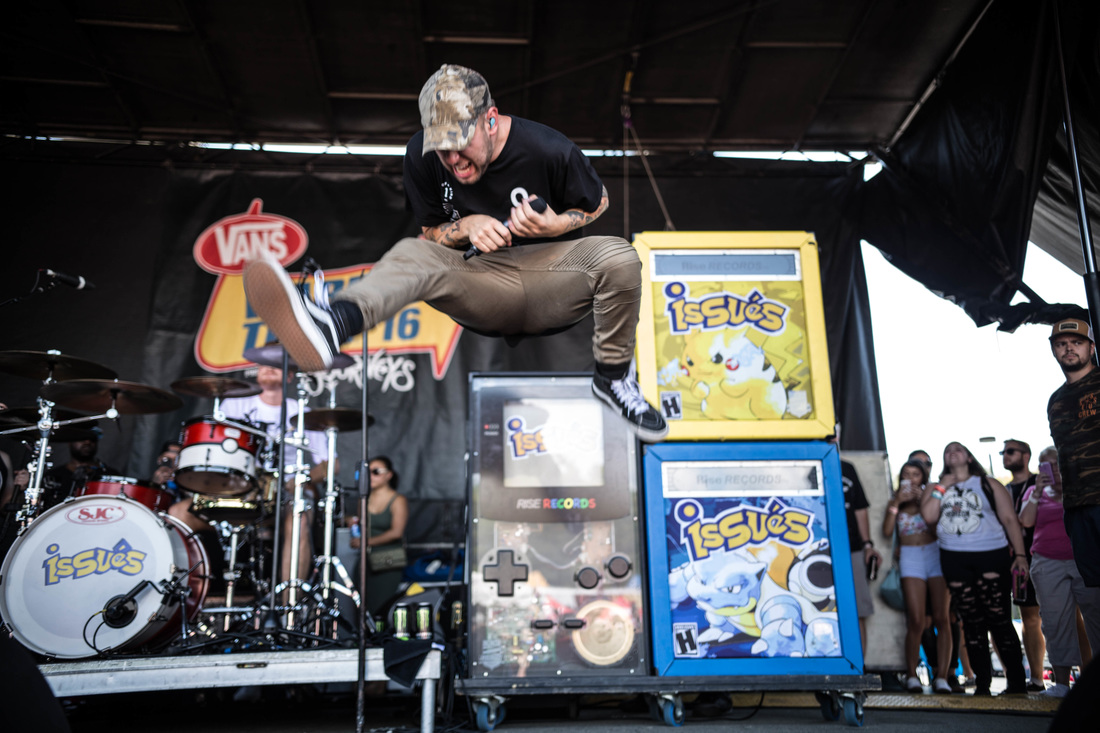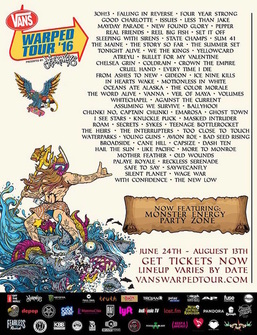 ​Vans Warped Tour – Xfinity Center, Mansfield, MA 07/16
By Rickelle Tavares
Before I get into anything I'd like to say something, Vans Warped Tour has been the Highlight of my year every year for more than I can remember. It's not just a music festival or some place we go to get wild, it's a place where you get to see meet and interact with all your favorite artists. There is no other concert series like it that I've ever been to, every band, every staff member and every sponsor does such an amazing job putting it together. Alright so this years Warped Tour was at the Xfinity Center in Mansfield Massachusetts, normally every single year it rains but that day it was hotter than ever. To be honest it was also the most people I've ever seen at a warped tour as well, it seemed like there was an endless amount of people coming through the front gates. As soon as I managed to wrestle myself a set time list I knew exactly where I'd be heading, Issues was on at 12 that's where I wanted to be.
Issues for one is extremely hyped up when they perform, that's one of the reason they have such a large fan base added to the fact that they keep rolling out hit after hit. They just released a new album called Headspace and it is one of my favorite albums from them, they stick out from the other bands with this album but stay true to themselves as artists. First thing I noticed was the colorful Pokémon themed amps and speakers, if that wasn't enough they ran out on stage and sang the Pokémon theme song. The crowd went wild and sang along with them, after the intro they went right into the song Hooligans which is one of my personal favorites. I live for the warped tour crowds and it was nothing short of wild and reckless, bodies were being tossed and the pit was gaping.
Issues put on such a great set but there was no time to waste, next up were I See Stars! After a brief jog I made it right before the set started, if you follow them on social media then you know they bring a huge crowd. It was packed in the arena, as soon as they started their new song Mobbing out off of their new album Treehouse things got hyped. Devin Oliver and the entire bands energy just flows into the crowd and gets them pumped and moving. So many people were singing word for word and the entire arena echoed with their voices. I love shooting I See Stars for the simple fact that they're fun, unique, and connect with the crowd. People love them because they're so hyped and energetic and it's a mix of metal and techno combined perfectly. Needless to say that was a set worth watching, as soon as it was over it was time for hometown heroes in Ice Nine Kills. If you have ever heard any of their songs then you know how dark and heavy this band is, I was expecting just that. The intro music alone to Communion Of The Cursed is scary enough never mind how Spencer seems to change into another person on stage. Everyone was at the stage to see them, with a fast beat and the heaviest of heaviest breakdowns they opened up. I witnessed something I'd never seen before, there was a bridge made of people holding arms so people could run from the back and jump on to the crowd. If that doesn't sum up how wild it was, maybe the face that 90% of the crowd was a mosh pit will. People were half way over the railings screaming with Spencer, who was performing in such an ominous way. Everything from their album titles to their look matches and blends together so perfectly. Spencer then threw himself into the crowd and everyone went nuts as he was crowd surfing and singing. That's the warped experience you pay for and look forward to every single year.
This year almost every artist managed their way into the crowd which brings me to Emarosa. Bradley Walden is so connected with his fans he spent almost the whole set in the crowd singing one on one with fans. It wasn't even a whole minute into the set before he jumped in and started singing in the pit, that's what sets Emarosa apart from a lot of bands. He's not scared to get down into the pits with everyone else, that's something that everyone loves and they got to get face to face with him. Now I'm a huge Emarosa fan and when they played the song Mad I realized how many people were actually there, all the way from the bleachers to pit. Even while I was leaving the set people were rushing past me to go and see them. Now, this band it's been a big part of most of my favorite warped tour experiences. The Word Alive, one of my favorites who just seem to keep on growing but never changing who they are. If you've ever been to warped you know that there's a mosh at your own risk policy but, everyone in the pits could care less. Front man Telle was leaning over the stage doing one of his infamous powerhouse notes and the bass guitar and drums dropped and hands were flying. I've never seen it from that point of view and I was so impressed by the size of the crowd and the pit, even people that were just walking by stopped just to watch them. I've seen them about 5 times and I can honestly say I never get tired of watching them perform.
Let's keep in mind it was about 93 degrees in Mansfield that day and the fact that all these bands withstood the heat for us speaks for itself. After a few water stops at the fire hose that was left on and running I made my way back to the arena to shoot Secrets. I've got one word for this set, Levitation. Normally when asked to jump people slightly jump or half assed bend their knees a bit but oh my god, if we were in a venue it would be demolished. They've released a new album recently and it seems like everyone knew every word because with ear plugs in I still heard everyone shouting the lyrics. Every band brings the energy we all feed off at warped, the high jumps, the crowd surfing; everything is different and so much better. I feel like Secrets is so perfectly choreographed because with all the movement they aren't bumping into each other at all it's such an energy fill performance every single time.
Now if you've ever been to warped you know that there are hoards and seas of teenage girl's front row to see their favorite bands. Which brings me to Motionless in White, I'd never shot them before but I did get to see them on their last tour. Music is a way of self-expression and if you take one look at MIW you know they don't give a damn what anyone thinks of them. They are unique and honestly their music is great and so was there set, Chris and the entire band were just smiling the whole time. They drew a massive crowd all ages, they played their new track, 570, that really got everyone wild. If you've seen the music video imagine that time's ten, I found myself wanting to jump into the crowd and get rowdy. For my first time seeing their whole set I definitely feel like id been missing out by not going to all the other shows, it was such a solid set. After taking a second to run past a few bands I literally slid into the Chelsea Grin photo pit. Clickbait, it's the first released song off their new album and the first taste of the newer Chelsea Grin. I'm going to try and describe how incredibly wild this set was as best as possible. Now, crowd surfing plus circle pit plus jumping all combined at the same time, now add the heat and dirty and sweat. I wish I could've watched it in slow motion it was so epic to have a chance to shoot let alone watch. They've got such a dedicated fan base and they came on warped tour to give us a taste of what's to come from them, and it's nothing short of pure excellence. Alex at times would let the crowd roar his part of the hook and it was crazy how many people screamed it out for him.
Once the Chelsea Grin crowd settled down one stage over Crown the Empire took the stage. Right off the bat there was a huge astronaut which reflects the new album their releasing, so of course the first song was the new song Zero. I hadn't heard it yet but it was honestly nothing you wouldn't expect from them it was incredible, I was glad I got to hear it live first because it was just wow. If you don't know Makeshift Chemistry by them you need to go look it up right now, it's basically everyone's favorite song by them and they played it. I stepped into the crowd just to get hyped and sing along with everyone, it was so much fun and that's what warped is about. Now it was my theoretical white whale, I've been waiting for this band to come around for a while and it was finally happening. Volumes! I cannot express how much anticipation I had for this set, and those coming out and playing 91367 made the anticipation worth it. Myke is the newer front man along with Gus were in the crowd the whole time, crowd surfing, shaking hands, singing in people's faces, in everyone's words it was "Lit". To be honest a lot of volumes fans were weary of the new front man but out of all the times I've seen them that was the best performance by far and it will be one of those warped memories I'll never forget. By the time they played their new song Feels Good I was in the crowd and to say things got wild is an understatement. Not a single person was quiet to the chorus, out of all the times I've seen them I've never seen a crowd like that so they're doing something right! Now to take things in a totally different pace is Sleeping with Sirens, I already knew hundreds of people were going to be there but holy crap.
If you've ever been to warped tour and you haven't seen Sleeping with Sirens you're doing it all wrong, I don't care if you're into them or not you need to go. This is the band you close your eyes to when you sing and you hit those pitches that you really can't hit but you try anyway. "If you can't hang then there's the door baby" I mean if you don't know that then your life has been a lie. Kellin Quinn and the entire band have been around for a while and they dominate with every single album and have such an enormous fan base. There were a lot of other great bands playing but it seemed like that was where everyone wanted to be and I don't blame them, they never disappoint. Now Warped 2k16 was one of the best I've ever been to but I say this every year, we all owe it to Kevin Lyman and the entire warped staff for continuing this for us. Every band every sponsor and every volunteer took time and money to put on a series of incredible shows for us and the least we can do is donate buy march and have fun. Go check out warped if it's still headed your way, there are so many bands that deserve your attention and you won't regret it.
Official Warped Tour Site
---