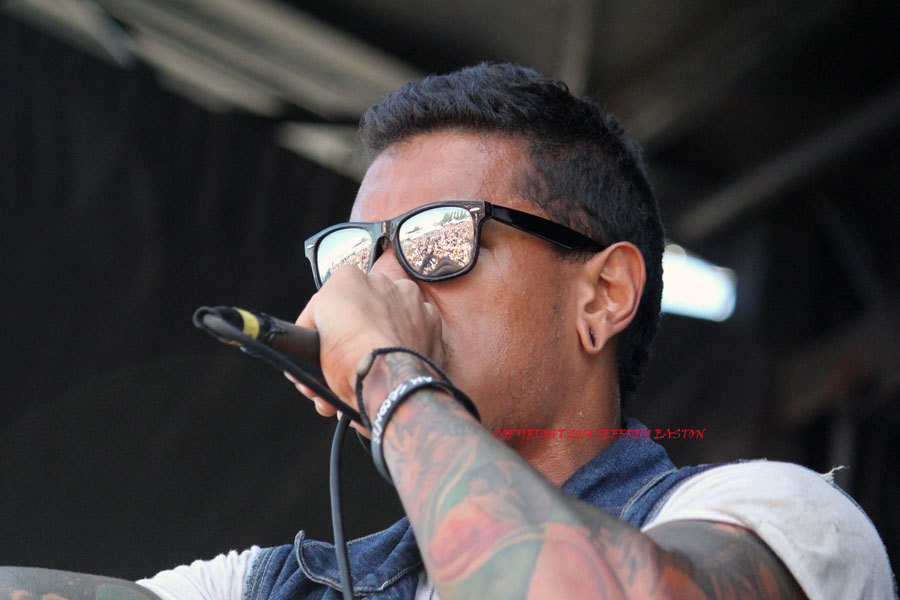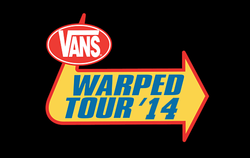 WARPED TOUR 2014 - Sleep Train Ampitheater, Wheatland, CA 06/14
By Jeffrey Easton
Its Summer, its hot, must be time for WARPED. WARPED Tour is a ritual, a rites of passage and a must attend for any rock fan or any sun worshiper that wants to be serenaded by loud rock bands. This years WARPED was a symbol for heaviness with some bands that were about to drop some major albums that will shape the rest of the year and some great bands coming back from the past to gleam the crown once more.
Where do I start? Goth, glam, screamo, downtuned goodness, its all here and fuck my ears were ringing by the time I left. This was my tenth anniversary of covering WARPED and I have so many memories of covering some great bands that changed the landscape of rock and this year will be no different. So let's get to it. The bands were amazing as always and the standout this year was Motionless In White. They are about to drop Reincarnate and this album will dominate the metal world this Summer. They have been building a following for years and this year it has all come together. A main stage set on the Kia Soul Stage, a massive following, huge preorders for the new album and they dominated the WARPED crowd. They debuted the title track for Reincarnate to rabid cheers and a slew of their sickening classics. Nobody does a metal show like MIW. Staying at the Kia Soul Stage For Today RAMPAGED today and brought their positive God influenced message to the horde that was gathered to lay witness and did not leave empty handed. Slinging stuff from the new album Fight The Silence they gave the fans Break The Cycle, the title track and a massive amount of metalcore to slay those brave enough to watch.
If you wanted ultra-heavy, Monster Energy was where you HAD to be. Attila, Born Of Osiris, Chelsea Grin, Crown The Empire, Every Time I Die, For All Those Sleeping??? All of those plus Ice Nine Kills and The Word Alive? Fuck me, the pit did not stop all day and the dust never settled. Chelsea Grin is about to drop the nasty Ashes To Ashes and For All Those Sleeping just unleashed Incomplete Me and both are just jaw dropping. Vanna killed as well and Terror too? Whoever planned this stage knew what they were doing and who they wanted coming through the gates. The Electric Soul stage also had the brutality with Falling In Reverse, Mayday Parade as well as the daunting The Devil Wears Prada. The Devil Wears Prada are vets of the road and they reigned supreme over this stage and the fans knew it.
WARPED has made bands careers as well as reviving and this year they are reviving the lives of Finch. Finch were one of those bands that made huge inroads with fans and with a massive debut in the form of What It Is To Burn they had the music community on their asses but twice they broke up but with a successful stint on WARPED maybe we will get a new album and a longer lifespan this time. Yellowcard are another one of those bands that WARPED helped break and here they are again. In fact Yellowcard played my first ever warped tour in 2004 and here we are celebrating 10 years together. They are out for Lift A Sail and it's another notch in their belt and another amazing effort for this onetime breakout band. It makes you think, those kids that were there for their first WARPED shows are all out of school now and gotten on with their adult lives, time flies.
Some of the newer bands that WARPED should break are the downtuned wizards Lionize with the amazing new album Jetpack Soundtrack and Courage My Love who dropped Spirit Animal just in time for WARPED. Ernie Ball Stage, while we are here for CML, had an amazing array of up and coming bands like A Skylit Drive, I The Breather as well as CHUNK! No, Captain Chunk. All of these bands want your attention and will get it once they burn across your stage. Speaking of getting noticed, support Get Scared, they have been trudging through tour after tour and they lit up the Hard Rock Kevin Says stage dealing from their new album Everyone's Out to get Me so go buy it.
There were also merch booths scattered across the grounds selling band shit galore as well as charity and personal need booths like To Write Love On Her Arms and Musicares to name two amazing ones. If you have yet to support either, donate now, I did. As I left today I had preserved more memories from seeing great bands, meeting some cool people and just having a blast which is what WARPED is all about, right?
Official WARPED Site!
---