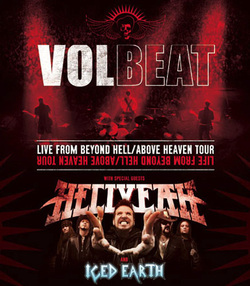 Volbeat/Hellyeah/Iced Earth – The Regency Center, San Francisco, CA 7/12
By Jeffrey Easton
If there was a tour this year that would make you scratch your head and wonder who put it together, this is it. Three bands, three different worlds that they hail from but it worked and it worked well. Its good to see tours like this because normally fans of each band would probably not listen to the other so this puts these bands in front of fresh eyes and converting new fans at every turn. Iced Earth graced the stage as special guests of Volbeat and they lit the stage on fire. Jon and company always bring it live and this short but heavy set was no different. Touring in support of one of their best LP's to date, Dystopia, they came out with the heavy weights from said record unleashing the title track, V as well as Anthem. Dystopia is powerful statement about the dreadful times we live in and it is NOT to be missed and to feel its power in the live setting was unnerving. Stu Block was the question mark in my mind for their set. He is the new singer and I wanted to know how he would deliver on the old stuff and he was nails, especially with one of my stand out tracks Declaration Day. For many there it was their first time seeing Iced Earth and I guarantee you it would not be their last.
Hellyeah seethe anger, period. They burn hot with intensity and in the live setting they thrive with that massive dark side. They belong on this tour. Sandwiched between Iced Earth's power and Volbeat's intense swagger they bring a different form of rock with Chad Gray's spine shattering delivery. The new record is Band Of Brothers and they delivered well from that album with the title track and the intensely fueled War In Me, both showing the power from that record. They mined the last two records very well with You Wouldn't Know as well as Cowboy Way and Stampede. This is a super group of some of rocks hardest hitters but they are joined at the hip and you would not know they have ever been apart.
Vobeat, what can you say about them that's not positive? They have toured America relentlessly over the past few years released several great records and now they are at the top, headlining (once again) their own tour. Michael Poulsen is the consummate frontman while slinging that nasty axe of his. His vocals are deep and convincing and they bring it hard live. I have been privileged to see them live many times now and when they are allowed to flesh out their set they bring down the house. Still touring for Beyond Hell/Above Heaven, they littered their set heavily from that fantastic record with The Mirror And The Ripper, Fallen, Heaven nor Hell, Who They Are and opening the encore was A Warrior's Call. It's a great record so they should be beyond happy to play as much as possible from it. The encore also contained one of my fav covers in the form of I Only Want To Be With You, which they completely make their own. The old stuff, which cannot be ignored, was highlighted with Guitar Gangsters & Cadillac Blood as well as Radio Girl, The Human Instrument and Another Day Another Way. I would have loved to see Makin Believe in the set but what they delivered was stunning. Considering Thomas Bredahl left the band the guitar slot had to be filled and none other than Hank Shermann filled those shoes amazingly well with his no bullshit guitar attack. This tour was one for no one to miss and if you did you missed a true rock spectacle.
Iced Earth Official Site
Hellyeah Official Site
Volbeat Official Site
---