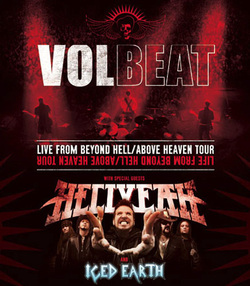 Volbeat/Hell Yeah/Iced Earth - Upstate Music Hall, Clifton Park N.Y. 6/12
Words and photos by Mary Richardson
What a way to ring in the first few days of summer: a hell raising concert at the venue formerly known as Northern Lights. Lines of fans stretched the length of the parking lot waiting to get in and rock. While folks were still streaming in, Heart-Set Self-Destruct got the party started and got everyone in the mood for a loud and rowdy show. HSSD is blowing fans away with Of Nightmares, their new full length record and amazing piece if dark hard rock.
Iced Earth was first up. With a look and sound that takes you back to the glory days of Iron Maiden and Judas Priest, they had the still burgeoning crowd head banging early on. Opening with Dystopia from the new album of the same name, "Declaration Day", "Dante's Inferno" from "Festivals of the Wicked" showcased just a few of their many songs and albums. Stu Block is the new singer and he shredded the crowd and owned the back catalog as well as the new material from Dystopia.
Hell Yeah was up next and as always they killed it. I've seen these guys several times now and they never disappoint. Chad Grey was sporting a new do and look started out with "You Wouldn't Know", then launched into "Stamepede", "Cowboy Way", the always popular "Hell of a Time", "Alcolhaulin Ass". Chad and crew gave a shout out to the troops past and present before treating the crowds to "War in Me" from their new album Band of Brothers.
Volbeat closed out the show with a vengeance! The crowd was screaming before the boys from Copenhagen even hit the stage. Michael Poulsen and gang have a very engaging energetic stage presence. "Warrior's Call" started the party off right, "Sad Man's Tongue", "Heaven or Hell", "Radio Girl" had the crowds whipped into a sweaty mass all set long. These guys have been crawling their way to the top of the American rock scene and they finally have made it with this headlining tour. It was a hot show, can't wait to see them again!
Heart-Set Self Destruct: Official Site
Iced Earth: Official Site
Hell Yeah: Official Site
Volbeat: Official Site
---