Volbeat & The Damned Things - House of Blues - Anaheim, CA 4/11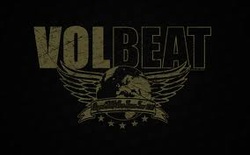 By Jeffrey Easton
It was destined to happen, Volbeat have taken over the United States. To prove it had finally happened, they had in store for them a string of sold out dates that would soon be filled with fans screaming for Volbeat. Kicking off the tour for them though are up and coming superstars The Damned Things, complete with members of Fall Out Boy, Anthrax and Every Time I Die. They are touring in support of their sinister debut LP Ironiclast, which any fan of true hard rock needs. They stormed the stage with authority and proceeded to tear the HOB apart. The broke out with Ironiclast, Little Darling, Graverobber , Black Heart, We've Got A Situation Here as well as Friday Night. There has been a massive buzz about these guys, a few good tours so far and they are on their way. Rob Caggiano is an amazing guitarist and he left his chops all over the stage, a true band leader and Keith Buckley sang his ass off. These guys have been given some good breaks and they were worth all of them.
Volbeat hit the stage to thunderous screams and applause and yes, they had arrived. Touring in support of Beyond Heaven/Above Hell, this was their second headlining tour of North America in a short span of time and you could tell the crowd was eager for their arrival. As soon as they touched the stage it was on and rock their way lived again. If you have yet to hear their music imagine Tiger Army, Johnny Cash and Metallica hanging out together in a jam session and you have Volbeat. They blew the doors open with The Human Instrument and it was on. Guitar Gangsters And Cadillac Blood followed with deafening screams as this title track to their last album was possibly the best thing to happen to rock a few years ago when that album dropped. Still Counting, Mary Ann's Place, The Mirror And The Ripper, Heaven Nor Hell as well as the amazing cover I Only Want To Be With You followed suit and the crowd got crazier. It must be noted that they were filming a DVD on this tour so you will soon be able to see your crazy selves if you made it to one of the shows. They will be back around again as the album is doing well and the band has amazing momentum. Do not allow this band to pass you by unless you want to miss one of the most engaging live bands out right now.
OFFICIAL VOLBEAT SITE!
OFFICIAL THE DAMNED THINGS SITE!
---