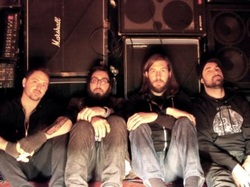 VATTNET VISKAR auctions off limited vinyl of self-titled EP to raise money for the NH Community Behavioral Health Association
Ambient blackened doom metallers VATTNET VISKAR will be auctioning off one of their personal vinyl copies of their self-titled EP (limited to 80) to raise money for the NH Community Behavioral Health Association. In regards to this auction, the band comments:
"Few times in our lives are we truly impacted by one single event. By now, we're all aware of the horror that took place in Newtown, CT. But as the media leaves town and the networks stop the 24-hour coverage, the work for preventing another tragedy like this must be started. Although our resources are limited, we as a band would like to show our support.
Starting today, we will be auctioning off a vinyl copy of our 2012 self-titled EP. This is Chris' personal copy of the Broken Limbs Recordings pressing which was limited to only 80. It will never be pressed again. All proceeds raised from this auction will be donated to the NHCBHA in the name of the winning bidder.
Although this ultimately may not lead to a large sum of money, music is all we have to give. Please pass this on."
-- VATTNET VISKAR
To place a bid on VATTNET VISKAR's self-titled EP, please click
here
to visit their eBay account (PayPal accepted). The auction ends Monday, December 31st.
The NHCBHA is an organization comprised of the ten community mental health centers throughout New Hampshire. These centers serve individuals in the state who are living with--and recovering from--mental illness and emotional disorders. In fiscal year 2009, this network of mental health centers provided ongoing and emergency behavioral health services to over 48,000 New Hampshire residents, a number that includes over 12,000 children. For more information about the NHCBHA, please visit: http://www.nhcbha.org/
Hailing from the small town of Plaistow, New Hampshire, VATTNET VISKAR is anything but small. Formed in the fall of 2010, the band has quickly risen amongst the ranks of US black metal acts with their self-titled EP that has been met with praise from both fans and the press alike.
"On their debut EP...they had me hooked in a matter of seconds and salivating by the end of its 27 minutes. It's an assured offering for such a young band,"
lauds Brandon Stosuy of
Pitchfork.com
. In addition,
Stereogum.com
recently named VATTNETT VISKAR one of the "40 Best New Bands of 2012," declaring their EP as
"propulsive and brutal, yet ambient and expansive, in measures rarely seen from a genre that often expects its purveyors to be either/or."
---