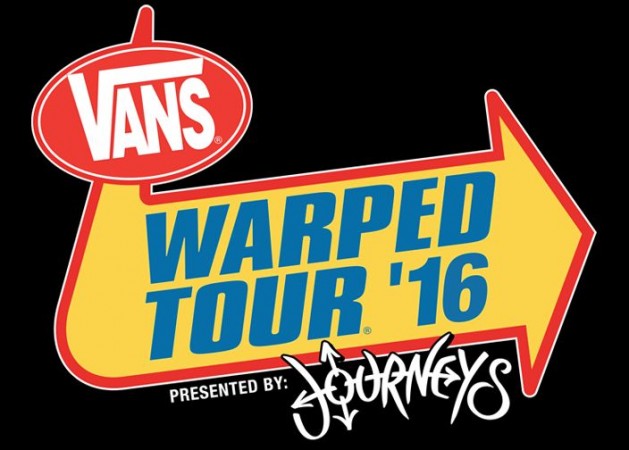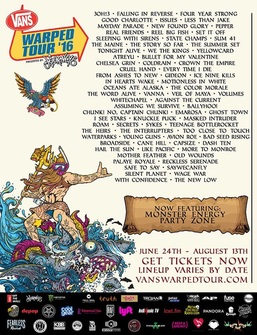 WARPED TOUR 2016: Top ten required bands for this summer!
By Jeffrey Easton
WARPED 2016 has been announced and the lineup is insane. This summer is going to be one giant mosh pit and here is where Metal Exiles throws in their two cents about what you should be the most hyped for. You might think that the word metal has no place at WARPED but that is not the case as this year features some great bands that fit right into the metal and heavy music genres. Motionless In White, Bullet For My Valentine as well as The Word Alive prove that point but enough of that, lets get to why you are reading this.
After that visit
www.vanswarpedtour.com
for up to date news, dates and buy some WARPED merch.
---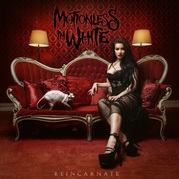 Motionless In White
Topping WARPED 2016 is Motionless In White, one of the darkest, heaviest bands this tour has to offer. They last toured WARPED in 2014 where they were prepping to drop Reincarnate and here they are two years later with that being their most successful albums and they are still raging hard. This summer should see them commanding one of the biggest crowds and heavier than ever. If you are one of those people that only show up for a few bands and look at merch the rest of the day, this better be one of those bands.
Official MIW Site
---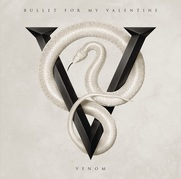 Bullet For My Valentine
Bullet For My Valentine is UK metal at its finest. Venom is another outstanding statement for their catalog and they have insane amounts of energy on stage. WARPED getting them is a compete coup for the tour will show the naysayers that WARPED isn't just pop punk bands. They may be mainstream metal but they do add a serious edge to the festival and are amazing live, a def must see.
Official Bullet For My Valentine Site
---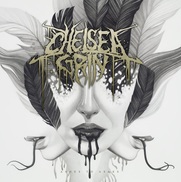 Chelsea Grin
If you are looking for pure insanity on stage and in the crowd while they are on stage then you MUST see Chelsea Grin! Chelsea Grin hail from Utah so that pent up boredom must have had an influence on the pure sinister nature that is the band. I have witnessed their live show many times and it's a surreal experience to take in and you are somehow drawn to the pit to get that irrational anger out. They are still out for Ashes To Ashes which they, Like MIW, were prepping on the 2014 WARPED and here they are back again for ballistic mayhem. If this is your first time seeing them then where have you been, jump in their pit and let them take you to utter anarchy.
Official Chelsea Grin Site
---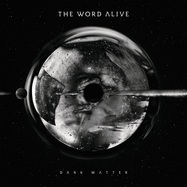 The Word Alive
The Word Alive are about to be huge and you can say you were there when they crossed the line into immortality. There are a lot of records dropping right now in the rock world but few as good as their new album, Dark Matter. This is the album that will make them serious stars and WARPED is the tour that's going to cement that notion. They are amazing live as they deliver and connect well with their fans and with an album like Dark Matter in their arsenal it's just going to get better. They are a must see band just because they use the live stage well and their albums never fail to disappoint.
Official The Word Alive Site
---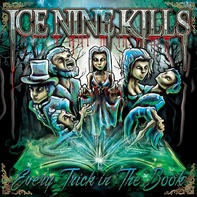 Ice Nine Kills
Ice Nine Kills have been slogging it out in the clubs, playing the role of the opening band ect and now it is time for them to break out in a serious way. Every Trick In The Book is the new album and it is mayhem wrapped up in a shiny disc waiting for the unsuspecting to push play. This album demands a big stage to showcase it on and WARPED is the biggest stage for this band to completely blow it up on, this will be a sinister site, no less. If you have seen them live you know what they are capable of and with Every Trick In The Book it will just elevate their game and be a true Metal Exiles must see on WARPED 2016!
Official Ice Nine Kills Site
---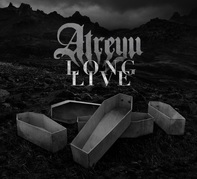 Atreyu
Atreyu are the kings of the So Cal hardcore scene, they dominate wherever they go, no matter who they tour with and WARPED 2016 will be no different. They have participated in some of the biggest festivals and tours but WARPED never fails to be the biggest to be involved with and Atreyu will just take it higher. Atreyu personify the term heavy music and with the dropping of Long Live they became part of the definition. After being gone for a while, they are recharged, electrified and will destroy the stage at every city they touch this summer. You have been warned.
Official Atreyu Site
---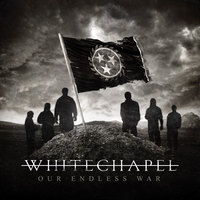 Whitechapel
I have one phrase for Whitechapel: Fucked in the head. After witnessing their live show, the anger and aggression and how the fans react, its sheer lunacy, a bizarre rampage of emotions from a brutal metal band and they are going to lay waste to WARPED 2016. They are seriously one of the better modern metal bands, taking what the likes of Slayer did before them and amping it up beyond comprehension. Do you have Our Endless War? Its sheer mayhem, the shit you can really scare your parents with, unless it's me, then you can't but that's beside the point. If you are going to WARPED looking for something seriously heavy, then go right to their stage and experience the end of the world.
Official Whitechapel Site
---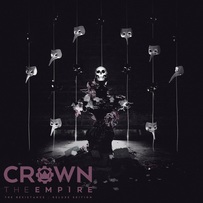 Crown The Empire
Crown The Empire are some of the best road warriors that are out in the club scene today. Hooking up with tour after tour, playing to sold out crowds everywhere they go and there is a reason for that, they are fucking great. When you go see a band you want to be entertained and they do that in spades on the stage and they will fit in nicely with WARPED 2016. The Resistance is still being supported but they are playing some new songs out on the road right now and hopefully this summer we will get a bigger taste with what they are planning to unleash on us. Modern heaviness has some great bands and Crown The Empire are in serious contention to be stack themselves on top.
Official Crown The Empire Site
---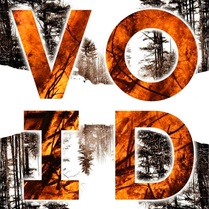 Vanna
Vanna have been building a huge case for themselves over the past few years and with their latest album entitled Void I feel they have truly arrived. Void is a cohesive piece of adrenalin infused metalcore and whatever stage is lucky to have them gets obliterated in the process. WARPED is lucky to have them this year and if they follow the likes of Whitechapel or Chelsea Grin I hope you have some paramedics on site, its gonna get ugly. There must be something in the water in Boston because so many bands are churned out of that city and they are unleashed to destroy wherever they go.
Official Vanna Site
---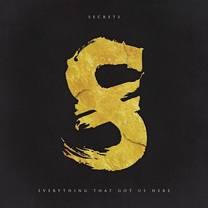 Secrets
Secrets is another band from the Rise Records roster that just make you want to crank your music to the point that everything is tuned out. Having just dropped their new album Everything That Got Us Here, they have been out putting the album in everybody's faces but the real tour is WARPED 2016 and they will have every fan in front of their stage or within earshot singing every word to every song and that is why they are on our must see list. They bring fun to the stage, their melodic sensibilities make the new album extremely accessible but yet still very heavy at the same time. Rise has one of the best rosters in heavy music today and Secrets is one of the cogs in that machine that makes the label really happen.
Official Secrets Site
---