Rockstar Energy Drink UPROAR Festival Channel 103.1's Big Day Out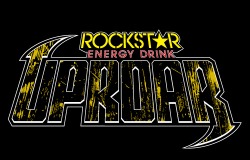 Rockstar Energy Drink UPROAR Festival Channel 103.1's Big Day Out – Saratoga Springs, NY
by Mary Richardson
It's August again and that means it time for Channel 103.1's Big Day Out. This year Big Day Out was combined with the Rockstar Energy drink UPROAR Festival. Two stages plus nine bands equals a hell of a good time. In addition to all the music there were tents where you could sample Rockstar Energy drinks, play Xbox 360, meet members of the Metal Mulisha, play games for Jagermeister merchandise, buy cd's of the bands playing and get them signed by said bands.
Local band Mutiny Within kicked off the festivities on the Jagermeister stage. Upon arrival I had to jog around to three different gates to collect my photo pass and tickets, so by the time I made it inside their set was almost finished. They had a good crowd considering the ample lines still waiting to get in.
Canadian based Hail the Villain was up next. "My Reward" and "Take back the Fear" brought out mini mosh pits that were quickly broken up by security. New Medicine rocked fans with "Rich Kids", "My Generation", and "Little Sister" dedicated to the lead singer's little sister, who died when she was young.
Australian rockers Airbourne sweated out a very active set. Lead singer Joel O'Keefe made use of the double speakers on the side of the stage where he showered the crowd with some beer cans he opened with his head. Guitarists' David Roads and Justin Street proceeded to wet down their hair between songs and then shower anyone close enough with their head banging antics. They blistered their set with tracks from their two releases Runnin Wild and No Guts No Glory, both prime examples of what real rock is about.
Hellyeah was the last band up on the Jager stage. Chad Gray and crew treated the swelling crowd to "Cowboy Way", "Goddamn", and radio hit "Hell of a Time".
After a small break it was time to hit the amphitheater. First up was Halestorm. Lead singer Lzzy Hale, sporting a new cropped do, amped up the crowd with "I Get Off", "Familiar Taste of Poison", and "Dirty Work". Drummer Arejay Hale did his fair share of entertaining between drum stick acrobatics to using a very oversized set of drumsticks. At one point the entire band came together and performed a "Stomp" inspired garbage can drum session. Halestorm may have had a short set, but they rocked every minute of it.
Stone Sour tore through their set with "30/30 150", my favorite "Through the Glass", and "Made of Scars".
Avenged Sevenfold may have been second to last but they rocked the house for almost an hour straight. Brick pillars supporting wrought iron looking gates topped with flaming torches, stone steps that were home to several skeletons. The backdrop changed several times to include the band's signature Death bat, and a creepy mansion. Over all it was a killer stage set; it really made it feel like Halloween had come early to Saratoga. "Nightmare" kicked off the show, then "Welcome to the Family", "God Hates Us", "Buried Alive". Part way through the show the backdrop changed to a photo of AV7's drummer Jimmy "the Rev" Sullivan who passed away last December. Even before lead singer M. Shadows asked the audience had raised lighters and cell phones to pay tribute during "So Far Away".
Disturbed's set started out with a mini movie on while "Remnants" played. Lead singer David Draiman launched into "Asylum". Looking much like he had just escaped from said asylum, David and company rocked the Spac amphitheater with hits ranging from "Liberate", "Stupify", and the Genesis cover "Land of Confusion". During "Inside the Fire" the massive video screens both behind the drum kit and lining each side of the drums were ablaze with images of fire. Combined with the mile high flames shooting up between the screens it really made the audience feel they were indeed inside the fire. Disturbed ended the energetic set with "Down with the Sickness".
The Rockstar Energy Drink Uproar Festival / Big Day Out lived up to it's name here in Saratoga. This year's line up was killer. It's a definite addition for your summer "to do" list!
Channel 103.1
Rockstar Energy Drink UPROAR Festival
---