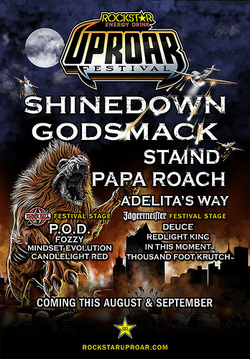 Rockstar Energy Drink UPROAR Festival -SPAC, Saratoga Springs N.Y. 9/12
By Mary Richardson
What a way to kick off Labor Day weekend! Three stages, fourteen bands, perfect weather all adds up to one hell of a good time!
Several local bands warmed up the Jagermeister and Ernie Ball stages. As usual due to the timing and lines these bands didn't have a much of a crowd to play to. By the time I got inside and over to the stages the second band was almost done with their set.
On the Ernie Ball stage Mindset Evolution didn't let a little pain slow them down. Guitarist Josh Bodeen blew out his knee earlier this summer, but he was still on stage with Rob and the boys rocking the crowd with their newest single "We are Stars". Up next was Deuce. With a blend of hip hop heavy metal these guys (and girl) had the crowd bouncing and moshing to "Story of a Snitch" and the always appropriate "I Came to Party". P.O.D. was the last but not least for the Ernie Ball stage. Sonny Sandoval spent a good part of the time leaping into the crowd and giving the front row fans an up close and personal show while blasting their new record Murdered Love. "Boom", "Youth of a Nation" and a cover of Sublime's "What I Got" gave the fans a great show.
Over on the Jagermeister stage Candlelight Red kicked things off with "Closer", "Medicated", and "She's got the Look". Keep an eye for these guys and see them in person if you have the chance. Demons is the new EP and it is a must buy. In This Moment headed up by Schenectady local Maria Brink took the stage next. Their stage was an apocalyptic mix of skulls, blood, camo and white flowing fabric. Maria said their show was dedicated to her grandfather (who happened to be in the crowd) a veteran and to all military personal for all they do for us. "Burn", "Blazin" and "Blood" had the fans in frenzy with crowd surfing being rampant. Fozzy closed out the Jagermeister stage. WWE superstar Chris Jericho took the stage with authority. I think the half of the crowd that gathered was there just out of sheer curiosity. Reaction was mixed as the band belted out "Sandpaper", "God Pounds his Nails" both from their latest album Sin & Bones.
Just before six the amphitheater finally opened. Taking the stage first inside was Adelita's Way. Rick Dejesus and crew sweated out a set of hits that included "Criticize", "Hurt", "Alive" and still my personal favorite "Invincible". Towards the end of the set Rick jumped down into the pit, much to delight of all the fans. Especially the ladies! Damn it I wish I had still been down front when that happened… Staind was up next with slightly more subdued stage presence than was expected. "Inside, Outside" and "It's Been Awhile" kept the fans in their seats. Maybe everyone was just taking a break before the final two bands.
Godsmack took the stage to the strains of AC/DC's "For those about to Rock" and from there on out Sully and the boys showed Saratoga fans just that. It was nonstop from "Cryin like a Bitch", "The Enemy", "Awake", "Voodoo" to the show ender "I Stand Alone". Note to the band.. Please keep the dueling drum sets in the show as it has to be my favorite of all time. Sully Erna and Shannon Larkin never missed a beat! At the end Sully tossed or should I say hurled the drum sticks up into the balcony. Not an easy task considering how far back the balcony is from main stage.
Shinedown was last but far from least. They opened up with "Sound of Madness" and "Diamond Eyes" from the Sound of Madness album. From there it was on to favorites from the Leave a Whisper album to their latest record, Amaryllis; "45", "I'll Follow You", "Bully", and "Second Chance". Shinedown had SPAC shaking from top to bottom. I don't mean from the speakers either. This was pure fan induced ground shaking insanity. These guys always put on a good show and you can tell they're enjoying it as much as the fans. They ended the show with an encore of "Simple Man" and "Fly from the Inside".
Rockstar Energy Drink UPROAR Festival was a hit as always. From a killer line up of bands to large variety of merchandise and fan tents to the free Rockstar Energy Drink tent this tour is NOT to be missed!
http://www.rockstaruproar.com/
---