Underoath/Thursday/A Skylit Drive/Animals as Leaders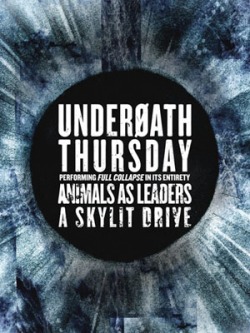 Underoath/Thursday/A Skylit Drive/Animals as Leaders
-
House Of Blues Anaheim CA 1/11

by Jeffrey Easton
As it would come down, I got to the venue late so unfortunately I missed Animals As Leaders and A Skylit Drive but I will have some buy links at the bottom as both are cool bands. I arrived in time to see Thursday launch into their long impacting album, Full Collapse. Full Collapse was released 10 years ago this year and with all pertinent anniversaries, we want to celebrate them. Full Collapse is a powerful record, one that will not be forgotten and Thursday used this opportunity to put it all out there live to show the new disciples what the long time fans already knew. Understanding In A Car Crash, Concealer, Cross Out the Eyes, Paris In Flames; it all sounded new again as if it was a viable new release. Wind Up and How Long Is The Night displayed an unreal passion and Geoff Rickly sang as if his life depended on it. If you do not own Full Collapse, now is the time to put your greedy hands upon the disc. Underoath crept upon the stage in an eerie darkness with a homemade movie playing behind them and it was on. Spencer Chamberlain is the consummate frontman as he is constantly in front of the crowd, engaging them to his every word and motion. That being said, tonight's show was on fire as they blew through a set of older tracks like A Boy Brushed Red, Writing On The Walls and the Created Void as well as some amazing new stuff from their new album Disambiguation. Disambiguation, to me, is their best album to date. Possibly the most well rounded record they have produced as it is full of eclectic sounds and not a moment of sounding stale or of repetition. Disambiguation was represented by Paper Lung, Catching Myself Catching Myself and Illuminator amongst others. To that extent, they did not disappoint, they gave their fans the new record live as well as giving unto the older diehards. This is a great tour and one not to be missed!
Official Animals As Leaders Site
BUY ANIMALS AS LEADERS!
Official A Skylit Drive Site
BUY IDENTITY ON FIRE!!
Official Thursday Site
BUY FULL COLLAPSE!!
Official Underoath Site
BUY DISAMBIGUATION!!
---