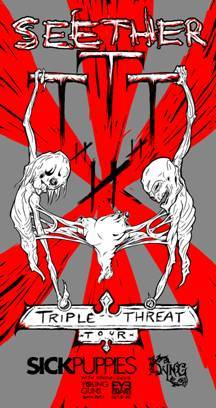 Triple Threat Tour - Upstate Concert Hall, Clifton Park N.Y.9/12
By Mary Richardson
There is just something about rock shows and bad weather that seems to follow Upstate Concert Hall (formerly Northern Lights). This time around it was torrential rain, high winds, and power outages. None of which dampened the spirits of the fans Tuesday night. If they were like me though they had wet feet all night from crossing what was supposed to be the parking lot but looked and felt more like a small lake. What the hell is a little discomfort compared to a night of in your face rock and roll?
Starting the night off was British rockers Young Guns. They were promoting their new album Bones, but they gave the crowd a nice mix of music from several albums. "Crystal Clear", "Learn My Lesson", and "Bones" gave upstate NY a taste of hard rock Brit style. The venue was a little less than half full but the crowd was enjoying their set.
Kyng took the stage next. This Southern Californian band has an interesting mix of 70's metal with touch of modern hard rock. "I Don't Believe", and "Falling Down" from their Trampled Sun album were just a couple of killer songs they played. The only thing that would have been better is if all the bands had better lighting. It was extremely dark for Kyng's and Sick Puppies sets, and the small side lights waving around just hit most of the fans straight in the face so we were blinded half the night. What can I say I like to watch to.
Australian trio Sick Puppies was next on deck to rock the crowd with their massively successful Tri-Polar record. Shimon, Emma and Mark never fail to put on a good show. They started out with "Odd One", and then cranked it up from there. "My World", "War", "All the Same" showcased just a few of their hits. They ended with my favorite "You're Going Down" If that doesn't get the you on your feet and ready to fight then try checking your pulse.
Last threesome of the night was Seether. The boys from South Africa had their stage looking like something straight out of a 50's B science fiction movie. Of all the bands they had the best lighting, which showed off the all the interesting stage props. Guitarist Dale Stewart started off the night in silver smiley face mask. Shaun Morgan could have been wearing a mask, it was a little hard to tell as he spent most of the night with his head buried in his microphone stand. John Humphrey's drum kit was on a riser that almost had him in the rafters. (which isn't hard to do at U.C.H.) They played hits like "Gasoline" which has been getting a lot of radio play in upstate NY. "Fake It", "Breakdown", and "Remedy" were the best of the evening.
All these bands killed their sets! I highly recommend checking them out if they are in your area. You won't be disappointed!
Official KYNG Site
Official Sick Puppies Site
Official Seether Site
---