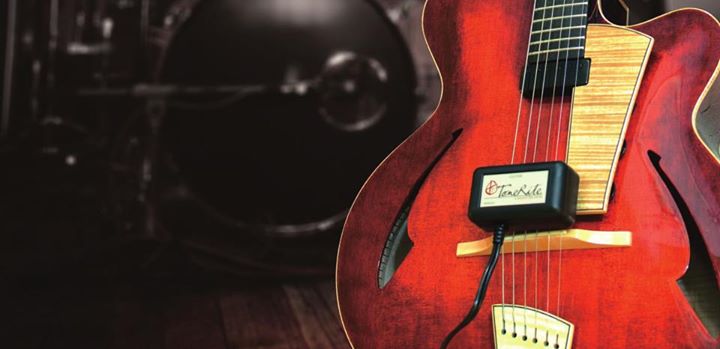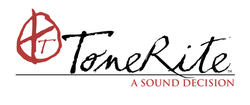 ToneRite's
Guitar: G3 –
The Premier Play-In Device
Gear Review by John Knowles
If you're a gigging musician, or someone who practices on a certain instrument often, you have probably noticed an interesting and rewarding truth: Your instrument sounds and feels better after prolonged use. Seriously, think of a recent rehearsal or jam session that went on for hours, and then recall how great your guitar or bass felt on that last jam. It is really a remarkable thing. This is the logic that led early record producers to place large speakers inside their instrument rooms blaring bass-heavy music. The frequencies and resulting vibrational energy from the speakers would transfer into the instruments and miraculously improve tone, volume, and playability.
Beginning even centuries ago the conventional wisdom of many musicians and instrument makers was that playing an instrument often allowed it to achieve and maintain its optimal sound. This period of sound optimization is known as the play-in de-dampening process, and can take many years. No one has that kind of time to bring out the best in their instrument, which is where ToneRite comes in to the picture. These guys developed a vibrational play-in device that rests on your instrument to rapidly and safely bring it to its highest potential in as little as 72 hours to a week. This is a serious claim, and one that Metal Exiles really put to the test.
ToneRite's website is littered with testimonials of their product's effectiveness on acoustic instruments, but to fans of hard rock and metal, the true test lies with electric instruments. Metal Exiles had the privilege of testing the all-new Guitar: G3 from ToneRite. This new and improved model boasts improvements to the electronics, rubber feet, ease of use, and ability to work on electric guitars. Lucky for us, electric guitars were indeed the focus. Overall the thing one likely wonders about this product is does it work? The bottom line: Absolutely! Over a 3-month span 4 guitars were actively treated with the G3 for a minimum of two weeks, and the results were amazing. For all the guitars used improvements were seen in the tonal quality of the instrument, the overall volume, and the ease of playing. Legato playing was much easier, and notes seemed to sustain for a longer period of time. During this span of time the guitars were also tested weeks later to determine how well the treatment's effects maintained. To be clear, the company holds no claims that a single treatment will have permanent results. In fact, they even state that after 72 hours of un-use following a treatment the effects will diminish, but the remarkable thing is that noticeable benefits could still be experienced for weeks following our test.
The ToneRite G3 is designed with three rubber feet that wedge between the first and second, third and fourth, and fifth and sixth strings respectively. Ideal positioning is just in front of the bridge so that the device transfers vibrations through the bridge and into your guitar, similar to what your strings do when being played. The device vibrates at a constant, user controlled frequency, to transfer energy into your instrument so that all of the components resonate together as a whole.
Before delving into the tests on the electrics it should be noted that this thing really shines on an acoustic guitar. A Taylor acoustic was treated for our first test, and within 72 hours the guitar's tension really loosened up. The guitar sounded louder, and much brighter. Although we found similar results with the electrics, the simple fact is that the construction of an acoustic guitar allows for a quicker response from the treatment. The wood is less dense, and of course thinner. We ran the G3 on medium for a total of one week for comparisons sake, and the results only got better. At the conclusion of the test it was clear that the guitar played and sounded better than ever.
"I tried the ToneRite on my Taylor acoustic guitar and it sounds great! More open and warm!"
Gary Hoey – Guitarist
The first electric tested was a Fender Fat Strat. This guitar has always played and sounded great, so the true test laid with how much these things could improve. Metal Exiles checked in with CEO and president, Valerie Sheehan, for tips on where to begin with an electric guitar. She suggested an initial treatment of one to two weeks. The test began with two whole weeks, but throughout that time the instrument was periodically played out of sheer curiosity. Every time it was played the results seemed to get better and better. By the end of two weeks on a medium setting something else happened aside from the expected results found with the Taylor: Some of the troubling fret buzz lessened or was non-existent. The guitar's volume really increased, and the sustain of the notes really improved. Bending notes became less of a chore, and running through legato licks was also possible with greater ease. After reading an artist endorsement from renowned guitar tech Scott Appleton, the test went on for another two weeks, and was met with favorable results. The results were not as dramatic as the first two weeks, but still seemed to improve performance overall.
"I checked out the Luke for the first time in 2 weeks. WOW!!! The guitar really has opened up and resonates like it never has before! The tone, specifically above the 15th fret has improved dramatically and the guitar sustains like crazy. I did full blast for about 72 hours and then left it on a low setting for 12 days. The Luke is a Steve Lukather model guitar made by Ernie Ball/Music Man. The model I have (the Luke III) has an alder body and a rosewood neck with two single coil DiMarzio pickups and a single DiMarzio Transition humbucker. Great playing instrument"
Scott Appleton
Guitar Tech for Rush and Def Leppard
The final tests included two different Jackson guitars, one with a standard bolt-on neck, and the other a neck-thru Soloist model. And herein lie the only small, yet manageable, issue that occurred during the test. The size of device works great with MOST guitars. It is however, a bit too large for pickup spacing on Jacksons, and similar style guitars – ESP's and Ibanez's come to mind. There was just no way to fully secure it on the strings, and aside from this the device was resting on the pickups. It's important to note, however, that the device can still work over time, even with only light contact within the strings. The test was conducted by taping the G3 down with some low-tact tape while wedging as much of the feet between the strings as space would allow. The largest spacing between these pickups is 1 inch, while the feet of the G3 are about 1 ¼ inches. With a dual-humbucker style guitar such as a Les Paul, the pickup spacing is not an issue, and the 3G's rubber feet will easily fit firmly between the strings.
Speaking with product Specialist, Davian Pagan, at this year's Winter NAMM show, we were assured that the device resting on a guitars pickups is a non-issue, and as a matter of fact ToneRite has been assured by pickup manufacturers Seymour Duncan and EMG that this contact with the pickups has no negative effect, and may in fact be beneficial. All in all, this small inconvenience meant only that treatment took a bit longer to see comparable results. Over time the results showed, and were in line with what we saw with the Fender Strat.
This year at NAMM, ToneRite proudly introduced a new distributor hailing all the way from New Zealand who go by the name Bad Seed Ltd. According to the press release, Sheldon Currington, founder and luthier of Bad Seed Ltd., is not only a ToneRite user, but he treats every guitar he makes before sending it to its new owner. Currington has stated, "Every Bad Seed guitar has the ToneRite treatment once completed. ToneRite ensures Bad Seed guitars are already broken-in and ready to rock from the first time the case is opened." This is truly a testament to the validity of the G3's application to an electric guitar.
Another word from product specialist Davian Pagan that aided our test was the fact that one's instrument definitely shows greater results from resting in an orientation that limits the amount of material that touches your instrument. On display at NAMM the ToneRite team had most of their Guitars hung on a wall hanger so that the only part of the guitar touching a surface was the neck and a small portion of the lower body. Laying the guitar in a case with the ToneRite limits the amount of energy that stays within your instrument, and becomes much less efficient. Our tests took place with the guitars hung on a single-guitar stand from Hercules. Again, the instrument had very little contact with any surface thanks to the configuration of these stands. Early tests were conducted while the guitars rested flat inside a case, which led to less effective results.
"The guitar had a noticeamle improvement everywhere from playing it 5 days prior. It sounded louder, seemed to have a wider and even dynamic range and the guitar responded to various string attacks."
Tim McKnight – Guitar Luthier, McKnight Guitars
You could spend hundreds of dollars on multiple set-ups and tune-ups over the life span of your instrument. Or, you could owe it to yourself to purchase a ToneRite: G3 and see for yourself just how much this device can do for your instrument. Included with your purchase is a 30-day money back guarantee along with a 3-year full warranty. The ToneRite comes housed in a beautiful, aesthetically pleasing box that along with the outer "seal" almost looks like a long-lost item preserved from the classical era. While the latter has nothing to do with the products effectiveness, it's certainly a pleasing reprieve from what you'll find most guitar gear shipped in. All ToneRite products can be purchased directly through the company's website. Whether you're a drummer, bassist, woodwind player, or guitarist, ToneRite has the play-in device for you that will shape your instrument into the best that it can be. You will not regret giving this product a try.
Visit ToneRite's website and FAQ
BUY the ToneRite Guitar: 3G
---