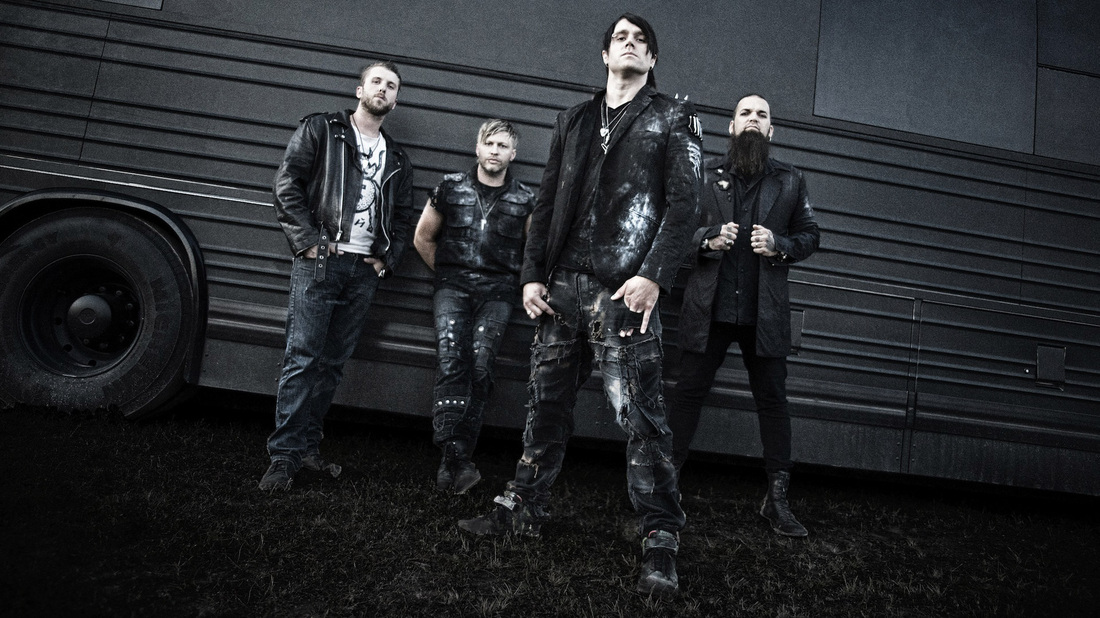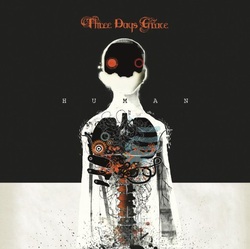 Three Days Grace have seen it all and now they have witnessed the departure of their former singer. Did they give up? No, that is not what Three Days Grace does. They grabbed Matt Walst, hit the road and conceived their most brilliant album to date, Human. If you can see through the dark times then you are one with TDG and you will understand where Human is coming from.
An interview with Barry Stock of Three Days Grace
By Jeffrey Easton
Metal Exiles: Have you ever felt anticipation for an album like you have for Human?
Barry Stock: Probably not, I really think this has been our most anticipated release. We have a new singer with Matt Walst so I am sure the fans want to hear what we have been doing for obvious reasons.
Metal Exiles: Besides the new singer, what is it about this album that everybody has been clamoring for?
Barry: For most people it is a rebirth from everything we went through. After Adam left we carried on and developed this new passion, its almost like starting over because we all have something to prove, something to say. We had the same passion for this album as we did for our first, as if we were taking on the world all over again. We weren't going through the motions on the last few albums, we always have the same drive but Human was different.
Metal Exiles: With Adam splitting was there ever a doubt that you guys would continue?
Barry: We never thought for a second about not continuing, we are just not that kind of band. It's in our lyrics, it's in everything we do and we are just that kind of band. Things happen in your life, it happens to everybody and you don't hide in a corner and give up. For us it is move forward because we love what we do.
Metal Exiles: Did you want him to stay or did you want a change?
Barry: With this whole thing we were totally caught off guard. Looking back now I feel that everybody is in a better place and from what I understand Adam is in a better place. It was not something that was talked about, we were doing what we were doing which was Three Days Grace and we did not see it coming. There were no big fights that led to that, there were always things going on, there always is just like in any relationship. It is like a marriage, you have to nurture it to make it move forward and it was not being nurtured like it was in the beginning.
Metal Exiles: When someone picks up an album the artwork is the first thing you see and for me to want to buy it I have to be moved but when I first saw your artwork I was taken back with a cold feeling. What does the artwork signify to you?
Barry: We normally do not focus on the art until we are almost done with the recording and you can see the big picture, what the album is and what it represents for us. Human is about what has happened to us over the past few years the loss and the inner struggle we have felt but now it is almost like a rebirth. We do like what the imagery states, seeing the machinery that is the insides and not being able to put a face on it. We wanted to put together art that would mirror what people would feel when they listened to it and hopefully it matches what they feel. I do know that there is some dark material on here but again it is almost like a rebirth for us.
Metal Exiles: I know in the past you guys have had some dark songs but I feel that this album as you guys in the abyss. Where did you guys end up mentally to create this material?
Barry: It was our own personal struggles and we really dug deep into ourselves. We also brought back Gavin Brown who has a great way of making you dig deep down to pull everything out that we want to say and what bothers us. There was a lot that we went through as a band and as individuals and we do what Three Days Grace does, we go to dark places but we always do it with a twist of hope. There is always a better side to the darkness, life can get better you know? The album was therapy for us which is how we treat our music and what you hear is the outcome.
Metal Exiles: What is your general view of the human race through song of the same name?
Barry: We wrote this album while we were on the road and I forgot what city we were going to and it was great, we were up all night, drinking and having a blast like we do and we looked out the window and it was so beautiful and peaceful. All of a sudden we pull into this city and everybody is laying on their horns, running red lights, yelling at each other. What is going on, where is everybody going, what is the panic for? You have to stop and look at life for a moment and detach, aren't you sick of this yet? Life is great but you get wrapped up in your everyday life and forget what it's all about.
Metal Exiles: One of the big stand outs on this album is I Am Machine. Have you ever felt like what the song signifies?
Barry: Yeah definitely, I am sure everybody has at some point. We all get wrapped up in the rat race so to speak and we work hard every day and you sometimes feel you are going nowhere in life. Sometimes you just feel like a machine but you want to get through it, you want everything to be better, you ask yourself "what am I doing".
Metal Exiles: The lyrics on the songs are out there and the riffs are incredible. There are some great riffs seething under the lyrics. What was your approach to writing this album as far as the guitars are concerned?
Barry: I have always been a guy into heavy music and I like great riffs but I like stuff that's not complicated so a young guy who is into the song can learn how to play it.
Metal Exiles: What was your rig on the album?
Barry: It is close to what I do live, but it is a little different because I like options. I am a fan of the Diezel VH4 but I also like to blend amps because different amps have different characteristics and one amp can make up for what another amp is missing. Gavin Brown has a bunch of great gear so we set up a lot of amps, heads and pedals so we had fun creating the tones. He also had some great old guitars and he had a 1958 Sears Silvertone Baritone which was a great guitar and I played it all over the record. I was also blending guitars in different keys to get a fat sound for the riffs.
Metal Exiles: You stated that you blend amps because one might be missing something. If you could point to one amp that does it for you what would it be?
Barry: It would be the Diezel VH4 as I use it all the time but I do amp blending and honestly I do not think that there is one perfect amp to cover what I want an amp to do. What is important to me is not just the big heavy tone, it is the clean tone. I can get some cool dirty sounds out of any amp but I want a clean like a Roland Jazz Chorus type clean. The Diezel has a great mid crunch to it but an amazing clean channel.
Metal Exiles: I have seen a lot of the comments that have been made about your singer and it seems as though a lot of people are on the fence and making comments about both. Do you hope hope they will warm up to Matt or do you care?
Barry: I care and I understand where it comes from. There are people who can't let Adam go and I get it, it doesn't upset me but I never get the hateful stuff that has been said but we are in that day and age where it happens. This was the Three Days Grace that they knew, the one they had and that's what they want. When I was younger it was Van Halen for me, I was a fan of the old Van Halen so I understand where it comes from and I know it's different. I hope people get on board but we can't over think it, all we can do is move forward and most people have accepted it. Change was inevitable here, we couldn't get around it so all we can do is move forward with Matt and be Three Days Grace.
Metal Exiles: You brought up Van Halen, I believe they sold more albums with Sammy than Dave so somebody liked it.
Barry: People just do not want to accept change for whatever reason but it has changed and you can't go back.
Metal Exiles: You are have an album with massive anticipation so what do you have planned for the fans this summer?
Barry: We are going to tour this album for a good 20 months because we love to play live, it's what we do. We have plans to tour the world as much as possible and reach out to places we have never been or haven't been to in a while. We were just in Argentina and Brazil where we are accepted very well and we also have been to Russia recently as well but we want to hit as many countries as we possibly can.
Official Three Days Grace Site
BUY Human
BUY Human on Vinyl
---