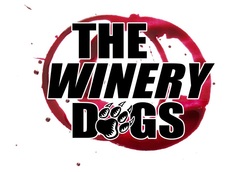 With the Winery Dogs, the music fans had no idea what they were getting but when it dropped it was discovered to be a dark bluesy masterstroke. This is what hard rock is supposed to be like and these three guys do it so well. Richie Kotzen, the purveyor of all things guitar, took the time out of the crazy schedule to give his fans insights into what made this record work.
An interview with Richie Kotzen.
By Jeffrey Easton
Metal Exiles: The three guys that make up The Winery Dogs is an amazing musician in his own right. How did you make room in the songs for each one of you to stretch out?
Richie Kotzen: That is the interesting thing with this record is that nobody lost their identity. It could have been really easy to get into the studio and everybody starts fighting for space and there is a few reasons why it worked out the way it did. One, it is a three piece and I am comfortable in a three piece, its all I ever do when I play with my band. I think Mike wanted to try something new so let the cards fall where they may so to speak. He is being Mike Portnoy but he realizes that it's a three piece so he is listening and understands we are playing off of each other and playing on a smaller kit as well. Billy and I have played with each other for years so we knew how to play together. Also I think it had a lot to do with the way the material was written. We have songs on there that were written out of jams, just sitting in a room together and all of the parts just locked together. There were a few songs that I had written previously that I thought would be good for the Winery Dogs but even on those songs it was pretty well mapped out what was going to happen. The third thing that tied it together is that we have been musicians for so long that you learn how to work with other people.
Metal Exiles: As musicians you have had very diverse careers from each other. How did you make all of this diversity come together in the writing process?
Richie: For the blues based thing you have to find a common ground and for anybody that knows me knows I am not a blues guy by any stretch but my influences, even though they were rooted in rock, were heavily blues influenced. For me this record was not a stretch stylistically, but when you compare the other guys and their influences, they all have the same influences, they are just getting it from another place. We can sit down and talk about 20 bands and their might be 10 that we completely disagree on but then there are those that we can connect on like Cream, Led Zep, The Who and the list goes on. So with me being the guitarist, singer and primary song writer, in the end I am going to push us in that direction.
Metal Exiles: So you're steering the ship in the direction that you want but with their help?
Richie: More or less but we do have common ground. I am not trying to take credit, it's not that but when you're the singer in this kind of music, this music is built around the vocal. When you compound it with the fact that you are playing the main instrument, the guitar, your painting with a wide brush so that is why the record leans in the direction it does.
Metal Exiles: I have a lot of your solo records so to me the Winery Dogs record sounds like one of your records but on the steroids that are Sheehan and Portnoy. Was some of this material destined for one of your solo records?
Richie: The stuff that would have ended up on a solo record would have been Elevate, Regret, Damaged; I'm No Angel and We Are One. Those were songs that I brought in and Desire as well.
Metal Exiles: Desire is one of the best tracks on the record.
Richie: Desire is a song I had never demoed but I had demoed the rest and the other songs were written together as a band. I ended a solo cycle of releasing a record and touring and I was approached by Eddie Trunk about doing this record so I put the Winery Dogs record in front of what would have been my next solo album so I decided to not do that record and I am glad I saw this through. So far we have gotten a great response and the other guys contributed so much to the outcome of the record.
Metal Exiles: I know you have worked with Billy many times in the past but this was your first time with Mike Portnoy. Were there any growing pains in the studio while doing this record?
Richie: It went surprisingly smooth and I honestly thought there would have been some hiccups here and there but there weren't. There were a few times where one of the guys was excited and trying to convey an idea and one of the other guys was trying to get his idea through but that shit is normal in that environment. There were no problems, everybody gave the right amount of space. Those guys trust that I am the singer and guitar player and although the door is open for ideas eventually you have to let someone do their job. If I write a song I am going to suggest a certain drumbeat because a song is written around a drumbeat but it's your job and I am not going to tell you how to do your job. I dont want to do that, I don't want to tell you how to play because I do not want someone to dictate how I play.
Metal Exiles: It seems as if your lyrics, especially on this record, are so dark and personal. Where do you go mentally to come up with this material?
Richie: There are multiple formulas, and I hate the word formula because its ridiculous and I always talk against formulas, but for lack of a better word, the best writing is the writing that happens naturally so there is no real formula. You can sit down at a piano, hear the music or the lyric and within 15 minutes you have a song. That has happened to me a few times and some of my favorite songs are the ones that wrote themselves because I sit down at the piano and suddenly I have a song. Damaged was written that way but then you have songs that require more work, like I'm No Angel. I wrote that before this project existed but that song did not have a chorus. The chorus that lived there now resides in Elevate. I realized that the song went from half time to double time and it sounded ridiculous to me so I abandoned it but a few months later I came up with the chorus so then I had the Elevate chorus looming so Portnoy suggested I take that chorus and merge it with another verse I had and suddenly you had another song. So you see there are a few different ways to write a song. To address the lyrics they sometimes come at the same time like the song Damaged or you have a riff that has such an energy to it that it will dictate the kind of lyrics you write. If you listen to the song One More Time, its happy and bouncy so I did not want to write some creepy End Of Days kind of lyrics so I took the "trying getting back together" approach to it.
Metal Exiles: Do you ever put yourself through any of this or is it something you pull out of thin air?
Richie: It's both but it's funny because if someone writes about something sometimes somebody will think it happened just the way it was written about. Its comical to me because if I was a screen writer and I wrote a movie about a serial killer it does not necessarily mean I am a serial killer. That is a serious kind of silly. The reality is is that you do write from personal experiences but you also write from other people's experiences.
Metal Exiles: What did you go into the studio with to record the album?
Richie: I took mostly Fender amps in, three different ones as well as a few Marshall amps. Sometimes I would tie them together. I also have this Marshall head that's 20 Watts with two knobs and when you turn it all the way up you get a great tone. I was plugging my signature Artist Series Fender Model into them. It is now available to the world market after only previously being available in Japan. It's a brown telecaster with a tobacco sunburst finish. It has custom Dimarzio pickups and the wood choices are very specific. It's a great instrument and if someone goes to the store they are buying my guitar, not some substitute instrument. We did not make entry level guitars for this line.
Metal Exiles: You put together a massive tone together for Desire.
Richie: For Desire it is interesting because we start out with one guitar and one amp for the intro but as the song builds the guitar layers build. By the time the chorus hits there are multiple amps and it just makes it sound bigger.
Metal Exiles: The album is out and it did really well the first week. Do you think it did well because of the names on the album or the music itself or a combo?
Richie: I think it was combinations of that but remember they had plenty of time to hear the music because the record was out a month and a half in advance in Japan. People have followed the band on YouTube because we have three videos out and then you have the elements of the names because they know who we are and they are curious. They want to know what we are going to do, are we going to make a record where I can listen to the songs or is it going to be chaos. Let's be honest, people were wondering what it was going to be like. In the end, when you hear the record you say "cool, these guys made a musical record where you can hear some crazy playing but then you have songs you can listen to and remember.
Metal Exiles: Billy Sheehan is all over the place but he is not doing anything to destroy the track, its all within the context of the song. All of you guys were phenomenal on the record but again in the context of the structured song.
Richie: Somehow it worked and it was cool with what we were doing. I personally have nothing to prove anymore like I did when I was 18. It's not that I am great or special, it's more of an attitude of this is how I play, I hope you like it. With that relaxed mentality, we are able to play in a more musical way. Like you said, Billy is playing like a madman and I have my insane solos but we are not stepping on each other. People have responded well to the record and where as I thought the record was cool I did not expect it to get the attention that it has so I am pleasantly surprised.
Metal Exiles: You guys are going out on tour in some fairly small places. Did you not expect the record to do well?
Richie: When we planned the tour we were being conservative. In certain markets we knew we would do well like New York and then in places like Lancaster, PA we thought we would do ok but the place was packed. We have done well all over the world and we thought it had to end sometime but it hasn't. I will tell you this about small places, I have done every scenario with touring from arenas to farmhouses and the smaller places are usually the better gigs.
Rock Album of the year? The Winery Dogs, hands down. You will not find a more passionate rock release out right now.
Official Winery Dogs Site
BUY THE WINERY DOGS!
---