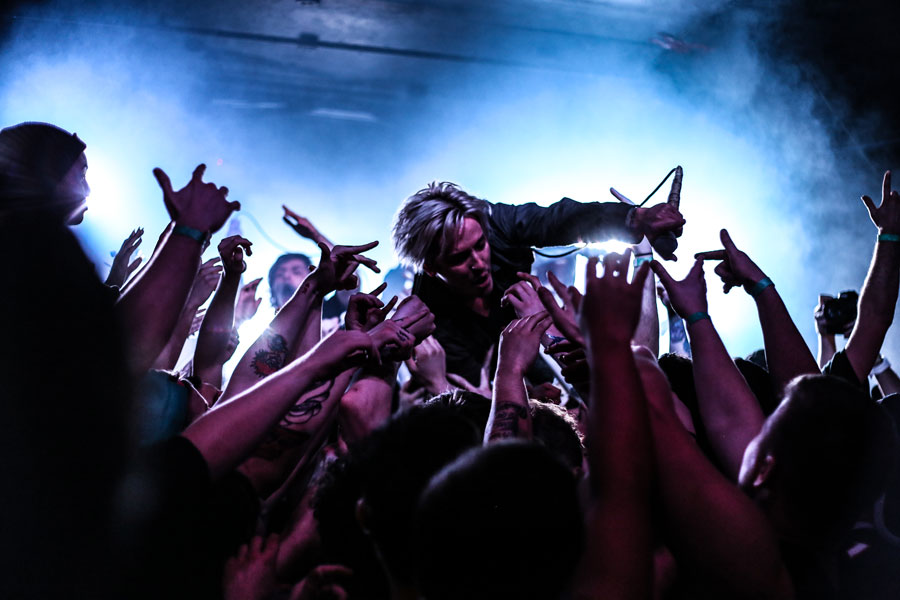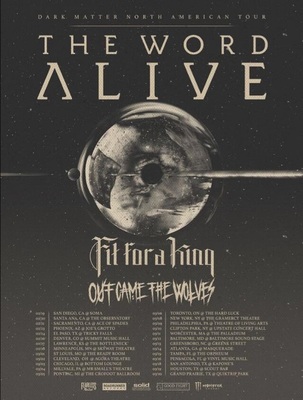 The Word Alive/Fit For A King/Out Came The Wolves – The Palladium, Worcester, MA 3/16
By Rickelle Tavares
Heading into the venue I had the same sense of anticipation that you could tell everyone else had. The upstairs at the Palladium is a smaller intimate room that allows you to get up close and personal to every band without a barricade. After some incredible local performances Out Came The Wolves took the stage, I myself had no idea what to expect. The crowd started cheering them on and as soon as their set started it became clear to me why there were on this tour. The lead vocalist Cameron has a great voice paired with a great set of lungs to combine his clean vocals with the screams. They put on quite a show from the way they switched up the stage having the guitarist holding up his guitar and playing in mid air to having the bassist almost inside the crowd while playing incredible rifts. It seemed like almost everyone was going crazy for the intense screams Cameron was doing while getting as close to the crowd as possible, everyone was fighting for a spot to be in front of him while he sang. Before I knew it was up front right on stage cheering along with the rest of the room, I personally thought they put on an amazing performance and they sounded incredible!
Now Fit For A King, I've been a fan for a while but I'd never had a chance to see them live before so I wasn't sure what to expect. At this point I was front row and center, by the time the guitarists came on stage I regretted standing so close! The entire crowd pushed as hard as they could all fighting to be front and center and trying to escape the enormous pit that had opened up. They opened up with their song Hollow King, it seemed like as soon as the first note was played the entire room was plagued with insanity! One after another crowd surfers and stage divers came barreling into all of us, the pit looked so intense it was honestly epic. Everyone was singing along including myself to their song Slave to Nothing, which appeared to be a crowd pleaser. The bands stage presence was phenomenal, they were engaged in their music but also having fun with the rest of us. It felt as if regardless of them being on stage there was no separation between them and us and that is an extremely rare feeling to get at a concert. For the song Hooked they asked for a wall of death, which isn't uncommon but I've never seen 99.9% participation before in my life! Everyone split in half then went at it, it was so crazy but yet fun. All in all Fit for A King puts on an amazing show regardless if it's for 300 fans or 1,000, and that's something that a lot of other artists can't duplicate. It was really sad to see them finish their set but it was something I will never forget, and I will always want to see them again. They are still out supporting Slave To Nothing which is suggest You Buy!
After surviving the most intense set of the night everyone was more than ready for The Word Alive to take the stage. The Dark Matter tour was set in place to promote their new album which isn't released yet but is sounding so incredible already! As soon as Drummer Luke Holland took the stage there was an uproar from the entire room, by the time Telle came out and started to sing everyone was in full "fangirl" mode screaming and trying to touch him. Every single person knew every word to every song they played and it was so awesome to just watch Telle be able to put the mic in anyone's face and have them know every single word to that part of the song. They played a few new songs of the album for us so we could get a taste of what was to come when it's released and it really was true to The Word Alive as a band they're going in popularity but sticking to their own unique sound, which in this music scene it's rare to see a band stick with their origins. Not only are they true to themselves but every time I've seen them live to date it's always been consistently amazing, it's never the same performance it's always different and better and it doesn't leave you with the content feeling of "oh I've seen them before I don't need to go to the next show" it's more like "that show was incredible I can't wait for the next. During their set list they played an older song which is a definite favorite called 2012, Telle asked everyone to get on the floor then jump up and go crazy once the song started. It was incredible to watch the entire room jump on his command and just go absolutely nuts to the song singing as loud as they could, from the pits to the balcony there wasn't a single person jumping around and singing along with him. They finished their set thanked everyone for coming out and left the stage, but Worcester wanted more. All in unison everyone yelled "ONE MORE SONG" over and over until they all came running out on stage smiling and announced they'd be playing their most popular song Life Cycles and it was everyone's last chance to get rowdy. We took the invitation with open arms as everyone sang the intro all together then as soon as the chorus kicked in it was a beautiful chaos of singing. moshing, jumping, and crowd surfing. The Word Alive is an incredible band, the lineup was utter perfection and the show put on was one that everyone in attendance will never forget. If you have time to catch a date on this tour DO IT!
Official The Word Alive Site
Official Fit For A King Site
Official Out Came The Wolves
---