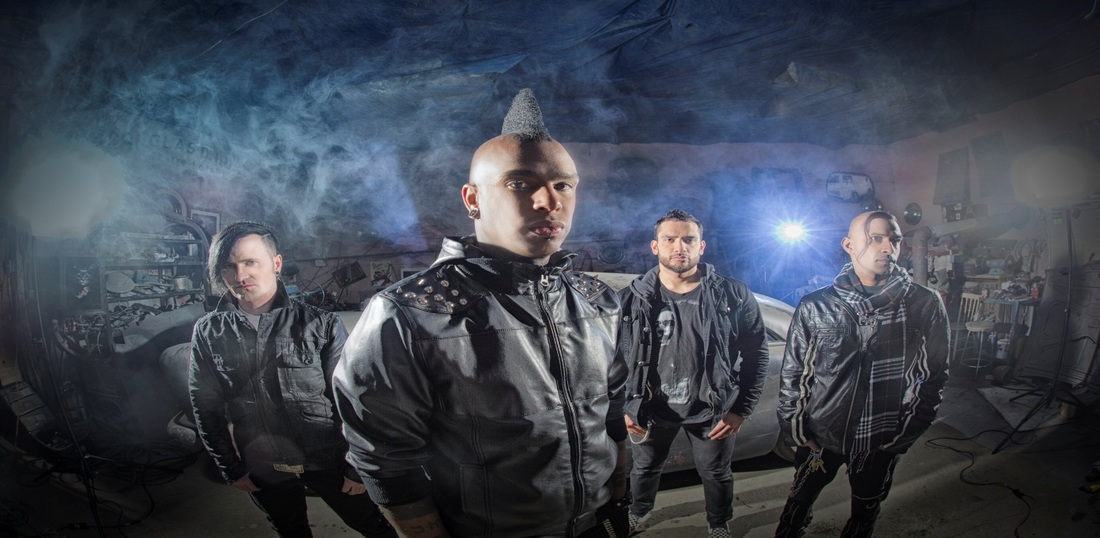 There is so much to be said about the re-release and re-mastering of The Veer Union's album Divide the Blackened Sky. It re-introduces us to the greatness of the band, emotionally, lyrically, and musically. After battles with labels in the past, the band is dead set on pushing forward to prove that they have overcome the setbacks that may have hindered them in the past. The mind blowing talent that they have is unmistakable. They are here to prove that nothing is going to stop them, and nothing will bring them down.
An interview with Crispin Earl of The Veer Union
By Leslie Elder Rogers
Metal Exiles: With it being 2014 and Veer Union re-releasing Divide the Blackened Sky, do you see the band in a more stable place than you were when you were going through all of the turmoil of losing a major label and band members?
Crispin: Absolutely! With 100% certainty we are in a much more stable place, emotionally, creatively, and financially. It wears on you, but I've found a lot of inner strength. I realize how lucky I am to be able to go through what we have and still continue to do this.
Metal Exiles: Considering you had a big placement on Rock On The range, a huge single with Seasons and a great record, what was the motivation for your label to drop you?
Crispin: When we were with Universal, the label originally wanted us to release Youth of Yesterday as our first single. . I didn't want that as the first single released. I knew that song wasn't the song; it shouldn't have even been a single. I am not one to sit back and not open my mouth so I fought for Seasons to be the first single and won. The song did really well. With Universal, when it was time to release a second single, we were getting so much love from radio for a song called Darker Side of Me, and then label fought for Youth of Yesterday. I was like no, no, no, but anyway, we lost that battle. The worst part of this industry is it's still a business and at the end of the day, they chose to go with a song that wasn't going to sell very well and we ended up having to pay the price for it because we ended up getting dropped because it didn't sell very well. It was never our choice to go with it. I mean I know that tons of bands have gone through the exact same situation and I could cry in my beer about it or I could just continue on and do the best I possibly can to make the best music I possibly can and continue to stay out there and that's what I've done. It was pretty brutal.
Metal Exiles: Where did the idea come from to reissue Divide the Blackened Sky?
Crispin: We signed another deal with a new record label called Rocket Science after we left Universal. It was a label that we had no idea was kind of in shambles when we signed with them. A lot of things kind of happened with that label, and really, really bad accounting. Anyway, things went really badly with this label and they still owned the rights to our masters and just recently we finally signed a deal to get our masters back. When we signed a new deal with Pavement, which we recently just did, they said you know what, that record never really got the love that it initially deserved and it's a great record and we should consider getting that record put back out to the world because a lot of people hadn't really heard the record. We thought perfect, well let's do something a little bit different with it.
Metal Exiles: To promote the album you're dropping a different single in Borderline with Jonny Hetherington from the band Art of Dying singing co leads. Where did the ideas come from for this?
Crispin: He's a friend of ours from Vancouver who plays in the band Art of Dying; we've been talking about working together for years and finally this just seemed like the perfect opportunity, and he was excited to do it so he came and did a guest vocal on the new single called Borderline and that's basically how that came about.
Metal Exiles: Divide has three new tracks. Were these tracks recorded back in the original sessions or are these new tracks written for the reissue?
Crispin: We wrote a couple of new songs. We had released an EP called Life Support Part 1 in December and we were working on the follow up which was Life Support Part 2 which was going to be a much heavier version of the band. We decided to take one of the songs from that which is called Antagonist and we put that on there. There was just another song that was a bit of an artsy track that we'd been working on called No Hope til' Now and we just kind of dug the track and it seemed to really fit the theme of Divide the Blackened Sky as well, lyrically, and then the third song is called Safe and Sound and it was actually a B-side from Against the Grain, the first Universal record. It was a song that we wanted to put on Against the Grain but we already had a lot of ballad type songs on Against the Grain with Universal, we just took it off that record and it's been sitting around for so long. It seemed like the perfect opportunity to let the public have an extra taste from back in the day.
Metal Exiles: The album was re-mastered as well. What did you see in the tracks that you felt they needed to be re-mastered?
Crispin: I kind of always felt like the record was a little bit middy sounding; the guitars were almost maybe too in your face at times on the record if you're listening to it from front to back so this seemed like the perfect opportunity and time to kind of remedy that situation and try to soften it up so it still has all the edge but at the same time, not quite the bite in the mid-range when maybe you've got a set of headphones on. Just gave us a second chance to try to get it right really.
Metal Exiles: With Pavement reissuing the album and you going out on a huge tour, do you think the album is really getting the justice and exposure it should have gotten the first time?
Crispin: Let's put it this way, I think that with the first release of Divide the Blackened Sky, we went out on tour and were only on tour for about 3-4 weeks before everything imploded because the label financially just couldn't push us forward; a lot of stuff that I can't really even say over an interview. Let's just put it that way but it was very messy. So the promotion for the record, even though a lot of dollars were spent, it was just so short. It was like here it is, and now it's gone. For us it was kind of like, it we can get out of tour and do what we can to get back in the public eye, then people can find out about the record. We don't expect Pavement to have the same kind of budgets that we did with Universal Records as far as marketing, we just don't, but that's not really what it's about for this band. It's always just been about getting out there and getting in front of people; being on tour, making fans whether it's one at a time, a hundred at a time, either way we're just prepared to work because this is what we want to do.
Metal Exiles: Where do you see The Veer Union now as opposed to 2012 when the record originally dropped?
Crispin: I knew that the only way this band could survive was by breathing new life into it. I have no hard feelings against my old members. I wish them all the best. They just had other things that they wanted to do. For me, music is what I've always wanted to do, whether I was making a dollar, a hundred dollars, a thousand and so on and so forth. For me, this has always been my passion and I have never wavered from it and I wanted to have people that had the same passion. It took me a couple of years to very strategically make sure that every person was on that wave length. I'm feeling in a much better head space now than I was over the last few years because I feel like I've finally achieved that. You have to love it, and I let everybody know hey, if you think you're coming into a situation where I', playing a bunch of great gigs and I'm gonna have a ton of money now, well, that's just a misconception, and not the reality of it but you'll have some of the greatest experiences that you've ever had. I think that for even a short period of time out on the tour, that everybody is grateful to be here and it makes a big difference when you don't feel entitled to be here, you just feel grateful to be here.
Metal Exiles: Do you think with the major headlining summer tour and the direct support for Trapt after that this will be your year to show the world that The Veer Union is still a force to be reckoned with?
Crispin: I definitely think as every show goes by, we've heard so much great feedback from people saying that this may be the best they've ever seen this band and so we want to do our best to get out there and make sure that's going to be the word of mouth. We want that to continue to grow so that the band can continue to grow; that's basically our focus and our goal for Divide the Blackened Sky and for the re-release.
Metal Exiles: What's next after the touring? Is there a new full length in the works to keep the ball rolling?
Crispin: We have been writing a ton for a brand new record that we plan on releasing next year at some point. There's lots of stuff that's coming up so The Veer Union is not slowing down. We're going to be touring as much as we possibly can. I think we plan on doing some dates as well in Canada and after touring North America, we plan to take all the song ideas that have been written on the road and previous to going on this tour and be in the studio just hammering it out for a couple of months. I will say that I haven't really talked about this but in the past over the last 10 years of writing and recording, for the most part, I've never really collaborated with that many people. It's kind of always been my own thing, so I'm kind of looking forward to potentially collaborating with other artists and producers on the next record and really pushing forward and creating something different that I've never created before. I'm excited to do that for the next upcoming record.
Metal Exiles: Are there any specific artists that you would like to collaborate with, maybe that have been a dream of yours or inspiration of yours?
Crispin: Absolutely, it's funny that you ask that because I haven't actually mentioned much of this but I've got the band Living Colour that's on my Facebook and I've been following them and they've been a huge inspiration for me. I've noticed that they're kind of getting back in the game and that they're working on a new record but I would definitely love to meet up with Corey Glover from Living Colour and do a collab with him, or even a couple of the guys from the band. That would be a dream come true for me, for sure. The list is endless. I would love to work with Chris Cornell. I would love to love to go into the studio with the producer Terry Date. I would definitely say Chino from the Deftones is probably one of my biggest inspirations ever. The list is truly endless, but there's always a wish list and then there's the other list, you know, the one that's like, hey, this would be awesome if I could make it happen. So, we'll see. I'm definitely going to start putting the feelers out in the next couple of months when the tour starts to slow down a little bit. I'm excited to see where it's going to go. There's just so many people that I'd love the chance to work with.
Official The Veer Union Site
BUY Divide The Blackened Sky
---