The Birthday Massacre/Black Veil Brides/Dommin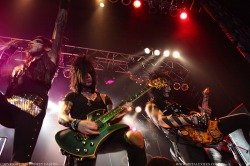 Anaheim House of Blues Anaheim CA 11/10

Darkness descended on the HOB in the form of three dark bands that were out for your soul and steal it they did. The lights came down and the darkness enveloped the crowd as Dommin took the stage to the screams of the faithful. Their debut, Love Is Gone, is an otherworldly piece of art that must be digest in the live setting as well as the CD forum. My Heart Your Hands, devastating in its effect, the gothic girls wet dream rolled into a solitary tune. Tonight, another ode to the dreary as well as Dark Holiday, a perfect transition to what is going on in your mind. Dommin was the perfect band for this tour, to set the mood for the rest of the show. Black veil Brides, this is a band I have heard about and wanted to see for awhile and I was not disappointed. Firstly it must be pointed out that their fans are loyal, KISS loyal, as they came dressed like their favorite band. There was a lot of trouble went through to show up as they did and I commend that. The band hit the stage and it was on as they ripped the stage apart with their Shout At the Devil era Motley antics. We Stitch These Wounds, wow, how dark can we get unless we stray into Slayer land? The crowd was pushed into a further frenzy by the steamroller affects of Beautiful Remains and Sweet Blasphemy that just crushed those who gave in to the band. If you have not bought into what they are dealing it is not to late to get on that express.. The end cap of the night was The Birthday massacre, who had just released their best record yet in the form of Pins And Needles.


---