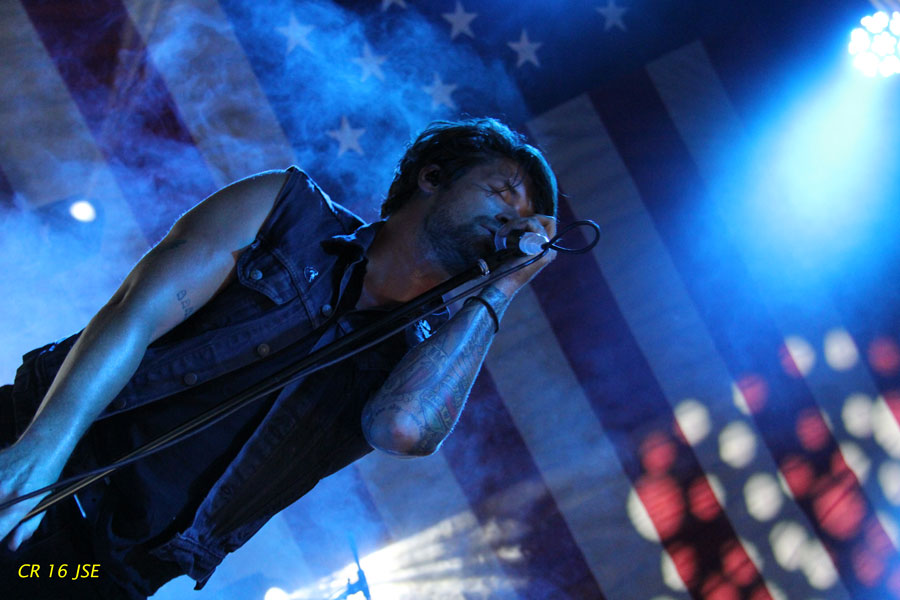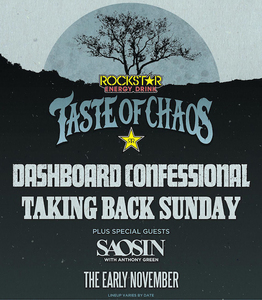 Taste of Chaos 2016 – Concorde Pavilion, Concord, CA 7/16
By Jeffrey Easton
Taste of Chaos signifies one thing, bringing together a bunch of great bands for the sole purpose of bringing amazing live music to the fans and one again they succeeded. So for the first time since 2010, Taste of Chaos was a full blown tour and it was very much welcome back by thousands of rabid concert freaks nationwide so here is to 2017, right? The bands chosen this year were serious stalwarts of the genre and brought so much to the table, notably Taking Back Sunday.
The Early November opened up the show and Concord was pumped up for the show to begin. Having a long history, I felt they should have come on later but they played as if they were headlining. Signed to Rise Records, one of the better labels supporting rock music, they have been out in support of their sublime album Imbue and the fans let them know how great it was by screaming louder when they dealt out I Don't Care and Narrow Mouth from said record. Having said that they did open their set going way back in time with Decoration from The Mechanic part of their daunting 2006 opus and continued on by dealing Frayed In Doubt and Tell Me Why from In Currents, one of the 2012's coolest albums and a great comeback album. It's a statement to how much they like playing together to keep what they reignited a few years ago going and making stellar new albums.
Saosin was up next and by the reaction they received the fans had excitement bottled up for hours. Saosin has had a checkered, past, a hiatus and members coming in and out but it seems as though they have settled with a strong line up and with a great new record in Along The Shadow. Along The Shadow is a solid album that shows the true Saosin, the one we should have seen all along. Great songs and an unreal performance from the return of Anthony Green. The band must have felt the same way because half of their set was dedicated to that record with the stand out tracks Racing Toward A Red Light, The Silver String, Illusion And Control And The Urge To Pray. Considering this was the return of Anthony Green it would make sense to go back to the first EP that he was a part of and pull from Translating The Name. That first EP was a strong statement in the early days of metalcore and it still fits into the scene today. The songs were so vibrant and 3rd Measurement In C, Seven Years as well as the title track elicited roars as if we were all transported back to 2003 and Saosin was still the breakout band. Saosin did Taste Of Chaos back in the day and they are still an exact fit.
Taking Back Sunday, their time had come and the venue was fully electric, the people wanted Taking Back Sunday, now. Taking Back Sunday were one of the bigger bands to come out of the early 2000's and have yet to relinquish their standing in the scene. With massive albums like Tell All Your Friends, Louder Now and more recently the enormous Happiness Is, they had plenty to deliver to their crowd. They wasted no time in caving into the fans wishes and opened up the floodgates that was their setlist by blowing out their signature track, Cute Without The E and Concord went ballistic. Having the arena already around their finger they nailed the admiration shut by dishing out Liar (Takes One To Know One) and within the first 10 minutes the band had made everybody's night worth it. Having previously stated that Happiness Is is enormous, that's an understatement and I feel that the album should be a million seller, its that good and when they lit into Flicker Fade that made My night. Happiness Is was my fav album from 2014 and I still spin it nonstop, it's a completely solid record. Lifting tracks from that also included Better Homes And Gardens as well as Stood A Chance, two stellar cuts that will live forever as stalwarts in their set list. So many bands that have a deep catalog like to live off of that but that's not what TBS is about so during their set they put the fact that they have a new album entitled Tidal Wave coming out in September in the fans faces and they welcomed the new material whole heartedly. The title track as well as Holy Water were dealt on the rabid and they treated them as well as the classics and I feel as though TBS have another huge album on their hands. Going back in time again they closed out with Makedamnsure and that sent their fanbase there go home delirious. There is not stopping Taking Back Sunday, period.
Closing out Concord was Dashboard Confessional, one of the stand out bands of the 2000's so far. Their string of massive albums earned them the right to headline this festival and close out the night with their signature sound. Considering that they have not released an album in some time, they focused mainly on their early catalog, mainly The Swiss Army Romance and The Places You Have Come To Fear The Most with a few from A Mark as well as Dusk And Summer. This being a festival with older bands catering to their longtime fans this did not seem to be an issue as the crowd seemed to be into the classic early stuff because all of a sudden, they were teenagers again. They kicked off their set hard with Vindicated from the Dusk And Summer and they immediately had everybody there tuned in. As they weaved through their set it seemed as though each person was reconnecting with their past selves especially when they were hitting on Saints And Sailors, Remember To Breathe, The Good Fight and Heart Beat Here. Dashboard have toured on some of the biggest tours in their career but it seems to me that they really felt at home here and this is where they needed to be right now. Again I Go Unnoticed was a real moment for me because Swiss Army Romance was a record that meant a lot to me and still does. A Mark A Mission A Brand A Scar was brought to life in a real way with the closer Hands Down, possibly one of their more monumental tracks and possibly the best way they could end the show and put their fans in a DC trance that they probably haven't come down from.
This was a great way to bring back A Taste Of Chaos to the national stage and hopefully 2017 will see another round of Chaos!
​
Official Taste Of Chaos Website!
---