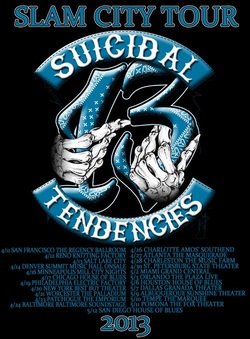 Waking The Dead/Sick of It All/Suicidal Tendencies - House of Blues, San Diego, CA 5/13
By Heather Vandemark
There is no better way to spend Mother's Day than attending a Suicidal Tendencies show. This was the last show of the tour and all three bands killed it.
Waking The Dead opened the show. Does the front man look familiar? It's Mike Clark, ex-guitarist for Suicidal Tendencies and Waking Dead was formally No Mercy. Nico Santora, rhythm guitarist for Suicidal Tendencies, came out and jammed with them for a minute.
Sick of It All has been around since 1986 but still sound as fresh as the day they dropped. The crowd went crazy when they came out and they knew every word to every song. Still out in Support of Based On A True Story, they shook the walls with their blasting sound that has inspired a generation of hardcore bands that owe SOIA a huge amount of debt. With massive tracks like Scratch The Surface, World Full Of hate and Uprising Nation, they provided proof of why they are still around.
S.T! S.T! S.T! I watch the crowd as we wait for S.T to take the stage. A young kid about 12 years old with his dad standing behind him to protect him from the slammers, a couple in their 40s, and a petite woman in her 60s, all right up front. Truly an all ages show. Bring Me Down was first song with the crowd yelling every word and the slam pit was huge. I think Mike Muir has more energy now than ever. Nico Santora, Mike Muir, Dean Pleasants, and Tim Williams are high energy all over the stage. Everyone, no matter where they were standing got to see each of them up close. They really play to their fans. Eric Moore did a short drum solo, the man is amazing spinning his sticks and drumming. Mike Muir had inspiration messages throughout the show as well like 'If you fall off your skateboard get your ass up and get back on!' 'If something is too hard, you are not trying hard enough.' 'Believe in yourself.' My favorite story was about a young woman that asked him to sign something. Then she said "Thank you! My mom is huge a fan." Doh! Suicidal Tendencies has quite the legacy.
For the last song, Pledge Your Allegiance, the band invited everyone to come up on stage. They climbed over the barricade and up on stage. There had to be about 60 fans up there slamming fueled by adrenaline pledging their allegiance. "S.T.!" Some chose to stage dive at the end of song. The ones that stayed got to meet the band.
This was the last show for this tour, but next time they are in your town you better get your ticket.
Official Waking The Dead Site
Official Sick Of It All Site
Official Suicidal Tendencies Site
---