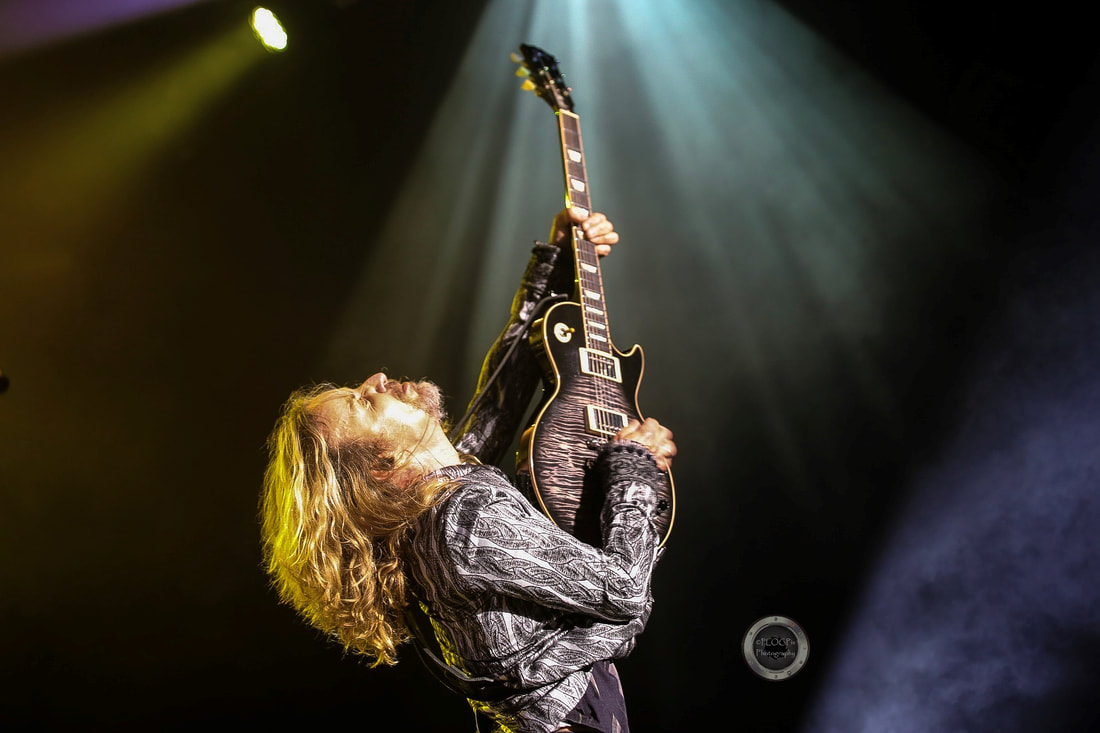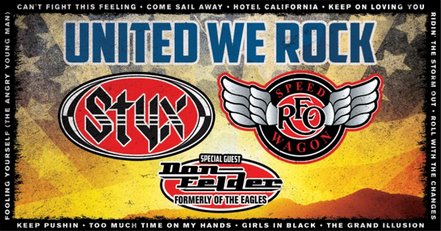 Styx/REO Speedwagon/Don Felder - Verizon Amphitheater, Alpharetta, GA 7/17
By: Leslie Elder Rogers
I grew up in the 80's so there is always a nostalgic feeling when I attend a concert that takes me back to my youth. Getting the opportunity to shoot two of my favorite childhood bands tonight was an extreme honor. New age rock-and-roll fans may never truly know the brilliance or depth of what these bands brought to the table so many years ago. I hope that the music they have produced continues to linger so that everyone has the opportunity to appreciate the magnitude of their contribution to the art of music. Tonight, as part of the United We Rock Tour, Styx, REO Speedwagon, and Don Felder, were ready to rock the house at The Verizon Amphitheater in Alpharetta, Georgia. This was my first time here venue and even though it is smaller than the other Amphitheaters I have frequented, I was impressed by what it had to offer, the layout, and the cleanliness. The lawn and assigned seating areas were completely engulfed with fans. Without a doubt, this would be an amazing show.
I didn't make it in the gate in time to photograph Don Felder but I did get to hear his remaining set and he definitely still impresses to this day. He vocally demonstrated tonight that no matter how much time passes, a great musician remains a great musician. He brought so much talent to the Eagles and it was a sad day when he was let go. He gave them the rock and roll edge that carved the road ahead. His set list included a variety of hits including "Already Gone", "One of These Nights", "Heavy Metal (Takin' a Ride)", "Seven Bridges Road", "Witchy Woman", "The Long Run", "Take It Easy", "Heartache Tonight", "Life in the Fast Lane", and "Hotel California".
REO Speedwagon came out without delay and immediately the fans were full of excitement as they began to play. The band, Kevin Cronin, Bruce Hall, Neal Doughty, Dave Amato, and Bryan Hitt were eager to provide a jaw dropping experience and I, along with the plethora of fans, were ready for it. Kevin Cronin has a voice that can pierce your soul though he seemed slightly off pitch during parts of the show tonight. Still, even that could not hinder what they do so well. A slight tone variation when you have the capability of doing what Kevin does with his vocals, truly makes very little difference. Bruce and Dave bring immense agility to the stage and their on stage antics are precocious, rehearsed but playful and fun. Neal Doughty and his keyboard mastery is heard as each song is conquered. There are moments in life that you know you will never forget and for me, this was one of them. This is a band that I've always had a deep admiration for and being able to stand so close to them, close enough to see the sweat drip from their brows, was, as cliché' as it may sound, a dream come true. Tonight, as they hustled across the stage, proving that they have not lost a single ounce of greatness, the songs echoed in our ears, pierced our souls, and took us all back, not only one decade, but literally 50 decades and the age variations in the crowd was proof enough that REO has made a lasting impression on young and old. Their set list tonight included so many great songs, hits that we will never forget, music that helped many of us through a bad day or just a bad time in our lives. It included "Don't Let Him Go", "Keep Pushin'", "Can't Fight This Feeling", "Tough Guys", "Building a Bridge", "Take It on the Run", "Time for Me to Fly", "Back on the Road Again", "Riding the Storm Out", and "Roll With The Changes"
.
Kevin sat, genuinely inspired, at the piano, as he delivered my favorite song, "Keep on Loving You", a song that for him, began with just three chords and progressed from there. In his own words, "their lives have not been quite the same since".
By the time Styx came to the stage, the readiness throughout the crowd was massive. I watched as fans heads turned from side to side, watching with anticipation, waiting for that moment when Tommy Shaw, James Young (J.Y.), Larry Gowan, Todd Sucherman, Ricky Phillips and the highly regarded, original founding member, Chuck Panozzo, would light up the stage. When you have the history Styx has under their belt, waiting for that perfect moment to come on stage is no big deal. People will wait, even if impatiently. People scream your name as they plead loudly so they can reminisce with you as you deliver the music that sets you apart from other bands like you. One by one, the band found their way to the stage, utilizing the elevated platform behind the drum set as entry way for several of the band members. As each face appeared on the slightly smoke consumed stage, the fans got louder and louder. It was an awesome sound to hear the vast number of cheers and the pure love that was being poured out to the band from the crowd. Styx has now given us yet another remarkable piece of musical brilliance with their new release,
The Mission
, their 16th studio album to date. What a ride it has been for them. Multi-platinum album after multi-platinum album and they are as strong today as they ever were. The crowd gathered here tonight was proof of that. The show began tonight with "Gone, Gone, Gone" from the new album and led to "Blue Collar Man". Their attire was bright and flashy which reflected their personalities on stage. There are absolutely no bad songs in this bands' catalogue and every note was sung perfectly in key and played flawlessly. They continued with none other than their masterpiece "The Grand Illusion" and then into the sweet and sentimental sound of "Lady", which, by the way, had all the ladies oohing and aweing as they sang along with their hands waving solemnly in the air. The facial expressions delivered by J.Y. were intense and passionate as he strutted on stage, striking each chord meticulously and precisely to ensure that the sound delivered was exact and striking. Throughout the night, the elevated platform was utilized by the band consistently and though there was always smoke surrounding them on the platform, it created a beautiful ambience accenting their silhouettes. It was quite artistically dramatic, and very perfect. I admired the way they all smiled widely, with so much enthusiasm during their entire set. There was a never a look of fatigue and they did not slow down one bit. The energy they projected kept everyone on their feet. During "Light Up", as expected, hand held lights surrounded the venue as we were reminded of simpler days when real lighters were used and yet now, everyone just reaches in their pocket or purse and pulls out that new thing called a cell-phone. Looking around, it is truly a beautiful sight. I have only a terrible cell phone picture that expresses its true impact. The remainder of the setlist included "Radio Silence", Miss America", Crystal Ball", and "Fooling Yourself (Angry Young Man)" which featured the one and only Chuck Panozzo, and all of his brilliance. As the show came to an end, they delivered the well-known and crowd-pleasing "Too Much Time on My Hands", "Khedive", an attempt at covering a few verses of "Bohemian Rhapsody", which I did not find appealing, "Golden Slumbers", and an absolutely stimulating version of "Come Sail Away". I was sad to see the show end but they executed such a wonderful compilation of old and new songs that tonight will never been forgotten.
Don Felder Website @
https://www.donfelder.com
Don Felder Facebook @
https://www.facebook.com/donfeldermusic
Don Felder Twitter @
https://twitter.com/donfelder
Don Felder Instagram @
https://www.instagram.com/donfeldermusic/
Reo Speedwagon Website@
http://www.speedwagon.com
Reo Speedwagon Facebook@
https://www.facebook.com/REOSpeedwagonOfficial/
Reo Speedwagon YouTube@
https://www.youtube.com/user/RSpwagonVEVO
Styx Website @
http://styxworld.com/band
Styx Facebook @
https://www.facebook.com/styxtheband
Styx Twitter @
http://www.twitter.com/STYXtheband
Styx Instagram @
https://www.instagram.com/styxtheband/
Styx YouTube @
http://www.youtube.com/styxtheband
Styx iTunes @
https://itunes.apple.com/us/artist/styx/id132659
---