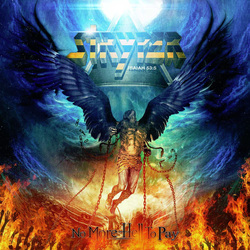 Stryper – No More Hell To Pay – Frontiers
By Jeffrey Easton
Stryper have finally found, again, what made them a potent band: power. The power you feel, or maybe it's the force of the riffs and vocals, that pushes them at their best and they have gained that again. Their best record, to me, was Against The Law. That record ripped with raw emotion and power from first note to last and showed that when unleashed, that band could rip you a new one and I feel that way about this one. With No More Hell To Pay, they serve up one flame thrower after another with Michael singing as if his life depended on it and Oz fueling each potent track with nothing but pure muscle from his guitars. I see live performances opening up with Revelation, a sick intro that leads into an assured Mr Sweet guiding the listener into what Stryper has become. No More Hell To Pay almost has a classic Judas Priest feel to it with its stoic riff and disturbing lead fill, heaviness has indeed found Stryper. Speed and classic screams greet you with the heaviest Stryper track to date in the form of Saved By Love and I bet by title alone you thought that it would be a ballad. The fire continues with incendiaries like Sticks And Stones, Sympathy and their new fight song Marching Into Battle. Praising God has always been a priority for Stryper and they do it very well here and very loudly. The record closes out with the cleansing track Renewed which I am sure is how they felt after they were done writing this master stroke. Stryper have been maligned by press and metal heads in the past but be rest assured, No More Hell To Pay will take your head off with one mighty power cord, best Stryper album to date, period.
Official Stryper Site
BUY No More Hell To Pay!
---