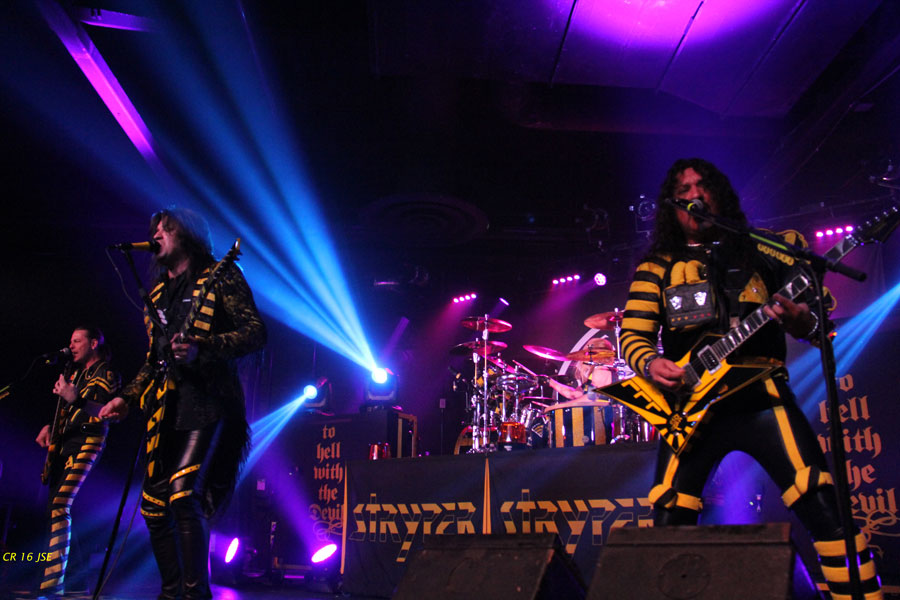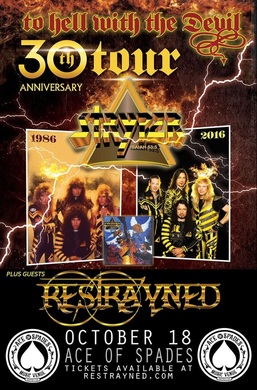 Stryper/Restrayned – Ace Of Spades, Sacramento, CA 10/16
By Jeffrey Easton
Stryper have been stalwarts in the heavy Christian ministry for over 30 years and in 2016 their presence is just as strong as ever. In 1986 they released their platinum selling/award winning album To Hell With The Devil and their lives were forever changed. The big tours, living in arenas, new fans every day climbing on the Stryper momentum and here we are in 2016, 30 years later and that albums impact remains unchanged. Fans still clamor for that album and for its anniversary they gave the fans just that. The 30th Anniversary Tour for To Hell With The Devil is in full swing and the dedicated are packing every stop of the tour as if it was still 1986.
Opening the show is local Sacramento legends Restrayned and they were the perfect band to pump up the crowd. They are one of the reasons that metal/hard rock is not dead because it is still alive and well at the local level and if you have witnessed their show you would know why. Having dealt two stellar albums, Not Human and A Dark New Day, they are seriously primed for national recognition. Johnny Rowland fronts this voracious outfit and they plowed through their seven song set. Not Human was heavily focused on with Screaming In The Night, The Fallen, Not Human as well as Edge Of The World and back to the full length debut with Rise Again and Some Will Be Saved and closing with Denying the Demons. If you need a fix that harkens back to the glory days Ozzy, Dio ect with a modern punch then you need Restrayned.
Starting with a video message from Michael Sweet going into detail about the rise of Stryper and the impact that THWTD had, it was now Stryper's stage and they were about to own it. Over the sounds of Abyss (THWTD), the fans went nuts and got louder and louder as Michael, Robert, Oz and Tim appeared on stage in replicas of their 1986 THWTD uniforms. The lights went up, Abyss led into the title track of why we were here, To Hell With The Devil. The screams overwhelmed as Stryper started dealing and we were into an amazing show. Back in 86 two of the biggest videos on MTV were for Calling On You and Free and that feeling of euphoria for those songs came back as dove into those and the fans I feel were singing just as loudly as Michael. No matter how you interpreted their material, if Calling On You did not touch you in some way, you have no feelings. The massively huge ballad, Honestly, set a lighter but not less powerful tone as Michael shed his guitar and clung to his mic and sang as his life depended on it. As they went deeper into the album, the show intensified and those that witnessed it saw an insanely tight band. Oz, Tim and Robert are flat out amazing musicians behind Michael's intense vocals and were delivering probably one of the most intense performances I have seen from them. All Of Me and More Than A Man always stood as my favs of the non singles and to hear them live was surreal. After the intense performance of THWTD they dove into a diverse set of older and newer material that included In God We Trust, Soldiers Under Command, Yahweh as well as Caught In The Middle from my fav album, Against The Law. Stryper have continued to put out solid albums since they reunited and their last release, Fallen, is a stunning piece of work and seriously deserves your attention, you will not be disappointed. If you have ever seen Stryper live, you still haven't seen a show as monumental as this, Stryper delivered hard for the anniversary of THWTD and it is a show that must be witnessed.
Official Stryper Site
Official Restrayned Site
---