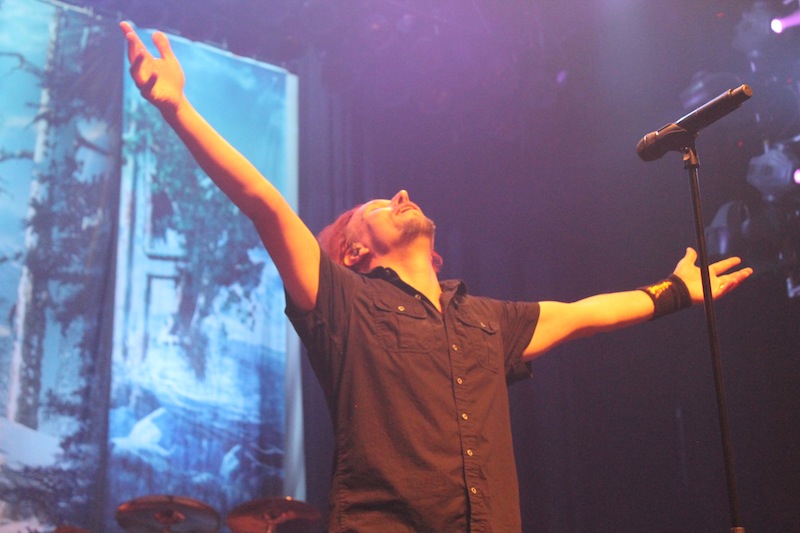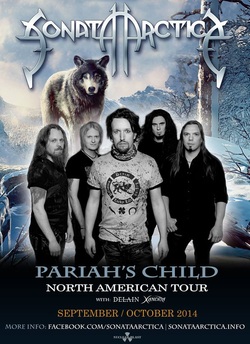 Sonata Arctica/Delain/Xandria – The Grove Of Anaheim, Anaheim, CA 09/14
By John Knowles
Celebrating their 15th year in existence as a recording artist, Finnish power metal icons Sonata Arctica embarked on their 2014 North American tour in support of their eighth studio album,
Pariah's Child
, which dropped this past Spring. The 33-show tour launched in Teaneck, New Jersey on September 3rd, and wraps up in Tampa, Florida on October 15th with 9 stops in Canada in there as well. Dutch Symphonic Metal band Delain are direct support and Germany's Xandria are the opening act.
The show took place at the City National Grove of Anaheim, which has become a true staple for metal tour stops in the past decade. This spacious venue always sounds amazing, and tonight was no exception. Doors opened at 7, and it was a very long hour before Xandria finally hit the stage. The German Symphonic Metal band is touring in support of their latest release on Napalm records,
Sacrificium
, and the crowd got a solid taste of what these guys can do. The band's latest single,
Nightfall
kicked things off, and it was very refreshing to see an opening performance of this caliber. The band looked amazing, and more importantly, they looked like a band. The songs were executed with fine precision and performed at top notch. 2012's
Netherworld's End
was well represented, with 3 of the 5 songs in the set.
Every song was performed along to a backing track to produce the keys and backing choirs. Music like this certainly calls for a suitable and realistic performance aid when touring on such epic material, although I did find it difficult to make out lead vocalist, Dianne van Giersbergen's vocals at times. However on the moments where her voice cut through it was very evident that she is an amazing talent. Xandria has a unique approach to their brand of metal. Speed and technicality are not their forte, but the band does rely on the equally effective use of strongly accented riffs, and a huge wall of sound. The band ended their set with a real crowd pleaser in the form of "Valentine." Avoid the temptation to rule these guys out as another Nightwish clone. They are definitely worth looking into, and the power and presence of their performance made this blatantly clear.
Setlist:
Nightfall
Blood on My Hands
Forevermore
Stardust
Valentine
Visit the OFFICIAL Xandria page
here.
BUY
Sacrificium
here.
Watch the music video for "Nightfall"
here.
Delain is touring in support of their new album,
The Human Contradiction
, via Napalm Records. The band visited the States last year as support for Kamelot and clearly made a lasting impression, as the fan response this time around was unreal. Delain's set was a bit refreshing following the bombastic and powerful Xandria. Delain relies more on the songwriting approach, while relying less on the over the top theatrics in the music to make sure heavy riff passages stand out and are juxtaposed with softer, keyboard-driven passages. There were clearly far less backing tracks with these guys, the credit probably belonging to having keyboardist/founder Martijn Westerholt in the live mix. Lead vocalist, Charlotte Wessels, is a beautiful bundle of energy, whose stage presence and charisma certainly won over a new batch of fans.
It is truly remarkable just how much these guys have grown and improved since their last U.S. stop, a clear testimony to the band's dedication, and hard work both in the studio and on the road. The band looked great, and had a very solid portion of the stage to themselves. The band made the best of this opportunity by equipping the stage with an impressive backdrop. "Go Away" off of the debut, and "Get the Devil Out of Me" kicked things off this evening, and it was apparent just how great these guys sound. The mix was perfect and at all times allowed all band members to be distinctly heard. They showcased headliner-quality sound and gave a very polished headliner-worthy performance. I'm convinced these guys have a North American headlining tour in the not too distant future...perhaps in support of the next record. "Stardust" is the band's latest single, and the crowd ate it up. I think it might be fair to say that there were plenty of fans here just to see Delain. These guys remind me of where Nightwish were at in support of
Century
Child or
Once
– clearly on the right path to grow bigger and bigger with each tour. While the Nightwish mantel may go forever untouched, there's certainly room for other fish in this pond, and Delain are on a clear path to make their presence known in a big way. They ended their performance with a very well earned stage bow, which further served to show they are the consummate professionals necessary to win over an audience.
Be sure to catch DELAIN in tour with Nightwish this April!
Setlist:
Go Away
Get the Devil Out of Me
Army of Dolls
Stardust
Milk and Honey
Sleepwalkers Dream
April Rain
The Gathering
Pristine
We Are the Others
Visit the OFFICIAL Delain page
here.
BUY
The Human Contradiction
here.
Watch the music video for "Stardust"
here.
The "Pariah's Child World Tour" marks the North American on-stage debut of Sonata's new bass player, Pasi Kauppinen (SILENT VOICES, ex-REQUIEM, WINTERBORN), who replaced long-time band member Marko Paasikoski this past summer. His presence on stage became instantly welcomed as the band kicked their set off with the first single from
Pariah's Child
, "The Wolves Die Young." This is the largest stage I have ever seen Sonata perform on, and you could tell they felt right at home with the extra space. Keyboardist Henrik Klingenberg seemed to enjoy his set up alongside drummer Tommy Portimo. The two band members shared a drum riser equipped with a large platform for the entire band to perform on throughout the night. It was great to hear their opening song in front of their impressive backdrop featuring artwork from their latest album.
"Losing My Insanity" kept things modern and upbeat as the band wasted no time between songs. This was followed by a pair of songs from the band's early catalogue: "My Land" and "Replica." The band is on the road celebrating 15 years together, so it was very fitting to hear so much material from the early albums this evening. The second single from
Pariah's Child
, "Cloud Factory", was performed next and I first had the thought that the new material translates incredibly well to a live setting. What's more interesting to me is that songs from
Pariah's Child
that I enjoy the least were easily my favorite moments of the night. "X Marks the Spot" was performed soon after and it was even more evident just how brilliant Tony's writing has become. What might have been kind of a goofy sing-along track on the album, "X Marks the Spot
"
had the crowd with their hands in the air singing back the "Whoa's" and the "Hey's." "I Have a Right
"
was one of the standout moments of the night. This song more than any other had the crowd united, and offering their battle cry of freedom.
The older material was again visited as the band performed crowd-pleasing favorites like "Kingdom for a Heart" and "San Sebastian." "Kingdom for a Heart" has recently been recorded along with the rest of the debut album,
Ecliptica
, for a November release date. Following a brief break the band returned to the stage to perform an impressive 3-song encore. The band performed one of
Pariah's
heaviest tracks, "Blood" – yet another track that translates so well live. Nightly staples "Wolf & Raven
"
and "Don't Say a Word" ended the set before the obligatory Vodka song officially ended the night. Overall the band sounded amazing, and showcased an energy and relevance that has many years to go. Tony Kakko remains one of the premiere front man in heavy music – the man perfectly executed each song with such power and precision it rivaled the studio tracks. Thanks to a set comprised mostly of older material, guitarist Elias Viljanen and keyboardist Henrik Klingenberg got the chance to really show off their impressive chops as they regularly harmonized with brilliant precision.
Sonata Artica are bigger than ever, and bring a life performance every night that is deserving of their growth and popularity. They proved once again that they are an energetic and unmatched force live. Be sure to check out the re-recorded
Ecliptica
when it releases early November on Nuclear Blast records.
Setlist:
1. The Wolves Die Young
2. Losing My Insanity
3. My Land
4. Replica
5. Cloud Factory
6. Black Sheep
7. In the Dark
8. Victoria's Secret
9. I Have a Right
10. X Marks the Spot
11. Last Drop Falls
12. Fullmoon
13. Kingdom for a Heart
14. San Sebastian
Encore:
15. Blood
16. Wolf & Raven
17. Don't Say a Word (with Vodka outro)
Visit the OFFICIAL Sonata Arctica page
here.
BUY
Pariah's Child
here.
BUY
Ecliptica Revisited
here.
---