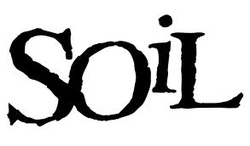 SOiL is back with a vengeance and Whole is the living proof. After being away with Drowning Pool, Ryan McCombs decided to give SOiL another run and the fans are all in for it. Whole is a dark angry piece of heaviness, perfect for our dark times. SOiL is gearing up for another tour and during that process Ryan took a few minutes out to check in with Metal Exiles on the reunion and the piece of sickness that is Whole.
An interview with Ryan McCombs of SOiL.
By Jeffrey Easton
Metal Exiles: After fronting Drowning Pool do you think you are back where you belong?
Ryan McCombs: That seems to be the opinion of a lot of fans out there but you always hear from the band you're in more than anything. Both bands shared a lot of the same fans as they were in the same genre of music so I get letters from fans saying they miss me in Drowning Pool but I also got the same from SOiL fans. I feel good, I enjoy what I am doing and playing the old music as well as writing with the Soil guys again. I have been blessed to be a part of two really good bands but I really missed writing with Adam Zadal through the years. To be able to write Whole with him as well as Tim King was amazing. It was great to be able to sit down with them again and bounce ideas off of each other which we haven't done in about 9 years.
Metal Exiles: Whole is the best SOiL album, period, hands down. What did it take to make this album happen the way it did?
Ryan: This was the most comfortable that I have ever been a part of because we were calling the shots. When we did the 10th Anniversary Scars tour in the UK, there was no intention in going any further in SOiL because I was still in Drowning Pool. I was getting to that seven year itch point with Drowning Pool, which I do with many things in my life, so when I got back from the UK tour I parted ways with Drowning Pool. Adam and I started talking about doing another SOiL album and the more we were talking we realized we were on the same page. We wanted to do another SOiL album but we wanted to keep all decisions in house, we wanted to be our own label ect and if we brought anybody in it would be people we wanted in. I think what you hear is the three of us in the studio together with nobody else, no big brother, no label breathing down our necks and trying to guide the ship. I was very comfortable with Ulrich Wild, the producer of the album so everybody that had a say on Whole was in that control room, from the notes that were played to the lyrics that were thrown down, the bosses were there, we did not have to go to a label with the album for its approval.
Metal Exiles: Since you were guiding the ship do you feel that is why the album sounds darker and angrier than the past SOiL albums?
Ryan: To anybody out there that likes the way the album sounds and the material I will say that it is all because of me, if you don't like I will change my story. I have heard what you are saying and I have heard opinions on the records that came out while I was not in the band, that the last one, Picture Perfect, really strayed away from the SOiL sound, the angst. Wit hteh three of us back together, it is back to that sound and I do love the tone of the album. I love Adam's guitar tone and the fact that I can bounce ideas off of him again.
Metal Exiles: Considering the art, the lyrics and the presentation of the album, who in the hell pissed you off enough to do this album?
Ryan: I think as my life continues I have a horrible average when it comes to relationships. I think what it is I am not picking the wrong people, I am allowing the wrong people to pick me. I think with the songs Psychopath and The Hate Song there is no mistaken what those are about, somebody shit on my Wheaties. There are songs like Wake Up where my life has been fucked up like others and with that song it shows I have been pulling myself out of the hole I have been in.
Metal Exiles: Feel better now?
Ryan: Oh yeah but I could write a few more records on this.
Metal Exiles: The album art is extremely graphic, where did the ideas come from?
Ryan: I come up with the ideas but Travis Smith put it together. Every time I would send him an idea he would come back with five mock ups with what I was trying to get across to him. I was going to go with someone else but the mock up I got was to busy and I wanted it to be simple. It was the three of us again, Whole after so many years apart and that triggered the whole process with the album cover you see. We have always had dark album covers and with this I wanted something different, simple but that would get the point across. I think he really nailed it with his art.
Metal Exiles: There are five distinct words circling the album cover, why did you put those words on there and is the bullet hole part of the acceptance or anger?
Ryan: Those words are the five steps of getting over something: Denial, Anger, Pain, Depression and Acceptance. There are five phases when someone is trying to accept something in their lives and that goes with the body of material on the album lyrically speaking. There might be just a few moods on the album but for me I knew where I was when I was writing the songs, I can see the whole journey. Those words hit me with the album being done. As far as the bullet hole I could say a few other things but…
Metal Exiles: I see a lot of anger in the material but where do you see the acceptance?
Ryan: You have the shit feelings in the songs but I start to feel the empowering through the album, especially on the songs Way Gone and Wake Up, you have to wake up and get away from all of the shit. At the end of the album you have the reflection in the song One Love, it's going to be my way. It's just the way I look at the album, as a Whole.
Metal Exiles: Not to take away from the past few albums, but do you think SOiL needed you back in the band?
Ryan: I am always the last one to pat myself on the back and to me SOiL will always be Adam Zadel. No matter who is fronting the band, Adam is the one writing the canvas and as a singer I have been lucky to have people that paint completely awesome canvases like Adam. I was lucky that he kept the band going long enough for me to wake up one day and say "Let's do this again"..
Metal Exiles: Adam is a great guitar player and song writer but you also need the right person out front delivering the music.
Ryan: I get that a lot and when I went to Drowning Pool a lot of people said that DP sounded like SOiL now. I just know as someone who can't play a damn instrument that when I have a great guitar player that can give me stuff I can express on everything comes together.
Metal Exiles: The album is on vinyl, which I have. How does it feel to have something that is supposedly archaic represent your new release?
Ryan: I think its cool and it is the first time we have done a full length on vinyl. We have had picture discs and a 45 but never a full length. It's cool because I am old and I remember records. I did grab a few copies for myself to put away.
Metal Exiles: For me, I have a high end record player so it sounds better than the CD. To close this out, do you see another run of America after your UK tour in early 2014?
Ryan: Yeah, I do not see us halting the touring until after 2014 as you have to go out and work the record. You have to get out there and connect with the people that allow us to go out there and let us do what we do.
If you do not own Whole, you are missing out on one of the best metal experiences of 2013, period.
Official SOiL site
BUY WHOLE!
BUY WHOLE ON VINYL!
---