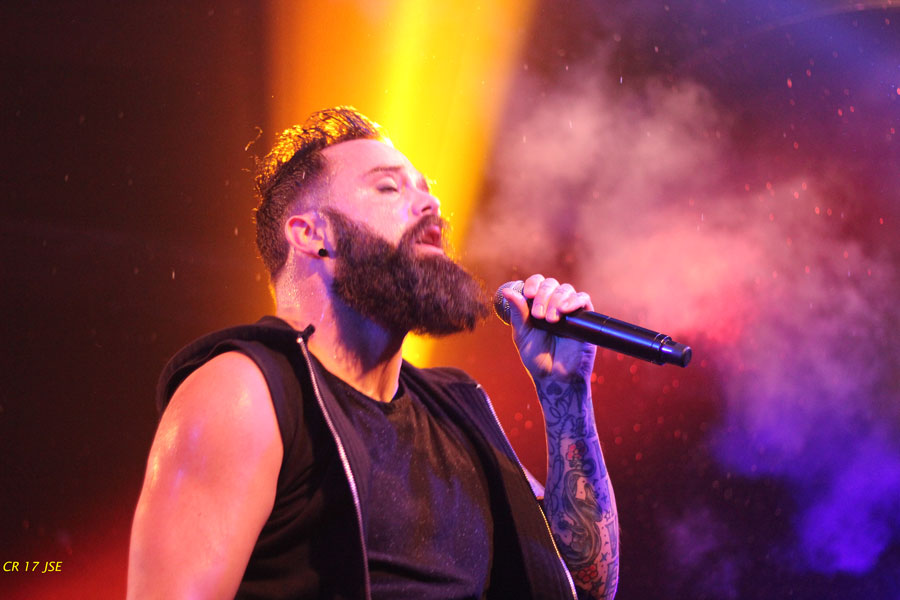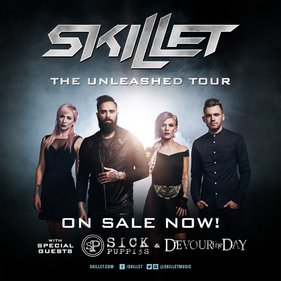 Skillet/Sick Puppies/Devour The Day – Ace Of Spades, Sacramento, CA 3/17
By Jeffrey Easton
It has been awhile since Skillet stepped into Sacramento and their fans were chomping at the bit for this appearance. Ace Of Spades sold out quickly and all the fans had to do was wait for this juggernaut to roll into town with Sick Puppies and Devour The Day in tow. Skillet just dealt Unleashed, their highly awaited new album which has been selling in spades and they were ready to give Sacramento everything they had.
Kicking of the night hard was Devour The Day, the massive band born out of the ashes of Egypt Central and becoming a huge name in their own right. Last year they dropped S.O.A.R and with two huge radio singles in the form of Lightning In The Sky and The Bottom, they are building their own fan base for their future headlining tours. Touring on their second album they had some great stuff to pull from and their set revolved around S.O.A.R.'s title track, Good Man, Save Yourself, The Bottom and Respect. This is a great rock band with a solid sound and a massive future ahead of them. If you have yet to get into them you are missing out on one of modern days better bands.
Stepping out right before Skillet was Australia's own Sick Puppies who's name is solidly set in the modern rockers mind. Their last album, Fury, has been out almost a year and this is yet another round with the American audiences on this record. By the time they hit the stage Ace was overly packed and the crowd was hungry for more from the stage. They broke out with War and Riptide and immediately they had the crowd on their side with fists in the air. As said their new album is Fury and they dealt Black And Blue, Stick To Your Guns as well as Let Me Live. Original member and bassist Emma Anzai dominated the stage with her playing and movements and seemingly had all eyes on her as the notes rolled off of her fingers. Why this band isn't platinum and headlining in their own right is beyond me.
Finally, what the massive horde that was tightly packed into Ace was waiting on, Skillet and their timely return to the stages of Sacramento. Unleashed dropped late last year and it has been relentless touring ever since. Skillet stay on the road nonstop so this should not come as a surprise to anybody but it seems especially intense when you focus on the clubs for that sweatier, closer to the fans vibe. They came out to the strains of Feel Invincible from the aforementioned Unleashed and the fans were immediately singing along to every word. Skillet have a deep catalog of albums and so many songs to cherry pick and I feel as though they assembled an excellent set and I feel as though their fans agree. Early in the show it was Whispers In The Dark, Sick Of It and Rise along with John Cooper's striving words to the fans to never allow someone to bring you down and always be you thrown in to accent the songs. They continued to shell out stuff from Unleashed as they dropped Back From The Dead, Undefeated, Out Of Hell and The Resistance and all of that to the roaring approval of their loyal fans that sold the place out. Unleased is a major bullet in their studio arsenal and judging by those there, a lasting imprint of music that will never be forgotten. They continued to plow their past with Monster, Comatose, Those Nights and Hero amongst others and there was rarely a silent moment from the other side of the stage as their fans continued to show massive appreciation for each note of music laid down. Skillet will continue to be a major force in the music world and their touring counterparts, Devour The Day and Sick Puppies, will etch out their indelible marks as well. This tour nor any of these bands are not to be missed.
Official Skillet Site
Official Sick Puppies
Official Devour The Day Site
---