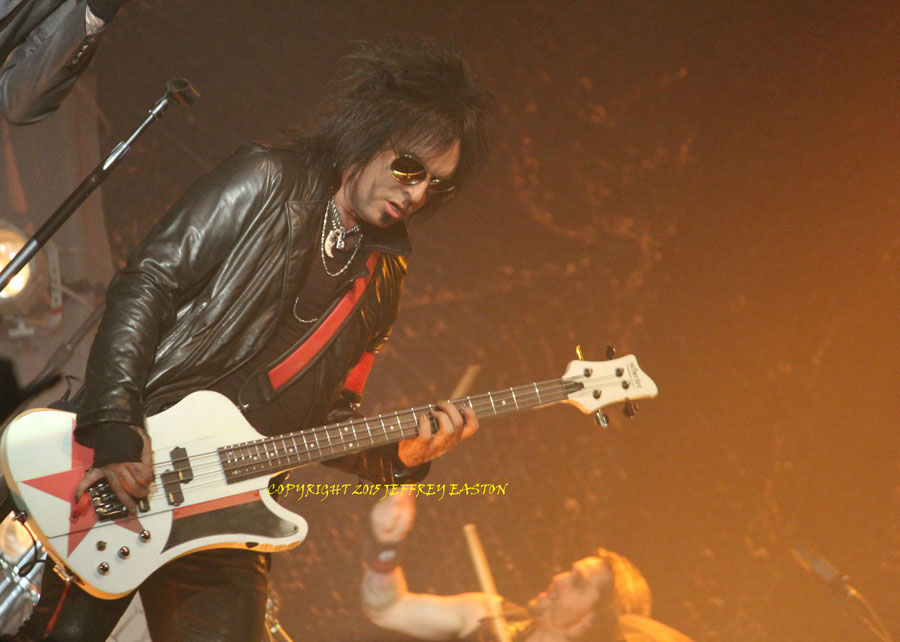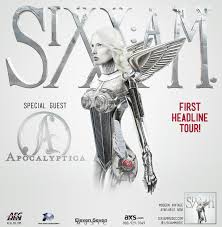 SIXX:AM/Apocalyptica/VAMPS – The Regency, San Francisco, CA 4/15
By Jeffrey Easton
SIXX:AM have dropped the album you will never forget with Modern Vintage and hit the road with a bang with their first headline tour, things are about to get dangerous. Nikki has plowed hard with his side band and the dividends have paid off, Modern Vintage is a heavy, yet melodically bottom heavy slap in the face and it was time to take it to the fans. The package was an unreal mix of what was outragious, diverse and unique. The VAMPS as well as Apocalypyica have been building up steam in the U.S. and now it was time to see if the effort has paid off.
VAMPS hit the stage and just killed. They had a huge fan base in attendance and they were chewing at the bit for them to make their presence felt. This was my first time seeing them and I was blown away by their sheer energy and stage presence. Touring on the strength of the new album Blood Suckers they had the Regency in their grip and unleashed their fury. Dropping from Blood Suckers were the sickingly good cuts Evil, Lips and Worlds End and they were backed with ferocious playing from the lead axe slinger K.A.Z. and Hyde's forceful vox. What turned the crowd completely on their side was their blazing cover of Motley Crue's Live Wire, Hyde knows who he is touring with and fed Nikki's audience well. Sex Blood And Rock N Roll closed the show and needless to say the ones who claimed witness to this performance are gonna be back for more. This band is going to be massive worldwide and now its time for them to stake their claim.
Apocalyptica are one of the most diverse acts in heavy music, period. One drummer, one singer and three Cellos, that's it. What Eicca, Paavo and Perttu do on stage with three cellos is mind bending. If you have heard their tracks to radio like I Don't Care And End Of Me you would be surprised that there is no bass and no guitars, just what these three extraordinary musicians pull from their Cellos and their imagination. I polled a lot of people and they have never seen them nor knew what to expect and that's when the discovery begins. They hit the stage with their drummer and new vocalist Franky Perez and immediately doused the audience with their talent. They are touring for the soon to be released Shadowmaker, which I know will be huge, and dropped the first single on the fans hard. Cold Blood has been making the rounds on vevo and radio and I was eager to hear it live and I was blown away. After a string of guest vocalists they found Franky and he has brought a new dimension to the band. They hammered the crowd further with the title track to the album and needless to say these guys will buy the new album when it drops. They also dropped the massive radio hit I Don't Care and it was apparent that the song has made an impact because the words were being sung back as loudly to the stage as it was coming off. The set closed with a massive rendition of Hall Of The Mountain King as only they could do it. Case closed, Apocalyptica owned the crowd, period.
So it was time for Nikki and his sick minded band SIXX:AM to grace the stage and the fans were beyond ready. After two albums and three EP's, they dropped what will be their masterstroke in Modern Vintage and now it was time to headline. Nikki paid his dues years ago in Motley Crue but I am sure he wanted SIXX:AM to make it on their music and nothing else so he has grinded it out and now those dues are coming to fruition. Like I said, Modern Vintage is a master stroke and Nikki and company gave the fans as much of the album as possible and they ate it up. The set opened up with Lets Go, a perfect analogy for the set and the Regency was on their side. The band continued to plow Modern Vintage with the standouts Give Me Love, Relief Stars and the illustrious cover of the Cars very own Drive. I was never a fan of the Cars but Drive was an amazing track, smooth and to the point. When you headline you do what you want so along with a massive slice of the new album they tapped the catalog hard and dealt Skin, Life Is beautiful as well as my fav This Is Gonna Hurt and Lies Of The Beautiful People. Between Motley and SIXX:AM, I really can't pick a fav but I can say James Michael has a serious finesse on stage and can seductively draw you in and DJ Ashba just rips on the guitar and Nikki is Nikki, no qualms at all with his stage presence. SIXX:AM have been successful on their own terms and what they brought to the stage was a heavy slice of modern music, one of the better sides of Nikki's life and to see it come to fruition on a headlining set is unreal. If you are a Motley fan and you haven't given them a chance, you need to see it live and your mind will be altered for good.
Official SIXX:AM site
Official Apocalyptica Site
Official Vamps Site
---