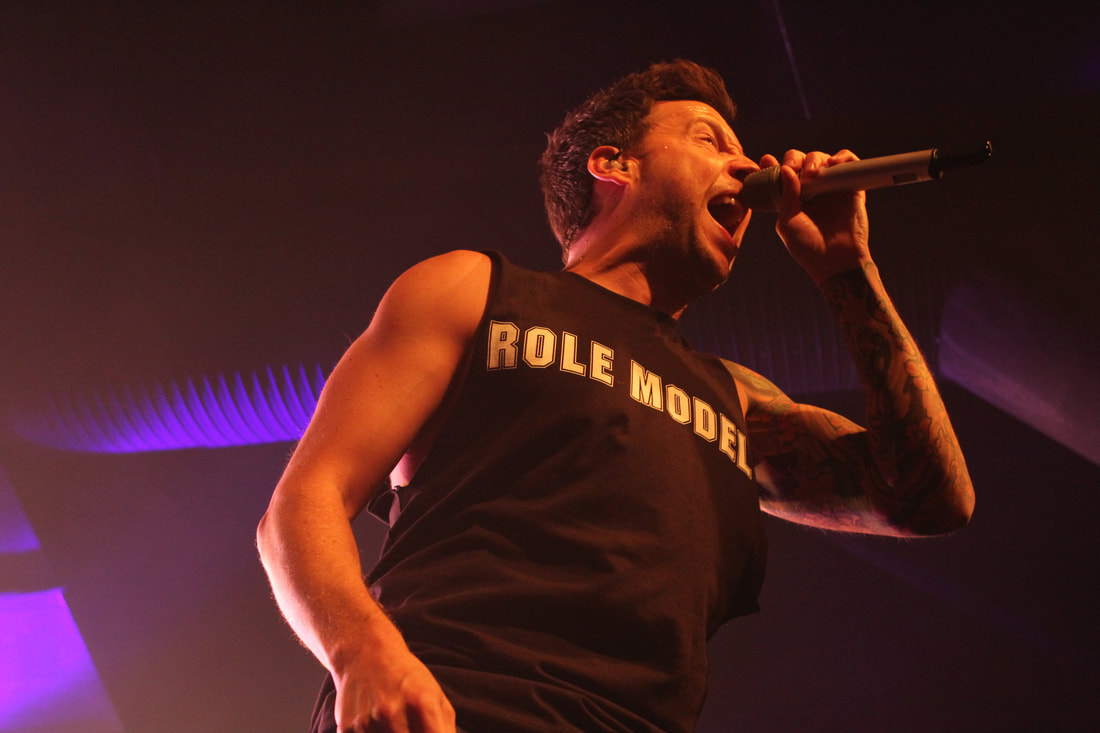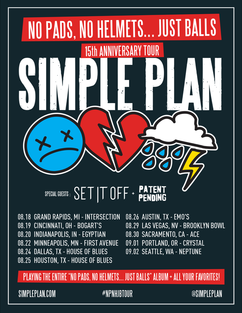 Simple Plan/Set It Off/Patent Pending – Ace Of Spades, Sacramento, CA 9/17
By Jeffrey Easton
The early 2000's were pivotal for rock music. On one hand a lot of the late 90s nu metal bands were losing steam because all of their releases started to sound the same and on the other you had a slew of pop punk bands and the like that were poised to take over. Enter Simple Plan and their debut album, No Pads No Helmets….Just Balls. They along with other bands made 2002 a huge year for albums that have meant a lot to a lot of people and even years later the fans still pull them out and play them over.
The night opened up with long time stalwarts of the scene, Patent Pending, who after all this time is still doing it and making friends everywhere. It has been awhile since I saw them live and they haven't missed a beat. One of the things that attracts fans to these guys besides their killer music is their onstage personality. They have fun, they are insanely energetic and they want to connect with every fan in the house and wants to be their friend. They have dropped 6 studio albums and a huge grip of EP's so how in the hell do you pull from all of that? Easy, you throw out what you know the fans want and you end up with stuff like Anti-Everything, Psycho In Love, Hey Mario and Classic You in your set with the obligatory Rick Astley cover for good measure. If you have yet to see them live and I can't imagine why you haven't then damnit make a pilgrimage to do so. Now!
Set It Off took the stage next and this was my second time seeing them in as many weeks and they have definitely made a change since I last saw them a few years ago. They have a new sound, a new feel and a different attitude on stage. From the early days of a heavy attack on stage to the pop leanings they have now, they have matured their sound and the fans love them for it. When they dropped on the stage to the first notes the place fell apart with screams while they launched into Ancient History, which was perfect considering their transformation. As stated the new album is Upside Down and it is a different sound for them but they are well suited for it. Cody Carson is purely energetic and makes for the perfect pop frontman. As they dove into the new stuff they shelled out Life Afraid, Hypnotized, Upside Down as well as Something New and Never Know. I'm on the shelf about the new stuff but for pop music its good but the Set It Off I came to know has certainly been put on the backburner.
Now one of the biggest reasons that Ace Of Spades was sold out tonight, Simple Plan, was about to devastate the stage. It was 15 years ago that they dropped No Pads No Helmets… Just Balls and they are on tour to celebrate that milestone. As said, when they dropped this album the music landscape was changing and with bands like this coming along it was changing for the better. These guys helped lead a revolution that would reshape what people would listen to for the next several years. That being said, here we are in 2017 and they are still going strong, selling out venues everywhere they go and the throngs screaming for every note they dropped. Ace Of Spades was packed with people that were impacted by Simple Plan's debut, maybe when they were in Middle or High School or just starting out in life and they came back to thank them with their dollars and insanely loud voices. When the lights dropped and the strains of I'd Do Anything came through the speakers the place fell apart and got loud. I feel as though the kids connected with this album in more ways than could be understood at the time and I feel it had a lot to do how they were writing to connect with who was listening. That came across so well with I'm Just A Kid, Addicted and God Must Hate Me and with the way the fans were singing you could still feel that connection. The rest of the album was played out immaculately, including the biggest track and to me the most personal, Perfect. I remember when that single dropped, radio blew up with it and their career was solidified. Whereas this tour was centered around their debut album that did not mean that their other stuff was by the way side. After they wrapped up No Pads they threw down on the albums that followed with the sickening tracks Summer Paradise, Crazy, Welcome To My Life as well as Shut Up much to the happiness of those on the other side of the barricade. The sold out crowd came for a show and they got way more than they bargained for. Simple Plan can deliver a massive show and make that sold out crowd still want more..
Official Simple Plan Site
Official Set It Off Site
Official Patent Pending Site
---