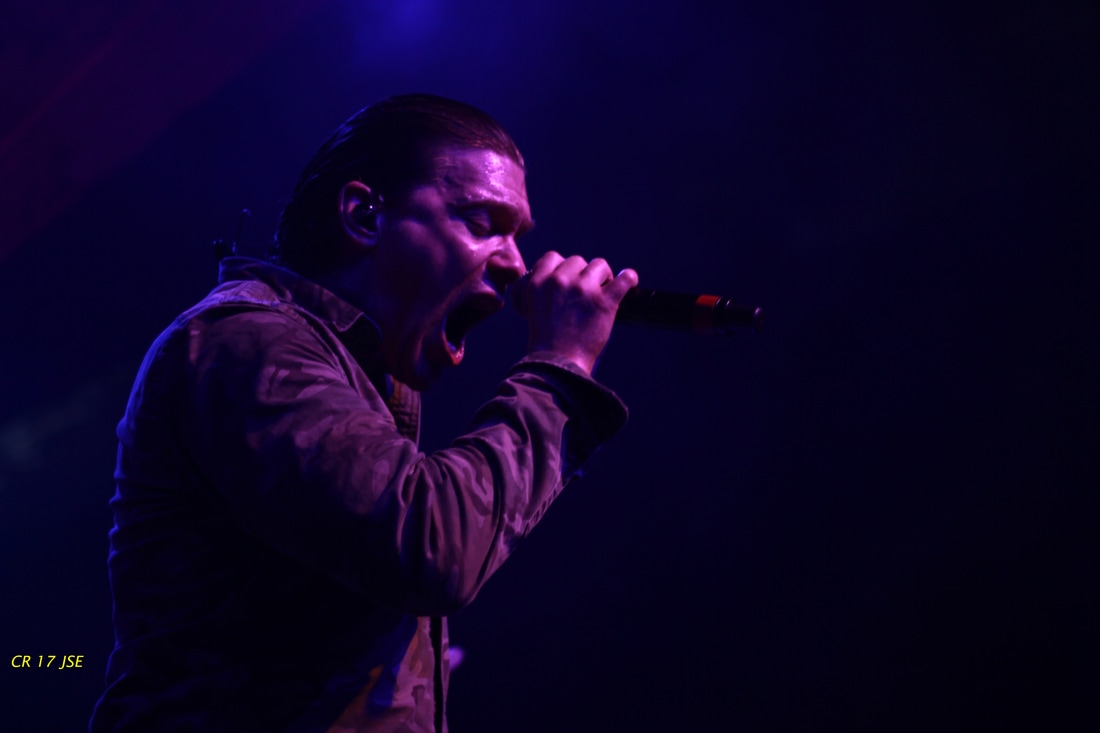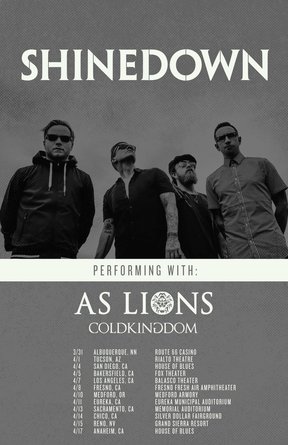 Shinedown/As Lions/Cold Kingdom - Memorial Auditorium, Sacramento, CA 4/17
By Jeffrey Easton
The road warriors that are Shinedown slid into downtown Sacramento and threw a party that their fans are not likely to forget. For the past decade they have dropped album after album of hard hitting rock anthems that have kept their fans wanting more and with Threat to Survival they got just that. Still out in support of Threat they hit Sacramento a second time and the place was packed for their hard hitting brand of Hard rock. With Shinedown are a few amazing bands in the form of As Lions and Cold Kingdom so needless to say the bill was packed from first note till last.
Opening the proceedings was Midwest upstarts Cold Kingdom, your next new favorite rock band. Fronted by the stunning Danielle Engum, they plowed through their debut full length LP The Moon And The Fool and had Sacramento eating out of her hand from the word go. Let It Burn opened up and if you were in the house you knew this band was special. Throwing down hard riffs only intensified Surrender and Crash Poet, two more flame throwing tracks from their full length debut that you have to check out. The Midwest has kept the melodic hard rock scene alive for years and Cold Kingdom is living proof of that.
The hottest band out of the UK isn't the normal bands that would come to mind, no its As Lions, one of the best rock bands happening right now on a global scale. Their debut record, Selfish Age, speaks volumes on the condition of our human race and it hits its targets pretty hard. With unrelenting tracks like Bury My Dead, Aftermath and Deathless, World On Fire, they have seriously cemented their place in the current rock scene. The world has become delusional on a grand scale and Austin Dickinson has his finger squarely on the pulse of what's wrong and speaks loudly through As Lions' monumental tracks. Their performance was over the top as Austin stayed in the fans faces throughout their entire set as he ran from end to the other spouting out the singed lyrics as if his life depended on it. If you need a modern injection of heavy music, look no further than As Lions.
And finally we have Shinedown, the band that made Sacramento come out in force to see. Over the last decade plus there have been few bands that can reach as many people across many genres of rock like Shinedown can. Their effortless songs can put anybody in the mood to have a drink, feel loose and forget about whatever is outside of those concert walls, Just a pure rock band. They opened up with Devour from The Sound Of Madness and it was officially on. The place was electric with the strains of Shinedown and their fans were going ballistic. My introduction to Shinedown was the ballistic track Fly From The Inside, it just screamed from my speakers the first time which hooked me to their thick bass lines and intense guitars, I was a solid fan from that first note to say the least. This was their choice for round two and from the photopit I could hear the concert hall agreed with me, this was an intense moment. And throughout their long set it was roar of approval after roar, it just did not let up. From I'll Follow You to Bully with the massive Enemies and If You Only Knew in between they laid it on thick. Brent Smith kept a tight rein on the crowd throughout the proceedings, egging them on to get up and get loud if he felt they were slipping and they did as he asked. They did not forget the amazing newer album, Threat To Survival, as they kicked in the massive single Cut The Cord and the fans sang every word in response. Shinedown never fail live and as they pierced the darkness with thunderous sounds and piercing lasers the fans gave back everything the band gave them, another brilliant night for rock in Sacramento.
Official Shinedown Site
Official As Lions Site
Official Cold Kingdom Site
---