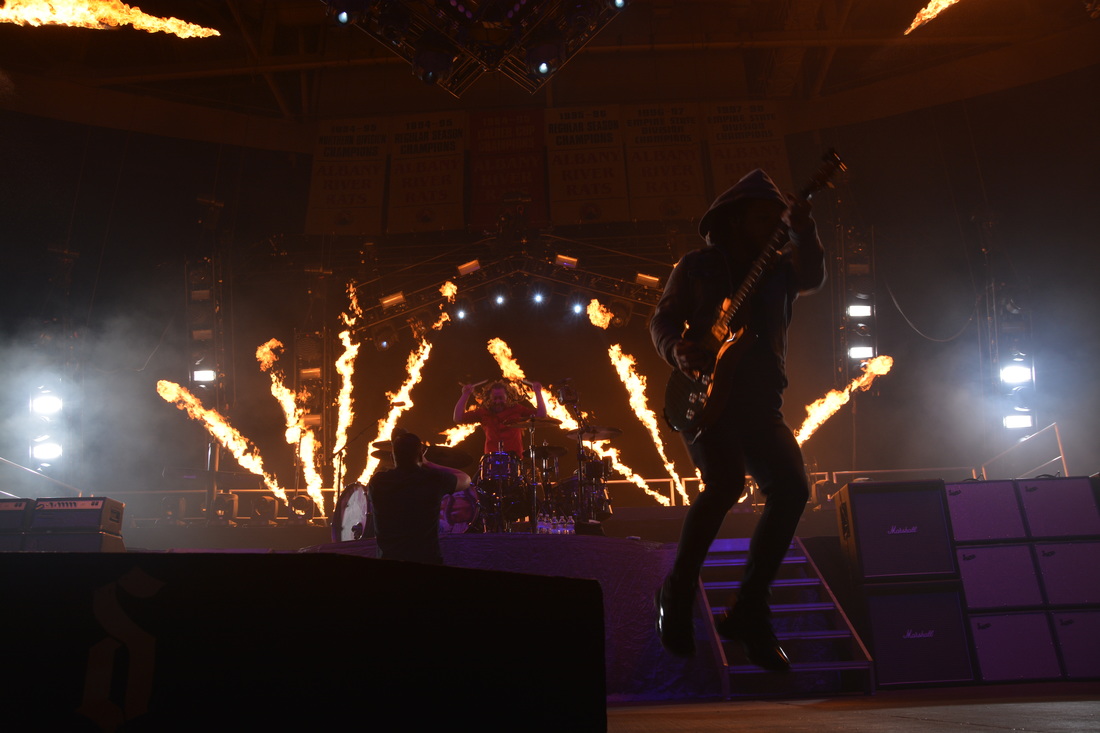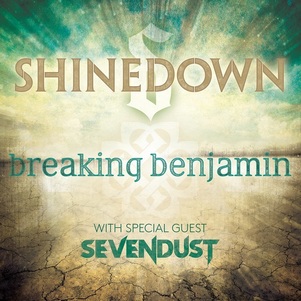 Shinedown/Breaking Benjamin/Sevendust - Times Union Center, Albany NY 11-15
By Mary Richardson
Nothing like a good concert to start a holiday week off right. Sevendust started things off loudly with a short, fast, driven set. Although they only played seven songs they managed to mix in old and new. "Black", "Driven", "Not Today", "Shine", "Angel's Son" which was dedicated to victims of the Paris attacks. The last song of the night was "Thank You", which is off their new album, Kill The Flaw, which just dropped last month. Sevendust always delivers a hard hitting, aggressive sound with just a touch of soul. Congrats to lead singer Lajon Witherspoon who's expecting a baby boy this December.
Breaking Benjamin was up next with the longest set of the night. Although the current band lineup has only been playing together for a year, you could never tell. Songs ranged from "So Cold", "Angels Fall", "Polyamrous", "Give Me a Sign", "I Will Not Bow". "Unknown Solider" was dedicated to all military personnel. Keith Wallen and Arron Bruch each took a turn at lead vocals with "Sooner or Later" and "Believe" respectively. In the middle of the set there was an interesting mesh of "Imperial March", "Schism" and "Smells Like Teen Spirit". For the final song of the night, "Diary of Jane", any kids in attendance were welcome on stage to join in.
Closing out the night was Shinedown, every time I see these guys they just keeping getting better. Adding to their electric stage presence were some sunburn worthy pyrotechnics and eardrum busting cap blasts. Kicking off the fourteen song set was their latest "Cut the Cord", off their new Threat To Survival album. "If You Only Knew", "Unity", "Diamond Eyes", "Bully", "I'll Follow You", "The Crow and the Butterfly" and new "State of My Head" just to name a few of the songs they played. They also did a cover of "Simple Man" and ended the show with the "Sound of Madness". Brent Smith and crew always manage to make it feel like an intimate, small club show even in the larger venue.
If you haven't seen any of these bands live I highly recommend it. They all sounded great and put on high energy, driven sets that kept the near capacity crowd on their feet.
Available Now Shinedown's New Album "Threat To Survival"
Breaking Benjamin - Official Site - Tour Dates - News - 2015
SEVENDUST - Kill The Flaw
---