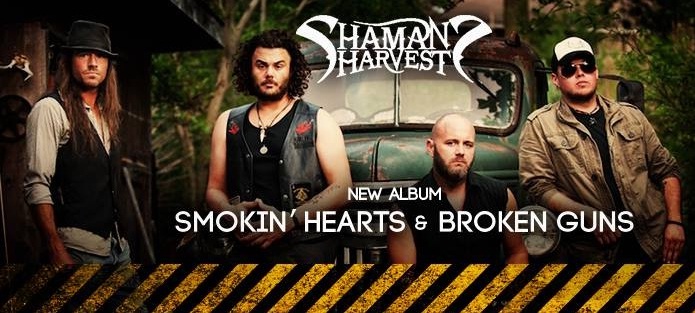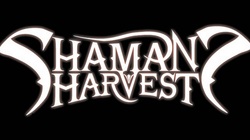 Waking up to an interview first thing in the morning is probably not the ideal way to start a day, but Nathan handled it with a smile and energy. As I heard him whistle for his dogs (an Italian Mastiff and a Pug) our talk was light hearted but very informative and entertaining. After forming in 1996, Shaman's Harvest has made many attempts to become part of the mainstream music industry with multiple albums. Though they have a sound that is undeniably unique, their first big break was with their song "Dragonfly" off of their "Shine" album in 2009. This song is also included on their upcoming album 'Smokin' Hearts and Broken Guns" as an extended version. The album is already receiving rave reviews and its current single "Dangerous" is gaining popularity already. This band has such depth, they have struggled through some major challenges and have not let anything beat them down as they have pushed through times that could've easily caused them to throw in the towel.
Interview with Nathan Hunt, vocalist/guitar
By: Leslie Elder Rogers
Metal Exiles: How does it feel to be the singer of Shaman's Harvest right now?
Nathan: I'm not gonna lie, it feels pretty damn good. With the record coming up real soon here, I'm starting to feel validated. I think reviews are starting to trickle in and radios are starting to jump on board. You agonize over it in between records, is anybody gonna like it, is anybody gonna play the songs, things like that. It always seems to work out in the wash.
Metal Exiles: With your cancer diagnosis being given at the onset of the record, did you ever feel as though you should pack it in or did it push you harder to finish the record?
Nathan: Any thoughts I had of packing it in were pre-diagnosis really. It just kind of solidified the grit, you know what I mean. I just had to focus on the record really. Doing the record is what gave me something to focus on. When we hear cancer it's like holy shit, whoa. In the movies it's always not a good thing, I mean it is never a good thing really but I think one of the keys to a healthy recovery is being able to throw yourself at something that has nothing to do with your treatments and all that stuff. I was fortunate enough to happen to be recording a record at the time. So for me, it couldn't have happened at a better time.
Metal Exiles: Considering your health issue, what came out of you musically while you were beginning your fight with cancer?
Nathan: Really all of it. I think it was lyrically, emotionally, some of the longer stanzas at the ends of the songs, I kind of refer to as the epic songs. For instance "In The End", it has more of an uplifting feel at the end. It's kind of a minor thing all the way through until the end. Once my diagnosis came and I started my treatment, we were pretty much writing in the studio and some of the songs were recorded that day, just because it started pouring out. I believe that sometimes if you can capture the initial energy of the songs, it's less stagnant than if you just sit there and rehearse the songs to death and rehearse the soul right out of them. At the end of the day, to answer the question, yes, it affected all of the music in one way or another. I bounce between favorite songs on the album, I mean I bounce between all of them, but "10 Million Voices" has that anthem feel, kind of an anthem for the down trodden or whatever. I'm hoping people connect with that song because I'd like to see that song as a second single or something like that.
Metal Exiles: After all the years invested in the group you finally had a breakout with Dragonfly a few years ago. Did that finally make it all worth it for you?
Nathan: We all want to find success in what we do, to validate why we're throwing everything that we have into it. It has definitely helped us see longevity I think anytime we do a record it's like ok, this is the last one we're gonna do just because it's hard. None of us know how to quit and I think that's a skill you have to have if you're in the music business today; you just have to not know how to quit. I'm sure if we knew how, we'd have done it a long time ago. Dragonfly was a slow build because we did it all on our own. We didn't have any label support or anything back then so it was one of those weird things that started in 2009 but it didn't really peak until summer of 2010. We'd get a station here or a station there or somebody like yourself would come along and decide to do a write up and it kind of just fueled the fire a bit. When we decided to do the extended version for the new album, I had fears at first about whether we were beating a dead horse but when we started tracking, it was actually one of the funnest recording experiences that I've had. Everything just kind of melded together. When you first bring up the idea of doing an acoustic version of a song that you're known for, it's kind of like "why"? It's really a whole different kind of vibe about it. If people love that song, it gives them something new to love about it.
Metal Exiles: It has been a long road with several great albums. Do you feel with Smokin' Hearts and your deal with Mascot that you have finally nailed it?
Nathan: We were terrified to sign with any record label and we had offers after the last record was basically done, we had offers coming out of the woodwork and then Mascot coming in to the States here, I think with Ron Burman and his history with successful bands, I don't think we could be with any other label more comfortably than with Mascot. I mean just their artist list I feel is so legitimate. Even just on the blues side of things like Robert Cray now, and Black Country Communion, so many cool bands that I appreciate listening to. It's good to belong to that family.
Metal Exiles: Country as Fuck is one of the stand out tracks. For those who are not in the know, describe a southern day in Missouri that influenced this song.
Nathan: A Southern day in Missouri…I wish I could take a picture of my backyard right now. It's a weird combination here in Missouri. You have those real deep southern roots but you could travel literally 20 miles north and it's a whole different story. Everyone talks different, they pronounce things different. My backyard goes about 40 feet to a fishing hole. I've got rusted tin all over the place, (as he laughs), it's a mess. I've got a garden that I got out every morning and try to do something with, it's a freaking mess right now, with more weeds growing up through this thing than I do tomatoes. I've got crappie in the pond that we probably eat about three times a week. I don't know if I'd describe Missouri as southern but I'd definitely describe it as country. There's a difference.
Metal Exiles: Blood In The Water has a sultry slow grind and has a classic southern rock vibe. Where did this come from?
Nathan: That song kind of just bred itself out of that real slow guitar riff which is basically classic blues really. It's just kind of accented on a single string instead of those blues bar chords and it just kind of started coming out. There's a line in it "Smokin' Hearts and Broken Guns", and after we wrote the lyrics that's kind of when we decided to utilize that for the title of the record. I was listening to a lot of this band called "The Jompson Brothers" at the time. The lead singer is Chris Stapleton. To me, he is one of the best Southern singers of this generation anyway. He used to be the singer for the bluegrass group called "The SteelDrivers". If anybody ever knows Chris Stapleton, I think they'll probably hear the influence in that song. It's not traditional. Some of those traditional bluegrassers, man they get crazy about that stuff. They don't think a banjo should be electrified or anything like that, otherwise, (with a laugh), they'll cut your hands off.
Metal Exiles: What motivated you guys to do your own version of Michael Jackson's Dirty Diana?
Nathan: I'm a child of the 80's so I think all of us in one way or another have completely been influenced by Michael Jackson, whether we know it or not. I think that song in particular was probably on all of our playlists on tour and we joked about doing it, plus everybody knows a dirty Diana. We were on tour and joked about doing it for years so finally we thought, just in case this was the last record we ever made, we were like "aw hell, let's just do it and see if anybody likes it". Come to find out, they liked it way better than the rest of our stuff, and that's ok because he's Michael Freaking Jackson, so it's allowed. There has to be a fine balance when you remake a song. You have to make it "you" but not "yours". You have to have yourself in that song but it's a bit of a tight rope because you can make a lot of people angry and I'm sure we will but at the end of the day, we were happy with the end result of that song.
Metal Exiles: Would it offend you if I thought of you guys as a modern day Molly Hatchet?
Nathan: Oh hell no! That's probably some of the few vinyl I have left sitting in there somewhere. I think we're all influenced from everything from "Muddy Waters" to "Megadeth". The classic rock, I think, is a big part of our sound and its' really a big part of our writing style too, just naturally. I grew up listening to bands like Molly Hatchet and Fleetwood Mac. Probably my first memories ever are of me sitting in front of the speakers and dancing around the room to "Tusk", so classic rock will always be a part of "Shaman's Harvest". I also think that music is completely reciprocal as far as trends go and I think that whole vibe is coming back around, so once again, hopefully commercially we can find some validation.
Metal Exiles: You've mentioned a lot of bands and artists that have influenced you over the years so if given the choice, who would you like to see the band tour with?
Nathan: That's' a tough one. I'd like to see Zeppelin get back together, just for us. Bands that are out right now that I think would make a good tour would be Shaman's Harvest, Rival Sons, and Black Stone Cherry. If we could find a way to get those three bands together, we'd make a hell of a tour. Back in 2009, 2010, and 2011, we did some shows with Black Stone Cherry. Ben Wells is full of energy and jumps all over the place with this jack rabbit like hop, bouncing from leg to leg, it's pretty impressive. That's why that dude is 110 pounds soaking wet, right there.
Metal Exiles: With a major rock label behind you and a big history, what does the last half of 2014 look like for Shaman's Harvest?
Nathan: I think we're definitely getting a tour together. We've just signed to the Agency Group in New York which is a big booking agent but I think probably the last half of this year will be playing small tours around the states. Then beginning of next year, mind you this is all predictions, we are going to head out to Europe and see what we can do out there. They have a great rock scene in the UK and what not. We will probably do a couple of months there and then come back and hit the states as hard as we can possibly go. We're going to try to jump on all the festivals.
Website:
http://www.shamansharvest.com


Facebook:
https://www.facebook.com/shamansharvest
Twitter:
https://twitter.com/shamansharvest
Pre-order Smokin' Hearts & Broken Guns now at:
http://www.pledgemusic.com/projects/shamansharvest
https://itunes.apple.com/us/album/smokin-hearts-broken-guns/id895642428?uo=4&at=1l3vain&ls=1
---