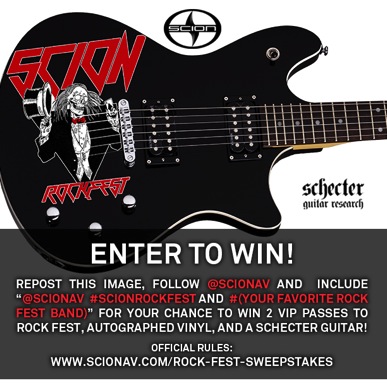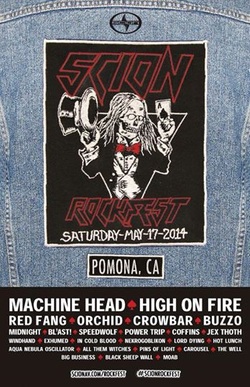 VIP CONTEST FOR SCION AV'S SOLD OUT SCION ROCK FEST KICKS OFF TOMORROW
MACHINE HEAD AND HIGH ON FIRE HEADLINE MAY 17, POMONA-BASED EXTRAVAGANZA
Scion Audio Visual's annual hard rock/metal festival, Scion Rock Fest, sold out in less than twelve hours but fans have a second chance at tickets via Scion AV social media contest launching today through Instagram.
The May 17, Pomona-based extravaganza features twenty-six of metal's biggest names including Machine Head, High On Fire, Red Fang and King Buzzo. Scion Rock Fest kicks off at 1:00 pm with bands performing across four stages at The Glass House and The Fox Theater.
The contest runs April 14 to May 9 with the grand prize winner receiving a pair of VIP tickets allowing front of the line access, an autographed Scion AV vinyl release package from some of Rock Fest's performers and a Schecter guitar. Five runners-up will receive VIP tickets and an autographed Scion AV vinyl package from select Rock Fest bands while an additional 25 winners will be awarded VIP tickets. To enter, contestants must post the contest artwork image, hashtag #scionrockfest and hashtag the band they are most excited to see, follow and "@" mention ScionAV. Winners will be selected at random. Winning entrants will be notified via Instagram comment by May 12. For full contest details, see
Official Rules
.
Since the 2009 debut of Scion Rock Fest, the annual outing has featured Mastodon, Down, Neurosis, Baroness, Morbid Angel and the Melvins. A rotating location has found the Fest in Atlanta, Columbus, Tampa, Memphis as well as the 2011 event, which was also in Pomona.
Scion Rock Fest is one of the many music and cultural events curated by Scion Audio Visual, the entertainment division founded by Scion in 2003. Over the past decade, Scion AV has hosted numerous concerts and tours including the monthly Scion Rock Show in Los Angeles and High on Fire's recent North American trek, sponsored Phil Anselmo's Housecore Horror Festival and Revelation Records' 25th Anniversary celebrations, brought together the brightest minds in the music industry for the annual Scion Music(less) Music Conference and offered numerous free singles and EPs from a wide variety of musicians including Meshuggah, Corrosion of Conformity and Municipal Waste.
The full Scion Rock Fest 2014 line-up:
Machine Head
High On Fire
Red Fang
Orchid
Crowbar
BL'AST!
Speedwolf
Power Trip
Jex Thoth
Coffins
King Buzzo
Big Business
Hot Lunch
Aqua Nebula Oscillator
All Them Witches
Pins of Light
Carousel
The Well
Midnight
Exhumed
In Cold Blood
Nekrogoblikon
Windhand
Lord Dying
Moab
Black Sheep Wall
About Scion Audio Visual:
Scion Audio Visual (AV for short) is a creative enterprise of Scion devoted to the discovery, nurture, funding and distribution of compelling music and arts programming. Scion AV has created and championed projects for over 100 underground musical artists, supported tours and special events, created film documentaries, curated art installations, and produced a collection of 'zines. In addition, Scion AV executes the annual Scion Music(less) Music Conference and operates 7 broadband radio stations via Scion Streaming Radio. For more information, visit
ScionAV.com
About Scion:
Scion, from Toyota Motor Sales (TMS), U.S.A., Inc., was developed with a new generation of youthful buyers in mind. Scion's mission is to provide distinctive products, the opportunity to personalize, and an innovative, consumer-driven process at the retail level. The brand features five groundbreaking models with a wide array of standard features: the xD urban subcompact five-door, the iconic xB urban utility vehicle, the tC sports coupe, the premium micro-subcompact iQ and the FR-S rear-wheel drive sports car. The Scion brand often applies new practices in all aspects of its business and pushes the creativity envelope with non-traditional advertising and marketing to engage young consumers. Scion also supports originality through its programs in the artistic community. For more information, visit
Scion.com
---