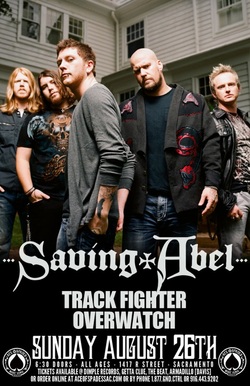 Saving Abel/Track Fighter/Overwatch – Ace Of Spades, Sacramento, CA 8/12
By Jeffrey Easton
Saving Abel are, by definition, pure American hard rock. When you think about the all American rock band, they are the act that should come to mind, period. Their new record, Bringing Down the Giant, is another notch in their belts and another reason you know rock and roll is alive and well. That being said their current North American trek brought them to Sacramento and I had to be front and center for this one. The tour is doing a good thing, its not a package, each stop pulls in local acts for support therefore giving up and coming bands a chance to open in front of a national act and that's just good for the music business. For the Sac stop, two strong acts, Overwatch and Track Fighter, were tabbed to open and they were solid from first note to last.
Overwatch kicked off the night and they brought back the dark feeling that grunge with a tinge of melodic industrial gave me at the height of the 90's alt movement. They opened with Wishing You Well and the first thing that caught my ear was Zach MacLachlan's hard vocals, thick with despair, paring with the angst of a young Eddie Vedder. Their twin guitar attack buzzed through the drop tuned tracks like a nasty chainsaw. With more disturbingly good tracks like Second To Last, Arm And A Leg and Band-Aid, they had the crowd into them until the last note rang out. This band has a future and they also have a record available on iTunes entitled New Life, check it out,
Track Fighter hit the stage next and sweet shit were they bombastic. With a modern dark feel, they attacked their set list with exuberant fervor. They have a new EP out entitled Revenge and from what they played this release should be huge! LA, a new track from said record, was a fav of mine and since I lived there for over a decade I have to agree with the lyrics and with the huge chorus, everybody in the crowd was an instant fan. Belting out the disturbingly good offerings was TJ Chopelas, a true frontman and knows how to work a crowd and deliver what they paid for which is rare with newer bands. I will point out also that Dino Vidovich will be a guitar hero one day. Change The World is another stellar standout from the Revenge EP with its raw, edgy feel and What If takes an even darker turn taking cues from the likes of NIN and Soundgarden and in the live setting they flourished. Its one thing to record a track, its another to make it sound great live and this band is a natural live act. This band is going to be massive and it shows that local scenes can still turn a major band out and you do not need some hokey TV show to spot new talent.
Saving Abel took the stage to massive applause and it was time to get dirty. Saving Abel are all about the rock show and they give you a show no matter if it's a club or an arena and they were louder than hell. Bringing Down The Giant, again, is the new record and it slays the competition. They are proud of their new record and they played it hard. The show opened with the title track and the house went ballistic. Thundering from the new record also was I'd Do It Again, Michael Jackson's Jacket, Pictures Of Elvis and the new anthem New Loser. Of course an SA show would not be complete without something sexual and Sex Is Good was there for that purpose and it slammed hard. The debut album, now a hard rock classic, was well featured with New Tattoo, Addicted, 18 Days and the amazing track Drowning. The middle of the show was unique as they grabbed the acoustics and did a front porch jam with their renditions of the classics have you Ever Seen The Rain? As well as Simple Man. The crowd sang to every word as Saving Abel had them hook line and sinker. Along with Sex Is Good, Miss America was shelled out with Hell Of A Ride and the bombastic Stupid Girl. They have three great records and the fans were treated very well to them and here is hoping to many more. The crowd came for a riotous rock show and they got one, from the local talent to the massive headliner. Who said real rock is dead, it looked alive and well to me.
Official Saving Abel Site
Official Track Fighter Site
Official Overwatch Site
---