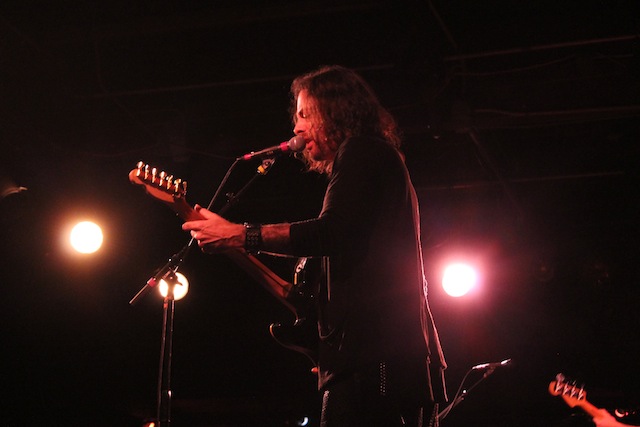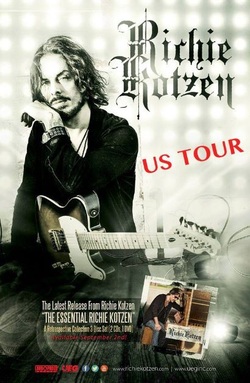 Richie Kotzen – The Coach House, San Juan Capistrano, CA – 11/22
By Michael and John Knowles
After over a yearlong tour with his highly successful new band
The Winery Dogs
, singer/guitarist extraordinaire Richie Kotzen has returned to his solo band, embarking on a very extensive tour in support of his new compilation record. This tour spanned a total of 3 months from September – late November featuring performances in Europe, South America, and ending with the U.S. leg. It does seem that little by little Kotzen's popularity is growing as a solo artist, but after watching this guy perform, getting up close and personal with perhaps the most talented all around musician in the world, the question must be asked, why isn't this guy a household name? I can't help but think he should have millions of records sold, and should be performing in sold out arenas all over the globe, instead of playing in small clubs and after 20 years of being behind the mic still having people say, "I didn't know Richie sang."
However, I digress and will shift the focus to the live performance. The show opened up with one of the two new songs featured on
The Essential Richie Kotzen
titled "War Paint," one of the many highlights of the night as this song adapted so well to the live stage, and really woke the audience up. "Love is Blind" and "Bad Situation" were performed next, both tracks off of Kotzen's most recent solo album, 24 Hours. Both songs really set the table for Richie's all new song, the title track from his upcoming solo album titled Cannibals. Even though it's difficult to gauge a song when it is first heard in a live format, the crowd sure seemed to enjoy it. The arrangement of the song was very interesting and dynamic to say the least as it began with an almost funk-like bass intro, and transitioned into a very upbeat sing-along, friendly chorus. The next song performed was the second new track from the new compilation titled "Walk With Me." This song sounded especially good live as the absence of the Theremin allowed the guitars to really stand out and gave the song a much bigger sound. The next two songs performed were tracks from perhaps Kotzen's most popular solo record
Into the Black
. The songs "Fear" and "Doin' What the Devil Says to Do," are both very mellow songs that really allowed Richie's voice to shine.
As the night progressed Richie got the whole stage to himself, giving his immensely talented bandmates a rest as he performed an acoustic version of perhaps the most overlooked song in his catalogue, the title track from his album released in 2000, What Is. Kotzen would then exit the stage for a breather, giving Mike Bennett and Dylan Wilson a chance to really show off their chops by jamming out on stage. I must take a moment to really sing Richie's bandmates' praises. Having seen Mike and Dylan just last year, I could already tell that there has been a marked improvement in the overall tightness and unity of the performance. In no way were these guys amateurs before, but no matter who you are, especially within the context of a band, there is always room for improvement. And on this night, the Richie Kotzen band sounded better than ever, while even leaving room for Mike and Dylan to breathe a bit of their own flair into the performance. Richie being the entertainer that he is took over drum duties to introduce the song "Help Me," giving a little glimpse into the unmatched versatility of Kotzen's musicianship. The next song performed title "Fooled Again" would feature the most impressive guitar solo of the night, one of many jaw dropping shred fests put on by Kotzen, this one being especially spectacular as it seemed to carry on for a good 5 minutes, giving way to just about every note on the fret board. The night would come to a close with the fan favorite "You Can't Save Me," and for the encore the very up-tempo perfect closing track "Go Faster," bringing to an end a very memorable night.
It can't be overemphasized just how much of a privilege it was to watch a guitarist and vocalist of this caliber in such a small intimate venue like The Coach House of San Juan Capistrano. This was one of those live shows that really sticks with you, and causes most other concerts to dwindle in comparison. 2015 promises to be a big year for Richie, with a new solo record set to be released likely in the next few months, followed by the release of a new Winery Dogs album later in the year, there will be plenty more opportunities to see one of the best live acts around. Any fan of soulful rock music would be wise to catch this guy in smaller venues, before the world wakes up and discovers the unparalleled greatness of Richie Kotzen.
Visit the Official Richie Kotzen page here.
Buy The Essential Richie Kotzen here.
---