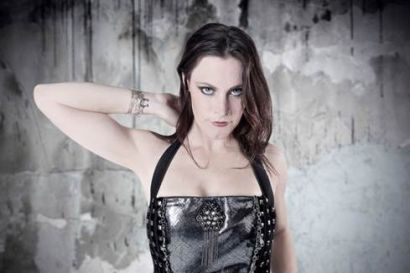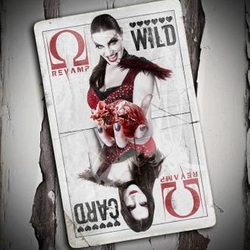 ReVamp – Wild card – Nuclear Blast Records
By John Knowles
The long anticipated release from Dutch symphonic-metallers, ReVamp is well worth the wait. This project is led by Nightwish's own Flying-Dutchwoman, Floor Jansen, a gal for whom things could not be going better. It was just a few months ago that Nightwish mainman Tuomas Holopainen proclaimed in an interview that the boys had found their permanent replacement, and while after 10 months of touring together the news did not come as much of a surprise, it was certainly worth celebrating. Additionally, Frontiers Records just announced that Timo Tolkki's new Avalon record will feature Floor in the leading role. This is yet another testament to the woman's new found prominence in the metal world. Add to all of this the new release from Floor's own band, which was created and brought to life amidst numerous challenges and obstacles, one would have to conclude that Miss Jansen is in a pretty awesome spot at the moment. Given her talent, drive, and humble approach to her craft there's none more deserving of such fortune.
While the first ReVamp was a noteworthy release, on their new record,
Wild Card
, the band really seems to have come into their own. After Forever alum Joost Van Den Broek shares writing credits and provides the albums slick production. Upon cracking open the case of the record the listener is met with a bold welcome from Floor Jansen. Her middle-finger speaks volumes as this band is about to rip into 11 songs highlighting the struggles and trials of the human spirit, and those who are not interested can see their way out! "The Anatomy of a Nervous Breakdown: On the Sideline" kicks things off in a big way. A heavy down-tuned riff is met with a super tight rhythm section compliments of guitarists Arjan Rijnen and Jord Otto, combined with drummer Matthias Landers and new bassist Henk Vonk. Floor pours out her heart, sharing the stresses of sickness and missed opportunities, which had led to the inability to really be the creative force she needed to be. To stand on the sidelines and question who you really are is a haunting idea, and Floor boldly tells the listener all about it. The opener really shows off some of the different styles and versatility she is capable of. Full on death metal screams are present in the third verse, which Floor pulls off with stunning perfection. The "Anatomy" saga continues on track two, "The Limbic System," and the listener is introduced to yet another tale of difficult personal experience. Also featured is another flavor of Floor's voice, and that is her operatic-Soprano style demonstrated before the guitar solo. Said guitar solo, is quite a beast from all the players involved. It's reminiscent of Dream Theater in some ways, and proves to fans that Floor has surrounded herself with quite a band.
"Wild Card" is up next, and opens with a monster guitar groove somewhat 311-esche, but quickly progresses into the more comfortable symphonic metal territory. Speaking of the variety of influences on this album, Floor stated, "But not one sentence or word can really cover the contents of this album. Its variety in all its ingredients makes it almost impossible. A wild card is an unpredictable and unforeseeable factor. You don't know what you're getting, or when. That's this album! It's 100% ReVamp and it's your wild card!" This third track should open the listeners mind to any possibility on this album, and more surprises follow ahead.
"Precibus" opens with a crushing riff, and then takes a sharp turn to welcome again Floor's beautiful operatic vocal capabilities, accompanied by a simple piano melody. Yet another "wild card" is revealed as one of the more anthemic and memorable choruses of the album follows this soothing melody, sucking the listener in for the remainder of the ride. The "Anatomy" saga reaches its conclusion on track six with "Neurasthenia," featuring guest vocals from the one and only Devin Townsend. The two vocals sound really well together, convincingly performing the role of the emotional duality within us. A welcomed breather follows in the form of "Distorted Lullabies." This track is not quite a ballad, but certainly takes marks a more melodic turn for the album, and is one of the grand highlights of the record. The mid section features a very cool choir part and lush orchestral arrangement.
"Amendatory" and "I Can Become" continue in a similar vain as the previous tracks, showcasing consistent yet predictable writing as the album moves to a close. Perhaps the one criticism of the record would be the lack of new ideas by the time track eight roles around. Upon repeat listens these tracks find a bit more of their identity, but the next track reawakens the listener with a slight twist. "Misery's No Crime" features another guest vocalist in the form of former After Forever bandmate Mark Jansen of Epica. This is one of the darkest tracks on the album, and brings the album to a crushing crescendo with haunting choir parts compliments of Marcela Bovio and Daniël de Jonghand combined with a sinister feel. "Wolf and Dog" closes out the album, again relying on tricks that might fall just short of being a winning hand.
Overall this is a solid release from Floor Jansen and co., and really showcases Floor's amazing vocal talent, and lyric writing abilities. While her recent addition to Nightwish will certainly keep her very busy and fulfilled in many ways, the band will always be within the creative scope of founder Holopainen. Although Floor's contributions to her new band will certainly never go unappreciated, if she wishes to continue ReVamp as her own creative outlet she should not find herself faced with much opposition, as more releases from this band would be a welcomed pursuit by metal fans everywhere.
BUY Wild Card here!
YouTubeClip
---