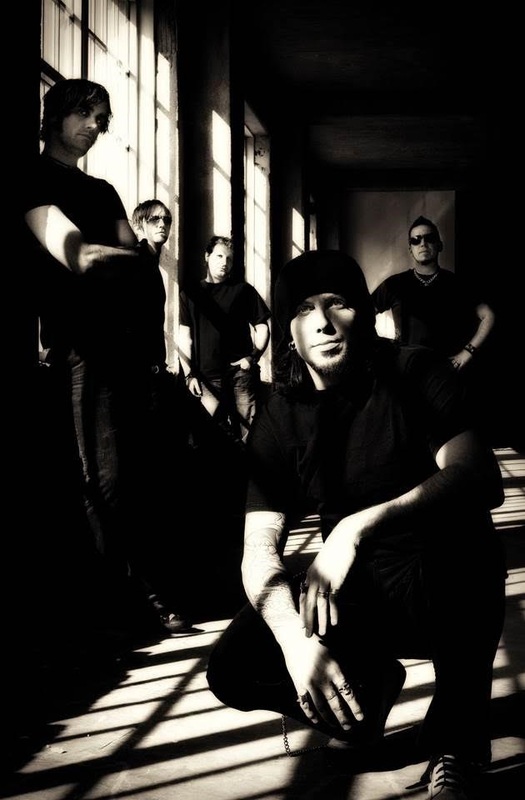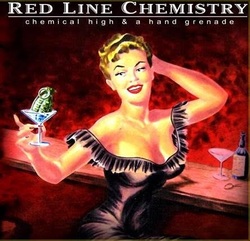 Red Line Chemistry has been around since 2004 and though they've had some success with a few albums and singles, it's been a couple of years since their mark on the world has been felt. The band originated in Kansas City, Kansas and consists of vocalist, Brett Ditgen, lead guitarist, Andy Breit, rhythm guitarist, Dave Fyten, bassist, Tom Brown, and drummer, Mike Mazzarese. Amidst the rain and his drive home from picking up his daughter, Brett allowed me to peek into band life and discussed the upcoming Special Edition CD release and summer plans to get the band back in the spotlight where they belong. After our discussion today, I am more positive than ever that this band has so much in them to give to the world through their music. They are a passionate set of guys that believe deeply in their music and though at times it seemed like the road may've been a bit tough to travel, they've persevered and pushed to make it where they are today; being given another chance to prove that they have what it takes to make it. A big shout out to these guys for their dedication and willingness to endure the bad times to get to the good.
Interview with Brett Ditgen of Red Line Chemistry
By: Leslie Elder Rogers
Metal Exiles: With such a huge music scene, where does Red Line Chemistry fit in right now?
Brett: That's a good question. We are trying to fit in anywhere we possibly can, the best way we can. It's definitely tough to find a path, especially for upcoming musicians and even ones that have had a good level of success. We had a pretty good last five or six years. We've been taking a break, on hiatus for a couple years because we kind of got knocked down with the split with our label after they went under. It kind of left us in shambles and we had to kind of reconfigure and rethink things. We had some good exposure before that on the national plain for a good few years with a good couple of albums and six radio singles and we're just kind of pleased and privileged to have another opportunity with another label that wants to help us get our music out there and it's nice to be able to launch it from a platform now where we have a lot more fans than we did in 2009 when we were basically just a local Kansas City band working the regional scene doing the best we could. We were lucky enough to get on the national plain and there are still millions of people who haven't heard us but we've definitely had a good run already and made a lot of connections and made a lot of fans o that's why we are really excited to get this record out so we can see what the response is and get some reengagement with our fans and reengagement with the radio stations. We're receiving a lot of good feedback and getting a lot of good radio play and rapport despite not being in a position of huge finances behind us this time. It's a lot smaller operation for us and there's a lot of other things going on with us personally that are now focuses and priorities for us other than just trying to make it in the music industry. We're at a point where we're going to consider everything that's important to us and where we're all at with our own lives and families and we're gonna do what's right for us and do it with realistic expectations and have fun with it and enjoy it. That's kind of where we're at; making a place in the industry but it is what it is. It'll happen how it happens and ya' just gotta have faith in our music and believe that it will spread and that people are gonna like it and accept it for some good, solid rock music. We believe in our music and I know we got a lot of good fans out there that believe in us too.
Metal Exiles: Most bands look forward while you guys are looking back for a moment, so what made you guys revisit your debut album for this release?
Brett: Well, back when we released it in 05-06, we were just a Kansas City band. We were just getting started and trying to get into the regional stuff. We distributed, on our own, about 3,000 copies of that record and we never reprinted anymore of that record after that. We moved on to some other stuff. We progressed into 07-08 and ended up getting some management and built a relationship with a radio station. We played Rockfest here in 07, which is a huge festival. After that things started growing but at the same time it kind of plateaued. We thought we'd done everything that we could. We weren't getting signed by any labels; we had a close call with Epic but it fell through and literally, we were about to just give up and call it quits because we didn't know what else to do on our own. I think my guitar player was off on sabbatical in Arizona somewhere and we ended getting signed and we had to call him to come home because we'd gotten into a deal. With that being said, we have a history of songs; a collection of songs that never got to see the exposure that came from "Dying for a Living" or "Tug of War", all the national touring and attention that we were able to get and all the fan base growing that we were able to do. We feel like we have some good music that a lot of those people weren't able to hear and nothing was ever done with those records. After being on our hiatus and after having the interest of Pavement and their approaching us and wanting to work with us; everybody was interested in a new studio album but at the time, we weren't in the position to move forward really with the band, but I did bring up this old album that had put out back in the day, that had been shelved basically. For all intents and purposes, probably 95-100% of our fan base has not heard the majority of this record. Anybody that has heard it probably heard it on the underground or if we played some of the songs at shows. We continued to play some of these songs so it was kind of a no-brainer. I sent the tracks over to the label and they said "Let's release this as the first release with the label. It's a great way to reengage with your fans. It's history with the band that your fans haven't had a peek of or a bite of". It's something we always wanted to do so we got in the studio and remastered it and changed up some of the tracks and got creative. We went back and looked at everything we'd recorded and found all the things that we had or hadn't used and questioned why the heck we used this little tidbit or we'd find a little guitar riff somewhere and wonder why the heck that didn't get put in the song. We really went back and reinvented stuff and gave it a fresh, new feel and sonically it sounds way better. We reconnected with our long-time friend and engineer that we recorded that with and a lot of our albums with that we hadn't worked with since 'Dying for a Living". He did all the remixing and now it sounds great. "Meds for the Hypocrite" is the first single and it's doing well on radio. I think it's #36 on the radio contrabands chart and I think we're pushing top 50 on the mainstream rock chart so it's exciting for us to get what we feel is a collection of songs that kind of define an era when we were just young and hungry musicians and excited about writing music and had no pre-conceived notions of the industry or whether or not we were gonna have a long-time career in music. We were just a band getting started and I feel like we wrote some pretty kick-ass songs and we're stoked to be able to get those out to our fans that haven't really had a chance to hear all of them.
Metal Exiles: Can you elaborate a bit more on some of the bigger differences from the original recordings to what ended up on the cd aside from the remastering and remixing of the songs?
Brett: We utilized a lot of equipment technology. It's come a long way in ten years. The trends and effects on vocals better. Our engineer in general, has gone on to be a great producer. Combined with all that, it is better after the ten years and the experiences we've had over the last few records and working with Nick Raskulinecz who did the Foo Fighters and the Deftones and just working on recording albums. We have a lot of different experience levels of writing and recording music and what we like to do technically wise or sound wise but we made some structural changes. There's a song called "Apology" where we took out a lot of the instrumentation in the beginning and made it kind of vocal and drum based. It's a somber ballad and the first part of the song is the vocal driven and then we bust in with the chorus with the instruments and the guitars and kind of everything at once and it's what we felt made it more dramatic and had a more impactful structure for that song. We took out a lot of instrumentation for that and utilized some different vocal effects on certain songs and added some distortion on my vocals on the second verse of "Hypocrite"; just small things like that and then again more structural changes on some of the other songs. We just made them more relevant and made us happier with everything. It's cool because they were raw tracks when we were young but they're also tracks that show we were young and maybe didn't know a lot of things that we know now. I wouldn't recommend going back and revisiting all of the old but this is just kind of a special situation with how things played out just allowed for this to be a no-brainer at least in our situation and a good opportunity for us to feel good about this record again and to release it on the national channels that it never really saw the light of day on. It's a good feeling though I'm not one to focus on the past too much. I'd rather look forward myself.
Metal Exiles: You signed to pavement prior to dropping this. What input did the label have in this project becoming a reality?
Brett: Really they left everything in our control and the ball was in our court to basically let them know when the album was ready so they could get it mastered. Of course we'd send them the tracks and stuff and give them feedback and what not. The main decision was figuring out who was going to master the stuff. They loved the tracks from the get-go. Tim was like "Dude these things sound great already. Why do you wanna mess with them"? There were certain members of the band that were not gonna let this thing fly without getting it remixed and remastered. Once that all started coming around it was pretty easy flowing. They're really easy to work with. It's a good label for us because it's run by some people that understand what it's like to be a musician and understand what it's like to go through the ups and downs and going through all the trial and tribulations of what it is to try to sustain a career in this kind of industry. It's made us feel good to have them in our corner and be a part of a label that works in that fashion.
Metal Exiles: Do you feel like the album is better because you had that free range to basically do whatever you wanted with it?
Brett: I guess that's a hypothetical question that I wouldn't know the answer to and maybe their suggestions would've been good but in this situation and all other situations , I think it's ideal that the band be the front runners of working and writing their music. The band is the creative element. I know that the industry reps and record reps all have some insight in that fashion but we were in a similar situation with our previous label. We were able to control most of the song writing if not all of the song writing. It was in our hands. That creativity was never taken out of our hands even when working with a big producer like Nick Raskulinecz who essentially just became a sixth member of the band and was there to provide feedback. He was shooting ideas out just like he was one of the other members of the band during the song writing process. We've always been able to have the majority of control in our creative effort and honestly that's the way we like it.
Metal Exiles: In the last few years you have released some great albums with "Dying for a Living" and "Tug of War". How do you guys think you have progressed with these albums from the beginning from the song writing aspect and mastering of the music?
Brett: I think as you continue to write more music and you record more records you become more comfortable as a group and you become more experienced about the methods that you use to write songs. Hopefully you become more open-minded. I think one of the big things for our band is that we're always walking that line of everybody wanting to contribute and everybody deserving that opportunity to contribute. We're musicians and there is always ego involved when there's creativity involved; it's coming from within you and when it's judged or when it's shot down, you have to know how to deal with that and how to not take it in the wrong way. As a band, you have to know how to work with it collectively together with one goal which is writing a song and making the song in a way that's best for the song, not what's "my idea" and wanting "my idea" to be the best. Over the years for us, that's been one of the ways that we've been able to grow especially with the last record. We spent months writing all of the songs and demoing them out before we ever even really sent them to the producer. It was all of us going after songs and they would come together in all kinds of different ways. Whoever had the idea that started the song, we just kind of figured it all out and found our rhythm. That's maturity and something that bands come into over time. I feel like all of our music, over time, has been a great representation of what our band truly is to all of us and it stays true to us as far as what we want to be as musicians. I think that we've definitely shown some maturity and grown over the course of the albums and the touring in the industry. You learn a lot more when you're able to go to another level and get that national exposure and get involved in the industry more.
Metal Exiles: What do you guys have in the can as far as a follow up to "Tug Of War" and what direction do you see you guys going in?
Brett: That's yet to be decided. Again, we've just focusing on what's in front of us right now. That's the thing with music. We have a lot of song ideas and stuff that always kind of transcends whether songs didn't make previous records. I mean, we've always got a back log of songs and some of those songs will come together for upcoming releases but I don't think we ever really go into a project with any preconceived notions of what we want to make things sound like. It just depends on when and where we write the record. It depends on what we're all going through at the time and all of the outside factors that influence us. What phase on music as far as what we're listening to at the time can influence us. There's a lot of factors that come into play when we're writing a record. It's hard to tell what those factors will be until we get into that phase so I really can't tell you an answer to that question unfortunately.
Metal Exiles: You've toured with some pretty awesome bands so do you have any memorable moments in regards to the bands you've toured with in the past or bands you hope to tour with again?
Brett: They've all been great experiences. Obviously it's competitive out there and there are a lot of bands out there trying to get things going for themselves and there's that competitive nature in it and what not but we've had great experiences with everybody that we've played with; especially when we're at the festivals. Considering all the festivals we've probably played with practically anybody that's out there up and coming and a lot of our idols and a lot of the bigger bands that have been around for a long time. Those that we were fortunate enough to meet or be in close proximity to, we've had great experiences with. I particularly love the music festivals like the Rock on the Ranges', The Carolina Rebellions', Rocklahomas'; it' just a great environment so those memories for me are really fun. There's a ton going on. You're meeting so many people. You're meeting all the fans. You're hanging out networking with bands. I always really liked those opportunities. As far as tours go, one of the last tours we went on was with "Whitesnake". Their an older band; they were huge back in the 80's and we weren't quite sure what the fan base would be like or how we would fit in or relate to the fans on that particular tour but you have to trust it. Rock music is rock music and rock bands are rock bands and they're fans of good rock music. We had a great experience on that tour. I would probably say it was one of the best, if not the best tour that we've gone on with regard to consistent crowds, consistently being treated the way we were being treated by Whitesnake. It was probably one of the best situations we've ever been in as far as respect. They really respected us. They really gave us the ability to do full sound checks. We got all the catering. They were totally cool to us all the time and made us really feel like we belonged. They complimented us on our professionalism on the road. It was just good to hear all of those encouraging things for a band like us that was up and coming and opening for people that have been there for decades with huge success. It's easy for people to look back and be like "Oh, they were big a long time ago but where are they now"? Well, you still have to respect everything that they accomplished. Even bands that I don't really care for; I always have respect for the level of success that they've reached. I think that's important I think when you're up and coming; not to be judgmental or put yourself in a position where you're bad mouthing or anything. That tour in particular was just awesome. We played awesome theaters every night. We played "The Warfield Theater" in San Francisco. We went coast to coast. It was a great tour.
Metal Exiles: Bands live for summer touring so what do you guys have planned as far promoting this album?
Brett: Right now it's just kind of, well, the radio works, and the campaigns of trying to get the album sold. As far as extensive touring, we're probably not going to be able to do much touring this year. I know that's probably a-typical but again, we have to do what's right for us and with the things we have going on in our personal lives and everything, touring is not something we are in a position to do on a national level. We don't really want to get in deep in tour support and we don't want to get in debt or anything like that. So again, coming from experiences of the past and knowing what's realistic for us and what's best for us at the time, we're gonna try to get in some regional shows. We're gonna talk with the label about doing some stuff here and there with some of the bands but it's definitely a priority for us to get in a position to do some bigger touring and even bigger than that even have some opportunities to get over to the UK. Some of the bands on this label do it frequently so if those opportunities arise then we want to try to take advantage of them. It's really about us positioning ourselves within what we all have going on and where Red Line Chemistry is at in order to be able to take advantage of those opportunities. They are certainly goals.
Before we ended Brett did inform me that there is a presale going on right now where you buy the album, it will be autographed; just a little autographed CD package and after the 24th, it'll be available on all of the digital avenues.
Pavement Music band site:
http://www.pavementmusic.com/news/red-line-chemistry-signs-to-pavement-entertainment/
Follow on Facebook @
https://www.facebook.com/redlinechemistry
Follow on Twitter @
https://twitter.com/redlinechem
YouTube channel @
https://www.youtube.com/user/rlcvideo
---