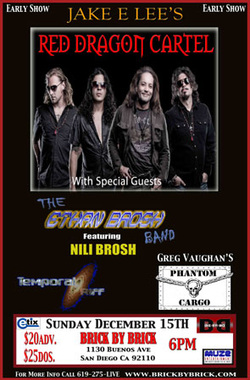 Red Dragon Cartel/Ethan Brosh – Brick By Brick , San Diego, CA 12/13
By Heather Vandemark
He's back!! After taking a 20 year break from the stage, Jake E. Lee is back with his new band Red Dragon Cartel. They hit the stage at Brick by Brick in San Diego for their second show together as a band. San Diego is Jake E. Lee's hometown and I met quite a few people that knew him from school and were there to welcome him back to the stage.
The first time I saw Jake E. Lee play was on The Ultimate Sin tour 1986. Badlands is one of my all-time favorite bands but I wasn't sure what to expect from his new band. I saw the set list before they went on, yes, the perfect set to get the fans up!!! I moved my way up as close I could to get some good shots and I feel the energy. They opened with the Ultimate Sin. It was a perfect set list of new Red Dragon Cartel songs that are that 80s pure music sound that we love so much as well as the Ozzy and Badlands stuff.
After opening with the Ozzy classic, the blew right into their new stuff and smoked the crowd with Deceived, a blistering track from the debut record. More from the RDC came with Feeder, Shout It Out and War Machine but fed the crowd some more classic stuff like Rock N Roll Rebel and Bark At The Moon from the Ozzy years as well as High Wire, In A Dream and Rumblin Train from the Badlands era.
Jake's fret work was as frenzied as the classic years, he has not missed a beat.
Jake E. Lee is a lot more mellow than he used to be, but he is still just as amazing as always, like he never left the stage. Darren James Smith is on vocals and he gave a lot of praise to Ray Gillen. I think Darren was pretty amazing, his vocal delivery matched jake's fret work with the utmost passion. He got hit hard on reviews on their first show, but I think he redeemed himself and proved he can sing. The guys hung out after to take photos and sign autographs with friends and fans. They are super cool, chill, humble guys.
Red Dragon Cartel will release their self-titled debut album in January. I am in love with this band already. This is real rock, real talent, and an awesome show.
The Ethan Brosh band played before Red Dragon Cartel and I saw Ethan Brosh play on the Yngwie Malmsteen tour. That was a great show, but I think this one was better. Nili Brosh, Ethan's younger sister, is playing with the band now and she is beautiful and a bad ass guitar player. He was showcasing his brilliant work from his Out Of Oblivion album which is a must buy. There were no vocals this time but quite honestly, I usually think a few instrumental songs are cool. After about three straight instrumental songs, I will go to the restroom, get a drink, but this was different. I was totally into it the whole set. I love that pure, beautiful, throwback to the 80s rock.
Official Red Dragon Cartel Site
Official Ethan Brosh Site
---