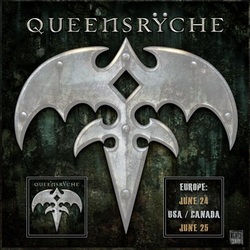 PRE ORDERS HAVE BEGUN FOR QUEENSRYCHE!!!!
It's that time, on June 25th, the world will see the release of the much anticipated S/T release from Queensryche. Below are links to preorder different versions including the VINYL version. Each title below is a hyperlink to a preorder site so PREORDER TODAY!!!!!
Standard Jewel Case Version
Regular cd that includes a 4x4 patch.
Queensryche - "Queensryche" (Deluxe Edition) CD + Shirt + Autographed Poster
(PRE-ORDER)
ATTENTION: There are different versions of this, please visit the Queensryche page at CM Distro
HERE
to see them,
girls shirts included
!
Deluxe Box Set Edition CD
(North America only)
Regular cd with the following bonus tracks:
+ Queen Of The Reich (live)
+ En Force (live)
+ Prophecy (live)
Housed in a small box with an exclusive patch, sticker, guitar pick and button pack.
Pre Order the LP VERSION
One LP with the standard cd inserted into the sleeve as a bonus.
Side A
1. X2
2. Where Dreams Go To Die
3. Spore
4. In This Light
5. Redemption
6. Vindication
Side B
1. Midnight Lullaby
2. A World Without
3. Don't Look Back
4. Fallout
5. Open Road
6. Queen Of The Reich (live)
7. En Force (live)
Official Queensryche Site
---